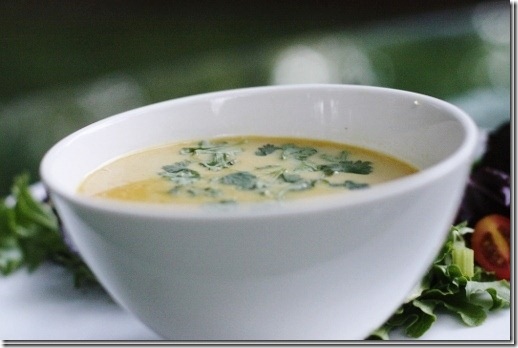 A few days ago, I shared the last meal that I threw together before my final exam descended and kept me out of the kitchen for a week. It rightfully earned the title of a "hurry up vegan" meal: though filling and heart (a soup, a salad, and a bean burger) it was also stunningly fast, and that was mostly thanks to the following soup.
This soup is almost too good to be true. It really is. It's ready in just under fifteen minutes, but it tastes as though it's been simmering and collecting flavor for hours. Everyone you make it for will tell you it's one of your best recipes, and none of them will suspect that it's as simple as throwing together some pantry and freezer staples.
The inspiration for this recipe came from my friend Nava Atlas, who's book Vegan Express is among my top five vegan cookbook resources of all time. It is an essential book for any vegan home cook: no one masters the art of food that's fast AND healthy quite the way Nava does. (For more of her recipes and work, check out her awesome website.) When I first read the recipe for Nava's thai corn chowder, I marveled at the idea that any recipe could be so easy, and also taste good. It did, and I've been using it as a template for this, my own version, ever since.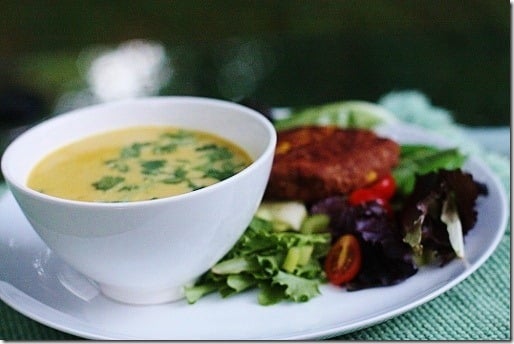 Summer Corn and Coconut Soup (inspired by Nava Atlas; vegan, gluten and soy free)
Serves 4
3/4 cup chopped onion
1 small bell pepper, chopped
1 small clove garlic, chopped
1 tsp olive oil
Salt and pepper to taste
1 cup coconut milk (full fat or light)
2 cups almond milk, plain
Corn from 3 large ears of corn, fresh (or 1 bag, frozen)
2 tsps curry powder
1) Sautee the onion, pepper and garlic in the oil till nice and golden (8 min or so).
2) Add the coconut milk, almond milk, all but one cup of the corn, and curry. Bring to a boil.
3) Simmer for 10 minutes, until the corn is cooked through. Add salt and pepper to taste.
4) Optional: Using an immersion blender, purree the soup till creamy, then add last cup of corn and heat through to serve. If you don't have time, simply add all the corn when you add the almond and coconut milk, and cook through. The soup is tasty when half-purreed, but it's definitely not necessary.
5) Garnish with fresh herbs (cilantro is great) and serve!
This, along with some sort of plant-based protein and a big leafy salad, makes for a speedy and scrumptious summertime supper. And lots of bad alliteration. If you're not sure what to pair with it, try my black bean and corn burgers!
Hope you try this miraculous soup soon, and check out the cookbook that inspired it.
Meanwhile, stay tuned for a giveaway tomorrow! And hope you're having a sunny Monday.
xo