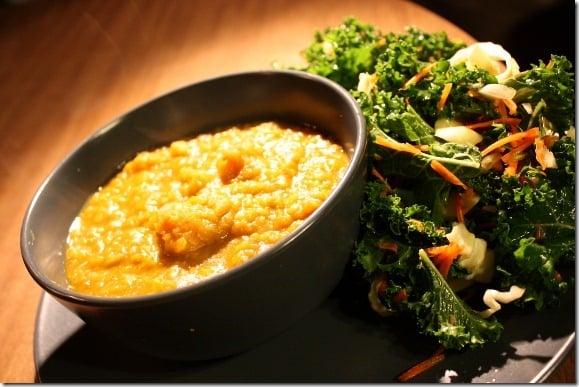 Glad you're all into the chia hemp power pudding! I suspected you would be
If M were chiming in as I write this, he'd think of a good name for the stew I'm about to share. As you can see, the name I've given it is none too creative. But let that not dissuade you, readers: this is a tasty one.
When I was a normal working lady, coming home to dinner was my favorite ritual. No, I didn't always have the luxury of a home made meal at the end of each day, but I'd say there were at least three nights each week when I could come home from the office, make a great dinner, and eat it in the quiet comfort of my little apartment. Nowadays, I get home from class anytime between 8 pm and 11 pm, so those perfect weekday meals are a thing of the past: sometimes I manage a great mid-week dinner, but more often than not I'm throwing together a salad as quickly as I know how.
As recompense for this, I spend my weekdays looking forward to my two favorite rituals: being reunited with M at the end of each week, and cooking. Friday mornings are always a high point for me, since I can wake up knowing that my day will end either with my arrival in D.C., or M's arrival here. And amidst all of that, dinner will have to be made.
Last night, I got to D.C. after a long week of exams and counseling work. It was a perfect night for a rewarding, home cooked meal if ever there was one, but I needed that meal to be fast and easy. Pressure cooker to the rescue! As you all know, M introduced me to the wonder that is the pressure cooker early in our relationship, and life hasn't been the same since. I know I owe you guys a tutorial, and I swear I'll get on that, but in the meantime let me tell you about the quick and easy soup I threw together in 10 minutes with its trusty help.
Spontaneity doesn't rank too high in my skills as a chef. I'm great at making recipes up, following them, and I'm a champ at planning: give me a dinner party or a busy week of packed lunches and I'll have a step-by-step game plan at the ready in a moment's time. I'm methodical and I think ahead, and I find this to be a good asset as a food blogger. What I wish I had, though, is that magical quality that truly "chefly" people seem to have: the capacity to improvise brilliantly. I'm a self-trained cook who's proud of her progress, but boy do I wish I could simply gaze into a pantry or a grocery box and be flooded with brilliant meal ideas and flavor pairings.
Sigh. One day.
For now, I'm getting better at working spontaneously with ingredients on hand. Case in point? A soup that came from my leftover butternut squash, M's brand new split peas, a grocery box full of kale and chard, and a cabinet stocked with spices.
Butternut Squash and Split Pea Soup (Vegan, Gluten Free, Soy Free)
Serves 3-4
1 lb butternut squash, chopped into small chunks or cubes
1 cup green or yellow split peas
3 carrots, chopped
1 onion, chopped
5 1/2 cups water with 1/2 vegan bouillan cub, or 5 1/2 cups vegetable broth
1-2 tsps curry powder (adjust this to taste)
1 tsp turmeric
1/2 tsp cumin
1/2 tsp cinnamon
Salt to taste
Black pepper to taste
Place all ingredients in a pressure cooker and bring to a low boil. Seal the cooker and cook on high pressure for 7 or 8 minutes.
Release pressure (naturally or quick release) and serve. I enjoyed my with a sprinkle of nooch on top!
If you don't have a pressure cooker, simply bring the ingredients to a boil, lower to a simmer, and cook until squash and peas are tender (45 min or so).
It was delicious on its own:
And equally excellent with some kale salad and Ezekiel toast:
What a perfect way to end the week: twin homecomings. Reunited with M and the kitchen, all's right with the world.
What's your favorite Friday or weekend ritual? And what sort of food goes with it?
xo