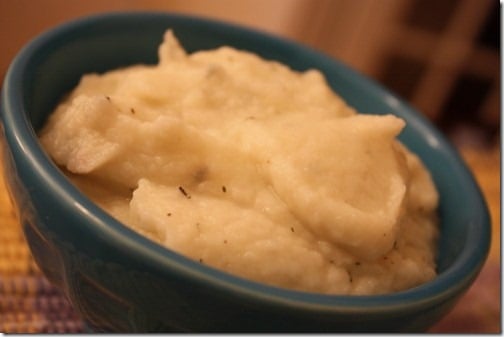 Hey guys! Glad you liked M's smoothie, and thanks for the nice remarks about my photos. When they do happen to look good, it's a happy accident; I'm a food photography novice. Maybe one day I'll fix that.
News
Before I get down to today's recipe, I wanted to share the tremendously exciting news that I'm one of seven women featured in Kathy's incredible Veggie Girl Power Series.
Each year, Kathy interviews seven notable vegan or vegetarian women about their lives, their work, and their roads to plant-based lifestyles. I was a rapt reader of last year's series, which included interviews with some of my culinary idols, including Sarma Melngailis, Chloe Jo Berman, and my girl Kristen of Kristen's Raw. So it came as a shock—albeit it a welcome one!—that Kathy wanted me to be one of this year's Veggie Power Girls. To be in the company of Susan from Fat Free Vegan, Chef Chloe Coscarelli, and my friend Ani Phyo is such an honor!
In the interview, Kathy describes me as "anything but 'quiet'" and as someone who "who speaks her mind without hesitation." Kathy, dear, I think this is your very gentle way of saying that I'm loud and opinionated. And I love it 🙂
I'm the first featured Veggie Power Girl this year, and my interview is up today. In it, I answer such burning questions as:
What's the first thing you eat each day?
Who are some of the people who have inspired you?
How do you respond to attacks or negative criticism?
To read my answers, please check out the interview here, and don't forget to check back for the other interviews in the series!
Food
You may have noticed that mashed cauliflower is a somewhat trendy recipe these days. It's meant to be a substitute for mashed potatoes, and it's ostensibly more healthy because it's lower cal, lower in carbs, and so on. Of course, there's no denying that cauliflower is less caloric than white potatoes, but any recipe that sells itself as "low-carb" tends to set off alarm bells with me—I spend a lot of time reassuring people that carbs aren't the enemy! It's also hard to marvel at the novelty of cauliflower mash because we raw food lovers have been using cauliflower as a potato replacement for ages now. Remember my famous raw "steak and potatoes"? In that recipe, cauliflower and cashews blend together to mimic mashed potatoes (except they end up tasting way better).
I've always been curious about cooked mashed cauliflower: how is it different from the raw version? Better? Worse? When I saw that M had an extra head of cauliflower at home this past weekend, I decided I'd give the cooked recipe a whirl. I have to say, it turned out nicely; so nicely that I made it again for dinner at home tonight, tweaking it to perfection. I still like my raw mashed potatoes more than any other variation, this one included. But it's a tight race: this recipe is comforting, homey, and very delicious. And yes: if for some crazy reason you're terrified of carbs, this is probably a recipe for you.
Really, though, I'd prefer it if you made nice with carbs. They're your friends. I promise.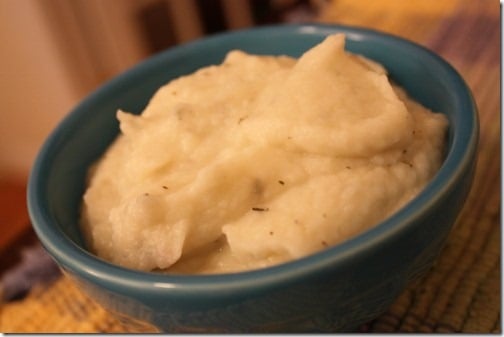 Mashed Cauliflower (serves 2-3)
Water
Salt
1 small or medium head of cauliflower, washed, trimmed, and chopped roughly
1/4-1/2 tsp salt
1 small clove garlic, minced
2 tbsp almond or rice milk (soy creamer if you want this super decadent)
2 tbsp Earth Balance
Dash black pepper
1/4 tsp dried thyme
1) Bring a large pot of water to a boil (enough to cook all of the cauliflower) with a dash of salt. When the water boils, you can either boil or steam the cauliflower till it's tender.
Drain it, and transfer it to a food processor.
2) Pulse until the cauliflower is broken down in the processor.
Add the garlic, salt, earth balance, and, with the motor now running, add your two tablespoons of almond milk.
If the mix isn't blending, try scraping the bowl and starting again a few times. If it's still not blending, add a touch more almond milk. In the end, you want it to be this light and smooth:
3) Add a dash of pepper and the thyme, and pulse till incorporated.
Serve hot!
It's a great side dish, or even a good snack, but tonight I wanted mine to take center stage. I served it with some raw, marinated portobellos (check out this post for my favorite raw mushroom marinade) and some raw kale salad. It was delicious and comforting:
This past Saturday night, I had served the mash with Susan's infamous and appropriately seasonal green bean casserole. I followed the recipe pretty closely, but I substituted vegan-friendly wine for the sherry. More significantly, I didn't used the French fried onions. Instead, I caramelized a nice big batch of them. Note to onion haters like me: caramelizing is the best way to make onions user-friendly! They get so sweet and mellow. To do it, simply chop about four onions and begin sautéing them on high heat with about 1-2 tbsp of coconut oil:
After about ten minutes, when they're soft and starting to turn translucent and brown, add about a half teaspoon of salt and two teaspoons of brown sugar. Keep sautéing over medium heat for about thirty minutes, watching closely as they get more and more brown:
When these were totally caramel colored and turning mushy, I substituted them for the can of fried onions in Susan's recipe, and baked according to directions. The casserole, along with my mashed cauliflower and some of M's pressure cooker wild rice, made for a really special dinner:
I hope this post has been full of all sorts of inspiration: inspiration in the form of Veggie Girl Power, and inspiration in the kitchen. With plenty of cauliflower still left in farmers' markets (mine, anyway), this is a great time to get mashing!
Till tomorrow,
xo