It might have been a little odd to post this recipe two days ago, when it was about sixty degrees here in D.C., but now that it's a chilly morning again, it feels just about right. This is a super easy recipe for curried lentils—the kind of dish you can throw together in minutes on a weeknight, regardless of how busy you are. I used yellow lentils from PNW Farmers' Co-op; I love this company, which produces legumes that are non-GMO certified, organic, and grown sustainably on a small farm. Of course, you may substitute red lentils if that's what you have, or even yellow or green split peas.
A few days ago, I saw that Gabby had posted a recipe for split pea soup with rutabaga croutons. Rutabaga lover that I am, I was charmed by this idea. I suppose you can call anything cut into cubes and put on top of a soup a "crouton," technically. So the avocado I enjoyed over these lentils has been given the playful name of crouton, too. Thanks for the inspiration, Gabby!
Easy Curried Yellow Lentils with Avocado "Croutons" (vegan, gluten free, soy free)
Serves 4
3/4 cup onion, diced
1 1/2 tbsp coconut oil
1 cup yellow lentils
1 sweet potato, cut into 1 1/2 inch cubes
2 carrots, diced (optional, but I had them, so I used them!)
1/2 tsp turmeric
1 tbsp mild curry powder
1 tsp powdered ginger
1/2 tsp sea salt
Black pepper to taste
4 cups water
1. Heat oil in a large pot over medium heat. Sautee onion till its turning transluscent and even a little golden. Add the lentils, potato, carrots, and spices/seasonings, and stir to combine everything.
2. Add the water to the pot and bring to a boil. Reduce to a simmer and cook for 25 minutes, or until the lentils and sweet potato are tender. Alternately, you can cook this in a pressure cooker for 8-10 minutes (which is what I did!).
3. Allow lentils to cool a bit, then serve with fresh avocado slices.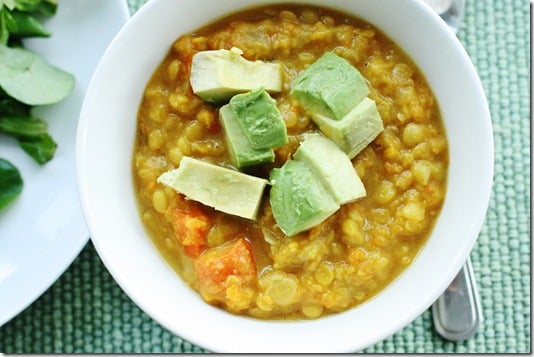 The lentils are also great served cold, especially with the avocado; I enjoyed them for breakfast this way. I love savory breakfasts, especially when it's getting cooler out.
In these hyper busy and tiring days, it's really tempting to just throw a meal-sized salad together every night. The idea of cooking always seems like such a drag. But dishes like this, which come together in no time and with minimal fuss, do remind me that cooking doesn't have to be a pain. I hope you enjoy the lentils as much as I did!
xo