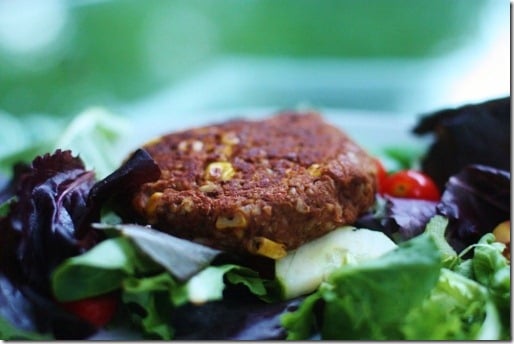 Thank you all for welcoming Dr. Seale to CR with such enthusiasm! I loved the curious responses to yesterday's post on Vitamin B-12. I can't wait to see what other conversations Dr. Seale and I can get started. Keep sending me ideas, if you like, about health questions (I already sense that a Vit D post is in order).
Wondering how this morning's exam went? I came home and baked myself a consolation cake. I think that says it all. Since I don't want to talk about it, let's talk instead about the hurry up vegan meal I made on Monday night, T-3 nights before the big test. You would think I had no time to cook, given the 439230 equations I was supposed to memorize, and you'd be right. But this meal, which came together almost instantly, barely constituted cooking.
This dinner was easy for a few reasons. First, I made a few things beforehand, and I also used my pantry. The night before, I stuck some brown rice in my rice cooker and let 'er rip. The cooked rice was put in the fridge overnight. I had canned black beans, canned coconut milk, and a carton of almond milk, which ultimately went into the soup, as well as a ton of fresh corn, which went into both the burgers and the soup. In wintertime, having a giant bag of frozen corn, or even some organic cans, would work just as well for the whole meal.
On the menu:
Quick coconut corn bisque
Black bean and corn burgers
Fresh garden salad with smoky red pepper mesquite dressing
The salad was self explanatory: just a big bowl of greens, sugar snap peas, tomatoes, cucumber, and my new red pepper dressing, which I love. The soup is so good it deserves a post of its own, and I've decided to put that up in a few days. For now, all you need to know is that it takes about 15 minutes to prepare, and that it's one of the best vegan soups you'll ever make. No joke.
And here are the burgers, which are the latest in my eternal quest to make the perfect veggie burger. I've had some successes in this department, like my ridiculously healthy black bean, yam, and millet burgers: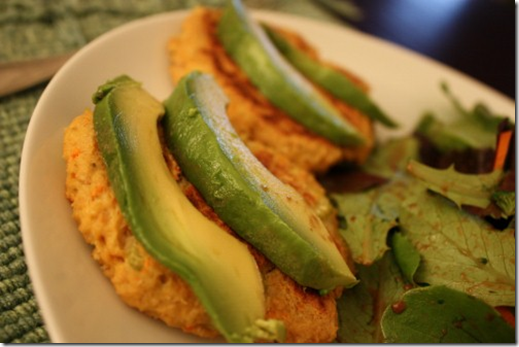 My chickpea sweet potato burgers:
Or my ginger lime edamame sweet potato burgers:
Or, in the raw department, my spinach burgers: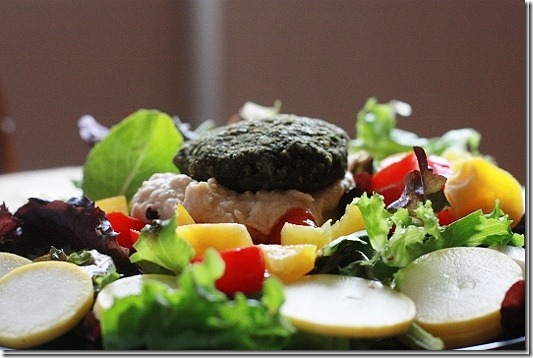 All personal favorites, except that they're usually preceded by some struggle! I have a really hard time getting the texture and flavor of veggie burgers right. Typically my MO is to add too little binding agent (oats, potato, grain, whatever), then too much, so I end up with a gummy burger and the spices get cut in half. The following black bean burgers took some adjusting (and I tweaked what I did vs. what I'm posting a little), but the final result was great, and the leftovers even better.
Black Bean and Corn Burgers (vegan, gluten free, soy free)
Makes 4-6 burgers
1 small yellow onion, chopped
1 cup fresh, frozen or canned corn kernels
1 can BPA-free black beans, drained
1 cup brown rice, cooked
1/4 cup oat flour (or ground, rolled oats)
1/3 cup tomato sauce
2 tsps cumin powder
1 heaping tsp paprika
1 heaping tsp chili powder
1 tsp salt (use less if your canned beans are presalted, or you're sensitive to salt)
Black pepper or red pepper flakes to taste
1) Sautee onion and corn in water or coconut oil spray for ten minutes, until golden, soft, and fragrant.
2) Add beans and tomato sauce. Stir in the sautee pan till all is warm.
3) Dump rice into the bowl of a food processor. Add the beans, onion, tomato paste, and corn. Pulse quickly. Add spices, oat flour, and a touch of water, if you need it. Pulse more, until you have a thick and sticky but still textured mass. If it's too wet, add a tbsp or two of additional oat flour.
4) Shape into 4-6 patties. Pan fry (I always use coconut oil spray) till nice and browned. Serve with fresh guac, if desired!
What a stupendous meal these turned into! Along with the soup and salad, a perfect dinner.
And right now is a perfect bedtime for this very tired lady. Night! Before you sign off, remember that tonight is your last night to enter trail mix from Navitas and Julie Morris' wonderful book, Superfood Cuisine. Enter here: winner announced tomorrow!
xo