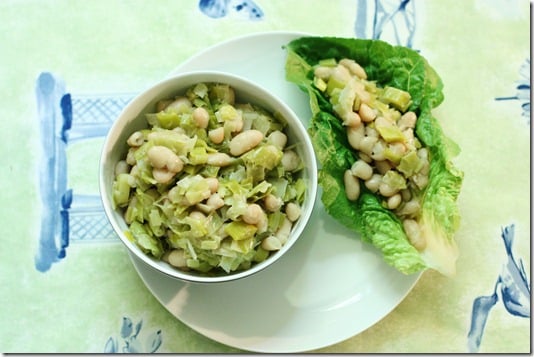 When I was in New Orleans a month ago (my my, how time flies), Chloe whipped up a dish that had my name all over it: cannellini beans and leeks, sautéed and served in Boston Lettuce cups. She was working from a recipe, but did it effortlessly, the way she does everything culinary. I'm always inspired by the ease with which Chloe glides to the market, selects ingredients, and then concocts dinners without breaking a sweat. I'm a good cook, and an intuitive cook, but my kitchen habits are much more chaotic.
Anyway, back to this recipe: warm leek and cannellini bean salad. I stole the idea from Chloe, obviously, but created it at home without really remembering what she put in hers. I really loved how it turned out, which was someplace in between a salad and winter legume stew: warm, filling, and grounding, but with a touch of fresh lemon and the versatility to be eaten cold, too.
I often shy away from purchasing leeks because every cookbook I've ever owned warned me how sandy they are, and how much I'd have to wash them. I don't even like having to rinse off an apple before I eat it, so this was discouraging. Ya know what? Washing leeks is not that big of a deal, especially if you chop them first, then let them soak in a big bowl, then rinse them, and then dry them, just as you might with salad. And leeks are great alternatives to onions, which is good news for onion haters like me!
This dish is nice and speedy, once you have the leeks prepped. If you're very busy, you can try prepping the leeks a day in advance, and then cooking the following day. I often find that stepwise cooking like that makes me more encouraged to cook when I'm crazed!
Warm Leek and Cannellini Bean Salad (vegan, gluten free, soy free)
Serves 2-3
2 large leeks, ends trimmed, cleaned well, and chopped
2 cups cooked cannellini beans (homemade, or BPA free and canned)
1 tbsp coconut, avocado, or olive oil
1 large lemon
1 tbsp dijon mustard
Salt and pepper to taste
1. Heat the coconut oil over medium in a sauté pan. Add leeks, sauté for a minute, and then cook, covered, for 12-15 minutes, or until leeks are tender, translucent, and soft. Add a few tablespoons of water if they start to get overly dry.
2. Add the cooked beans, the juice of your lemon, the dijon mustard, and salt and pepper to taste. Give everything a stir, until it's uniformly warm. Add a drizzle more of oil if needed.
3. Serve salad in lettuce leaves (I had romaine, so I used romaine).
Tasty, wholesome, simple.
This dish is good over salad, over rice, served as an appetizer in lettuce cups, or as filler for a wrap. If you do add it to a salad, I think avocado would be a nice compliment (but of course I think avocado is a nice compliment to everything…)
I enjoyed half of the dish two nights ago, and packed up the other half for a campus lunch today. I served it over zucchini noodles and cherry tomatoes, with some veggies on the side! Along with it, I brought yet another batch of my simple, creamy raw dressing (which is a busy student staple for me).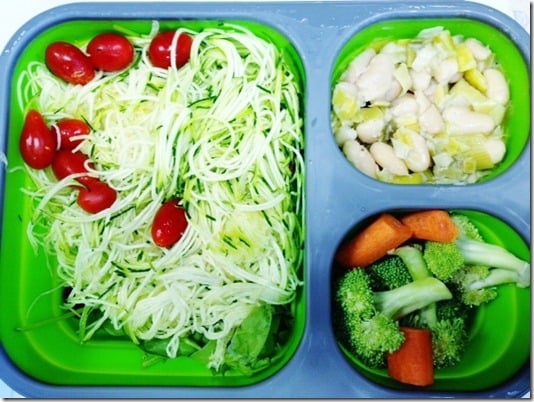 My lunchbox, by the way, is from Smart Planet! I have several portable lunch containers, each with strengths and weaknesses. This one isn't great for things like soups, because it doesn't seal very tightly, but it's great for bigger (adult-sized) portion sizes. It's also collapsible and cute!
Before I go: I have a winner tonight for the lifetime membership to YUMUniverse! The winner is #75, Amy, from Foodie 4 Healing. Amy, congrats! I'll connect you and Heather via email.
Have a great start to the weekend, folks!
xo