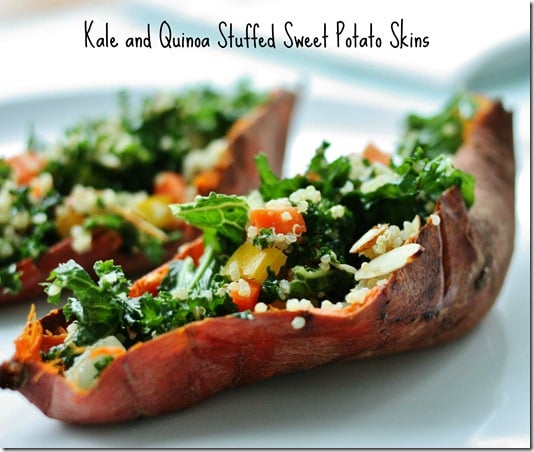 The other day, I revisited my black bean and sweet potato enchiladas—one of the most popular CR entrees, and one of my favorites. In order to make the mashed sweet potato and black been filling, I had to scoop some sweet potato out of the skin. Normally I'd discard the skin without thinking too much of it; it does contain nutrients, so I usually leave it on in recipes, but on the rare occasion I want the flesh on its own, it doesn't seem like a big deal to toss it out. That said, I love finding ways to use every part of a food or ingredient when I cook, and I wondered if I might not find a way to make better use of it. And that's how this recipe for kale and quinoa stuffed sweet potato skins was born.
The idea is simple: if you need to use the flesh of a sweet potato on its own, gently scoop it out so that the skin remains intact. If you cut your sweet potato in half, you'll end up with what looks like two little canoes. And you can stuff them with just about anything you'd like: grains, beans, veggies, guacamole, hummus—the possibilities are endless.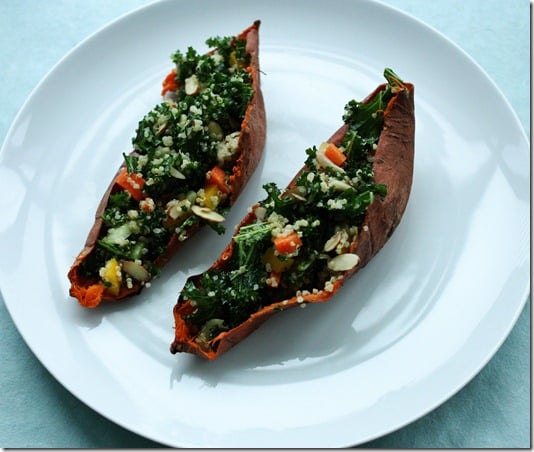 If you want a denser base for the recipe, you can leave some of the sweet potato in the skin (that's a more traditional "stuffed potato"). If you want to let the filling shine, you can scoop the flesh out altogether, and use the skin as a wrap of sorts. I'm frequently asked whether I can recommend a good gluten free and vegan wrap. There are plenty to suggest, including one of my raw wraps (but those involve a dehydrator), brown rice tortillas from the Food for Life company (though they're a wee bit stiff, and break easily), or collard wraps (of course!). This is another great option.
Kale and Quinoa Stuffed Sweet Potato Skins (serves 2-4)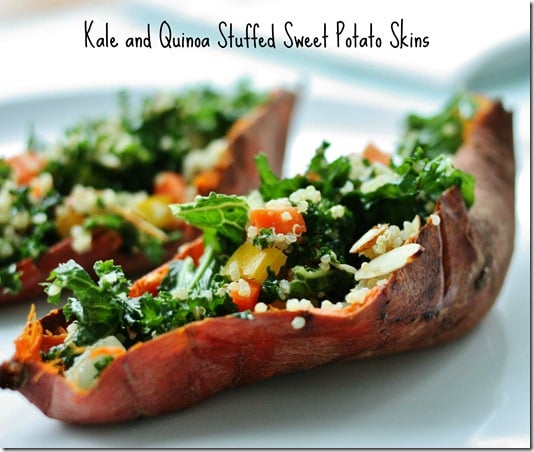 Ingredients
2 whole baked sweet potatoes
4 tightly packed cups of kale, washed, dried, and chopped finely
1 carrot, diced
½ bell pepper, diced
2 stalks celery, diced
2 tbsp hemp oil
Juice of 1 small lemon
Sea salt and pepper to taste
1 tsp maple syrup
1½ cups cooked quinoa
⅓ cup slivered or sliced almonds
Instructions
Carefully cut each sweet potato in half (lengthwise). Gently scoop out the flesh. You can leave a little of it in for a heartier skin, or you can scoop it all out so that you can fit in more stuffing.
Mix the kale, carrot, pepper, and celery. Massage it with the oil, lemon, sea salt and pepper, and maple syrup till it's soft and evenly dressed.
Add the quinoa and almonds to the kale/veggie mix. Combine well.
Stuff as much of the quinoa and kale salad as you can into each half of the sweet potato skin. Serve, along with your leftover salad.
So much goodness in one place! I love the contrast of textures and flavors.
Per the recipe instructions, this will serve two people as an entree or four as an appetizer. No matter what, I suggest you serve the skins with the leftover kale and quinoa salad, which is delicious in its own right. Topping it all with avocado slices would be delightful, and black beans would also make a very tasty addition to the dish.
An added bonus of the recipe is that it's easy to wrap the skins up in some saran or tin foil and transport them someplace for a packed lunch; I did just that on campus yesterday! No matter what, these stuffed skins are a fun and playful way to approach the idea of a wrap/taco/burrito dish. I hope you enjoy them as much as I have.
xo