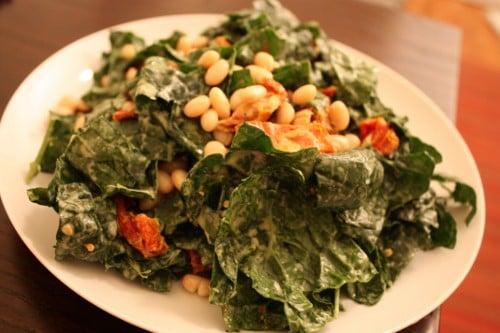 A few days ago, I blogged about raw, vegan Caesar salad dressing. Once upon a time, I thought that Caesar dressing would be impossible to veganize. Nowadays I know that nothing is impossible to veganize. Give me a recipe, and I'll make it vegan, be it pizza, pudding, pastry, or pie.
Then again, my specialty as a cook isn't really veganizing traditional fare. My specialty–or at least, my intention–is to make omnivores and regular eaters appreciate dishes that look, sound, or taste like "health food." I love to take traditional Caesar and make it raw and vegan (even if I'll inevitably add a few veggies as I go along), but it's also fun to take Caesar dressing and slather it on that mainstay of raw foodism, kale salad. And while I'm at it, I might add a half cup of every vegan's favorite staple, beans.
That's more or less how this salad was born. I had plenty of my raw, vegan Caesar leftover from last week's salad, and I also had a head of dinosaur kale. With little else in the fridge, I was worried that I wouldn't have enough for an interesting dinner, but that's when our pantries come to the rescue. I always have either dry or canned beans (BPA free!) in my pantry, and I try to keep sundried tomatoes (oil packed or dry) in there, too. As soon as I rummaged around and found some navy beans, along with the very last of a bag of dried sundried tomatoes, I knew that an otherwise simple salad could now serve as a full meal.
The inspiration for this salad is, I suppose, Tuscan kale and white bean soup, which is one of my favorite wintertime meals. But in spite of its heartiness, it's refreshing in a way that hot soup can never be.  Come to think of it, it's perfect "comfort food" for devoted raw food lovers, who'll get sustenance and heft from the beans and dressing, but who'll appreciate the overall lightness and digestibility of a mostly raw plate. Whatever your preferences, try this soon! Along with some bread (raw or cooked) or a bit of raw soup, it's a perfect dinner, and it stands alone as a nourishing lunch.
Kale and White Bean Salad with Raw Caesar Dressing (serves 1 hungry person, or 2 people as an appetizer)
1 small or 1/2 medium head dinosaur (lacinato) kale, sliced into thin ribbons
6 sundried tomatoes, sliced into narrow strips (if using dried tomatoes, you may want to soak them in warm water for 15 minutes before using)
1/2 cup white beans
3 tbsp raw, vegan Caesar salad dressing
1) Pour dressing over the kale and "massage" it with your hands, until the kale has gotten a bit soft and wilted in texture.

2) Add tomatoes and beans, and give the salad another quick toss with your hands, so that everything is coated in dressing.
3) Serve!
This salad was a perfect reward for the exertion of decorating my little tree:
Every Christmas eve, my mother and I sit across from each other at her kitchen table, and she stares with suspicion at the heaping plate of curly greens that I'm about to devour. I may offer her some quintessential vegan "comfort food" this year, but no matter what, kale salad will be on the menu. If it tastes this good, I'm willing to bet even she will love it.
And I hope you will, too!
xo