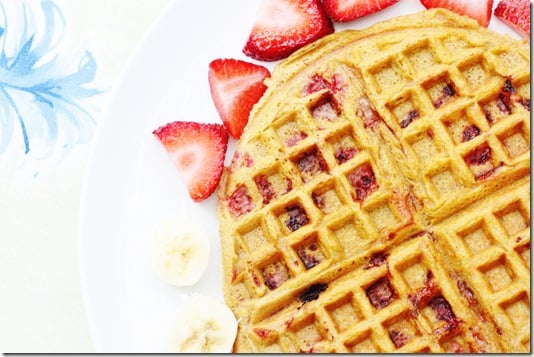 Yesterday morning, it happened: I got my first glimpse of autumn. It wasn't the temperature, because lord knows DC was as steamy as ever. It was the quality of light outside when I woke up, just a little dimmer than the usual blazing July mornings. It was the way afternoon sunlight had a golden quality. It was something about the way air smelled. This happens every August–I catch a glimpse of the fall to come–and I greet it with a mixture of excitement and sadness, because while autumn is my favorite season by far, I also love summer, and I'm sorry to see it go. Especially since I've spent the last two summers in science lab, crunching numbers as the days fly by.
I'll spare you any further Romantic musings. The point is, it somehow felt a little bit like September yesterday. And so, even though it was 87 degrees outside, and I had no business making piping hot waffles, I did it anyway. Not only that, but I made waffles that were inspired by both summer and fall. Strawberry and pumpkin waffles, to be exact, vegan and gluten free. And in spite of how odd the combination may seem, they were wonderful.
It's really only in retrospect that I realized that these waffles captured perfectly my feelings about changing seasons. At the start, I made them simply because I was leaving for NYC and elsewhere for almost three weeks, and I had to get rid of what was left of my fridge contents. This included a container of strawberries. And then, when I thought to add applesauce to my waffle batter, I realized I didn't have any, but I did have some canned pumpkin (from an embarrassingly long time ago). I actually prefer canned pumpkin to applesauce in vegan baking as a source of moisture, and I like the beta carotene boost, to boot. So pumpkin strawberry waffles it was.
What can I say? It worked. These waffles are fluffy, delicious, and wholesome. The slightly caramelized strawberries and the hints of pumpkin and cinnamon go perfectly well together, and the presentation is also lovely, as you can see.
As always, these waffles are 100% vegan, and as usual, I've made the recipe gluten free for inclusivity. I've given you options, though, for your flour, so you can modify based on what you have. As a final aside, you'll note that my brunch date with Andrea (and her lovely zucchini waffles) inspired me to get a waffle maker again. My old one weighed about 55 pounds (one of the giant, square kinds), and I couldn't bear to move with it, given how seldom I used it. A little googling the other day led me to a $19.99, round, Cuisinart model on eBay. It's light, easy to use, and I'll be taking much more advantage of it than I did my last one.
Special nod to Iris for help with this recipe. The mix of rice flour and starch is, in part, inspired by her (it's a slight tweak of her universal waffle and pancake template). I still owe you guys a review of her fantastic GF baking ebook, but suffice is to say for now that it's a tremendous resource for those of us who started off clueless about vegan and GF baking!
Vegan, Gluten Free Strawberry Pumpkin Waffles (vegan, gluten free, soy free)
Serves 4
2 tsp baking powder
1 cup + 2 tbsp brown rice flour (see below for additional flour options)
1/2 cup + 2 tbsp potato starch (see below for additional flour options)
1 tsp cinnamon
Dash salt
1/2 cup pureed pumpkin
1 cup almond milk
1 tsp apple cider vinegar
1 tbsp coconut oil
1 tbsp agave syrup
1 cup strawberries, cut into small pieces
Coconut oil spray
1. Mix dry ingredients together with a whisk.
2. Mix together wet ingredients (including pumpkin) with a whisk until slightly frothy. Add wet ingredients to dry, mix well, and then add strawberries and mix to incorporate. If you need to add some almond milk to make the batter appropriately thin, do so (it can vary from try to try). It should resemble any standard waffle or pancake batter, but maybe be slightly thicker.
3. Spray a waffle iron with coconut oil spray and make waffles according to manufacturer instructions. I typically pour about 1/2 heaping cup of batter over the surface and wait till it's cooked through. Be absolutely certain to spray the iron between each waffle! It'll ensure the best results.
4. Serve with additional strawberries.
Cook's note: you can use 1 3/4 cup either whole wheat pastry flour or 1 3/4 cups of an all-purpose, gluten free mix. I think the brown rice/starch blend is best for authentic vegan and gluten free baked goods, but if you're in a time pinch, you certainly can use something more streamlined.
You can also store these pancakes in an airtight container in the fridge for at least a couple days. So the four servings is worth making in full, if you're someone who likes to plan breakfast in advance! And finally, if you don't have a waffle maker, you can turn this recipe into pancakes and cook accordingly; just be sure to cut the strawberries small.
I hope you enjoy this delicious breakfast meal. Tomorrow, I have a new dip/spread recipe for you, and later this week, further thoughts on the "dedication vs. obsession" theme. Have a good Monday!
xo