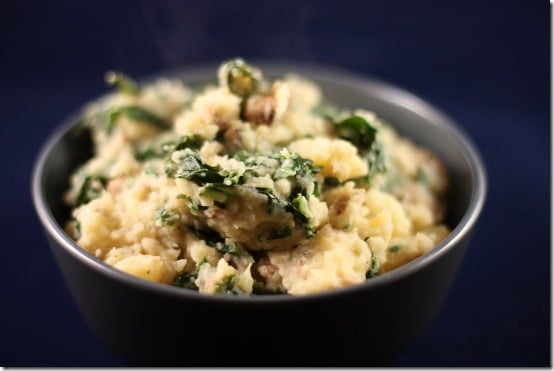 Greetings, all!
Nice responses to yesterday's post. I was amazed at how many of us said that nutritional yeast ("nooch") was on our list of foods that we'd never have tried without veganism. At the risk of turning this post into one giant debate about whether or not nooch is healthy, I did want to respond to reader Andrea (aloha, Andrea!) who asked:
I noticed that LOTS of folks expressed their love of nooch in their comments. I've always had it (and used in homemade seitan) but recently I've been eating a lot more, and i was curious what you think about this food item. For me it falls under the "it's too damn good, I am not sure if i should be eating it" category!
Good question, but my answer is that I don't think you ought to worry. Judging purely from its nutrition label, nooch is perfectly healthy—in fact, it's a very convenient way to pack eight grams of protein into a dish. And while the safety of nooch for candida sufferers is hotly contested, my own view is that the yeast in nooch is 100% inactive, and safe to eat. I've run this by my physician (who is vegan friendly) and a fellow dietician, who have both agreed. You can probably find some heavily anti-nooch sentiments online (that's true of any ingredient), but my feeling is that it's as safe as it is delicious.
Nooch happens to have a supporting role in today's dish, which is in honor of St. Patrick's Day. Since I'll be traveling tomorrow, St. Paddy's came two nights early for me and M, with a potato themed feast. I whipped up some Irish soda bread (a vegan version of Elise's recipe for it), a simple cabbage and white bean soup, and my personal favorite Irish dish: colcannon.
Colcannon is an example of simple, rustic food at its best. It's a mashed potato dish made with cabbage or kale, though the cabbage variety is more traditional. Depending on how fancy you want to be, you can add chives, sour cream, butter, leeks, bacon, or ham to the dish: I happen to think colcannon is best when it's on the simpler side. I always make it with kale, since I prefer kale to cabbage, and I always add a good hefty dose of Earth Balance: this is not the kind of food that begs for health-minded restraint. It's a dish that begs for a liberal hand with buttery flavor. With all of that said, I've got my own recipe down to two tablespoons of Earth Balance and a bit of olive oil, which I don't think is too outrageous. And since the boy is a big fan of Field Roast, I thought I'd replicate some of the smokiness and flavor that typically comes from ham or Irish bacon with a bit of the Field Roast apple sage sausage, which had been seared and had also gone in my cabbage stew. Good move. I added just enough that it was hard to detect, but lent flecks of salt and flavor to the dish.
There are tons of colcannon varieties at large on the web: a quick search will present you with many options for making it. Mine was first inspired by Lolo's recipe, and it has evolved each time I make it. I generally like to sauté my kale in a little garlic, and add my cooked potatoes to that same dish, so that they soak up the flavors and the kale is distributed evenly. You could definitely mash your potatoes first, and add the kale after; if you want, you could even leave the kale raw. I toyed with that idea this time, and then decided that I eat enough raw kale; it begs for some cooking now and then.
Vegan Colcannon (vegan)
(serves 3-4)
5-6 Yukon gold potatoes, peeled and quartered
4 cups of finely chopped and washed kale
1 tsp minced garlic
1 tbsp olive oil
2 tbsp Earth Balance
1/3 cup almond milk
2 tbsp nutritional yeast
1/2 tsp thyme (optional)
1/3 cup seared and finely chopped Field Roast sausage (optional)
Salt and pepper to taste
1) Put a salted pot of water on to boil. When it's boiling, add the potatoes and boil till very tender.
2) Heat the oil in a large skillet or shallow pot, and add garlic. Swirl garlic around till its a little golden, and then add the kale. Flash cook the kale till soft and reduced, about a minute.
3) Add potatoes to the kale, and mash roughly with a hand held potato masher. Add Earth Balance, almond milk, and salt and pepper. Make sure to season well. Add the Field Roast if using, and mix to incorporate.
4) Serve hot. Swoon.
As a rule, I'm a cook with impressive self-restraint: I tend not to fall into the trap of licking and tasting and nibbling as I work. It's a lot nicer to save my appetite for dinnertime. But this dish had me licking the spoon and "checking for seasoning" like my life depended on it. It's so simple, so delicious, and so comforting. I can't recommend it highly enough. If you've got even a spare moment before tomorrow's celebration, whip this one up. You won't regret it.
And now, I must pack up my things for tomorrow morning's 7 AM flight.
Where to, you ask? Well, fans of David Simon will probably consider this a dead giveaway:
I'll be checking in tomorrow from the Big Easy! Night guys.
xo