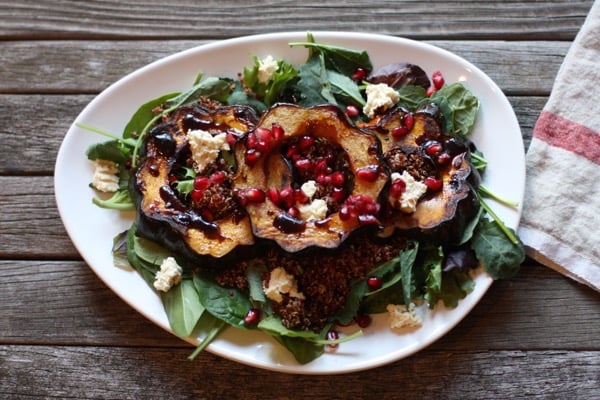 Before Steven and I started dating, meal-sized salads were my go-to dinner option, especially during those busy post-bacc student years. Sharing my life with someone has meant sharing my meals, and this has meant a delightful journey into more varied and creative dinners. That said, Steven and I still enjoy a giant dinner salad at least once a week–lately, it's been our restful Saturday night ritual. This particular salad–maple roasted acorn squash and red quinoa with baby kale, and cashew cheese, and a tamarind vinaigrette–earned both Steven's seal of approval and my own rave reviews over the weekend. It's a big, bright, celebratory and seasonal creation, a tribute to fall and early winter produce, and it's definitely a new favorite.
This is one of those salad that involves a whole bunch of components, and so it looks a little intimidating at first. Rest assured, though, that the cashew cheese is optional, and also that it and the maple roasted acorn squash rings can be prepared ahead of time (when I construct a big salad, I'll often prep one component in advance). If you do serve the whole thing as suggested, I promise that the flavor payoff is huge. But you can streamline the salad if need be. The tamarind vinaigrette is fantastically tangy, and you could use it as a tofu marinade as well as a dressing.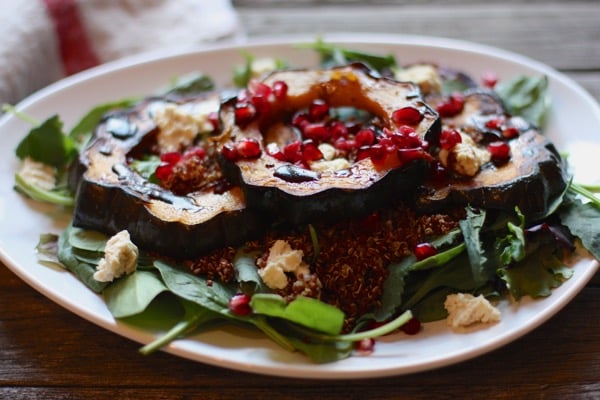 This beauty of a salad is being offered as a part of Dole's Season's Green-ings celebration, a month-long tribute to salads that are seasonal, and meal worthy. The Dole site currently featuring a ton of gorgeous and colorful green creations, like this winter citrus salad:
 Or this hearty and creative caramelized pear, roasted tomato, and lentil salad:
Check out other recipes (with multiple vegan options) on the Dole Salads homepage!
And to create this acorn squash and red quinoa medley at home, here's the recipe. Note that the maple roasted acorn squash rings are so tasty that you can and should totally serve them as a side dish, on their own!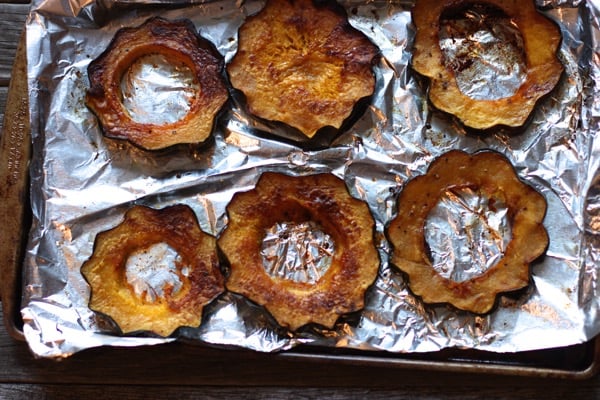 Maple Roasted Acorn Squash and Red Quinoa Salad with Baby Kale, and Cashew Cheese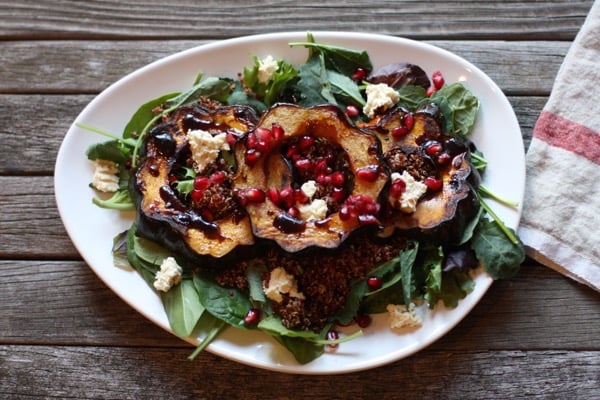 Ingredients
For the maple roasted acorn squash:
2 medium sized acorn squash
1 tablespoon maple syrup
1½ tablespoons coconut oil, melted
Salt and pepper
For the cashew cheese (optional):
1 recipe of this cashew cheese, with the herbs omitted
For the tamarind vinaigrette:
4 tablespoons mild-tasting olive oil or avocado oil
1½ tablespoons tamarind concentrate
1 teaspoon lime juice
1 tablespoon maple syrup
2 tablespoons tamari
For the salad:
4 cups Dole Power Up Greens in Baby Kale, (or 4 cups baby kale or baby spinach)
2 cups red quinoa, cooked according to package instructions
⅓ cup pomegranate arils
Instructions
Preheat your oven to 375F. Line the acorn squash rings up on a foil lined or well oiled baking sheet. Whisk together the maple syrup and oil. Use a basting brush to lightly coat the rings with the oil and syrup on both sides, and then sprinkle each side with salt and pepper. Roast for 30-40 minutes, or until the rings are quite golden. Allow rings to cool.
While rings are cooking, prepare cashew cheese, if using, and whisk together all of the tamarind vinaigrette ingredients.
To serve, pile all of the greens on a large serving platter. Top them with the quinoa, then arrange the acorn squash slices over everything. Sprinkle the pomegranate arils over the salad, then dot it with heaping teaspoons of cashew cheese (about ¾ cup total). Finally, drizzle the dressing over the salad and serve.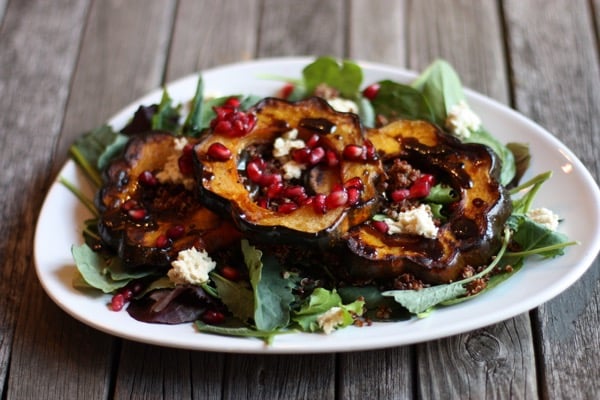 This salad has it all: texture, flavor, visual appeal. I love the way that the tart tamarind contrasts with sweet, tender winter squash. In all, a total winner, and a perfect way to think outside the box (think outside the bowl?) with dinner salads, using a couple of bold flavor pairings. I hope you enjoy it.
Tomorrow: a fabulous snack recipe, and a cool announcement. Stay tuned!
xo