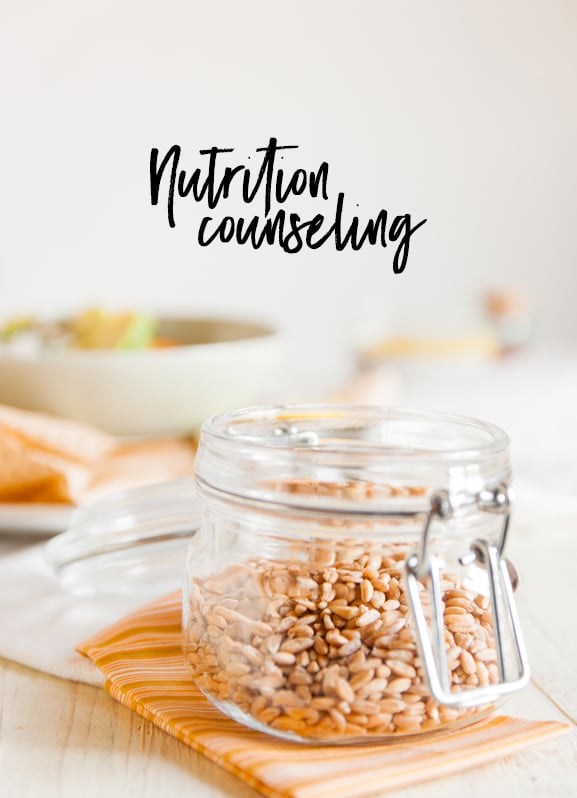 Are you looking to boost your vitality, make empowered food choices, explore plant based diet? Have you lost your sense of dietary balance, and are you looking to rebuild a harmonious relationship with food? Let's talk. I am a certified clinical nutritionist with over six years experience working with clients of all ages and circumstances. While I have special experience with plant-based diets, you certainly don't have to be vegan to work with me. My goal is simply to help you make wholesome food choices that will work for your body.
Here are the basics of my services:
What I Do
-Nutrition counseling that emphasizes nourishing, whole foods, balanced eating habits, and sensitivity to the emotional issues that surround food.
-Support for men and women who have complex relationships with food, histories of disordered eating, or body image struggles.
-Sound, evidence-based feedback and information for those who are new to plant-based eating and have questions about how it works.
-Extensive experience with using diet as a means of coping with food sensitivities and digestive ailments.
-Tips on how to build more nutrient dense, balanced meals.
-Adaptable, individualized weekly meal plans and recipe ideas in keeping with clients' unique needs and particular tastes.
-Emotional support for clients with histories of dietary extremes, as well as tips on how to find a greater sense of balance.
How I Work
-I offer counseling over the phone, via Skype, via gchat/Facetime, or by email. We can discuss the method that works best for you.
-After a one hour, initial session, I offer thirty minute follow ups, along with flexible, individualized meal plans and recipes.
-I offer a number of packages to fit every budget and set of goals. Before we get started, we'll decide together which package is the best fit for you.
-I offer additional, supplementary materials as needed, including grocery checklists, emotional eating worksheets, and food/mood journals.
My Experience & Training
-C.C.N. (certificate in clinical nutrition) from NHI College, Encinitas, CA
-Member of the American Academy of Drugless Practitioners
-Post-baccalaureate, pre-medical degree from Georgetown University
-I spent two years working as the in-house nutritionist for Dr. Robynne Chutkan, M.D., FASGE, an integrative gastroenterologist and director of the Digestive Center for Women in the Washington, D.C. metro area. As Dr. Chutkan's nutritionist, I worked with patients suffering from a variety of digestive diseases, disorders, and syndroms, including Crohn's disease, colitis, irritable bowel syndrome, celiac disease and food sensitivities.
Special Considerations
-While I have and will continue to work with men and women who have eating disorder histories, the counseling I offer is not a suitable replacement for the therapy, dietetics work, or medical interventions that can be crucial to active eating disorder recovery. If you suffer from an eating disorder, it's important that you seek out a care team that has the training and experience to serve you. If you want to chat about whether or not you're at a place in recovery where my work can be valuable to you, please reach out, and we can discuss it.
-My work isn't intended to replace the treatment of any other healthcare professionals.
-While I do have special experience working with plant-based diets, gluten free diets, and dairy free diets, I'm happy to work within any dietary paradigm. As a nutritionist, my goal is simply to help each client find a diet that is appropriate, healthful, and sustainable for his or her body.
Ready to Get Started?
Think you might be interested? I offer free, 30-minute consultations to help you decide whether or not my work is right for you. I'll share the details of my various counseling package options, describe exactly how I work, and I'll have a chance to hear more about you, your history, and your goals. To book a free, 30-minute consultation, click here. If you have any other questions about my work, please reach out to me at gena@thefullhelping.com. I'd love to hear from you!
**Update, 10/3/16: I will be taking a few weeks away from counseling work for the month of October. To be added to my wait list for a consultation, please email me (gena@thefullhelping.com). I'd love to hear from you.
Here's What Former Clients Have to Say About My Work:
"Gena is a brilliantly capable counselor, nutritionist, and confidante. As a high stress individual with a history of disordered eating, I have found her wealth of knowledge and compassion for my struggles to be invaluable. She's worth more than the price of her services, and I recommend her to everyone I meet who considers food-related counseling of any sort."
"Gena has gone to great lengths to educate herself in the fields of diet and nutrition, and her knowledge has helped me make major strides towards a healthy life. She listened to my problems with great patience and understanding and treated me as a person suffering from symptoms, not just a list of symptoms. If you are looking for an open heart, and the brains to back it up, talk to Gena."