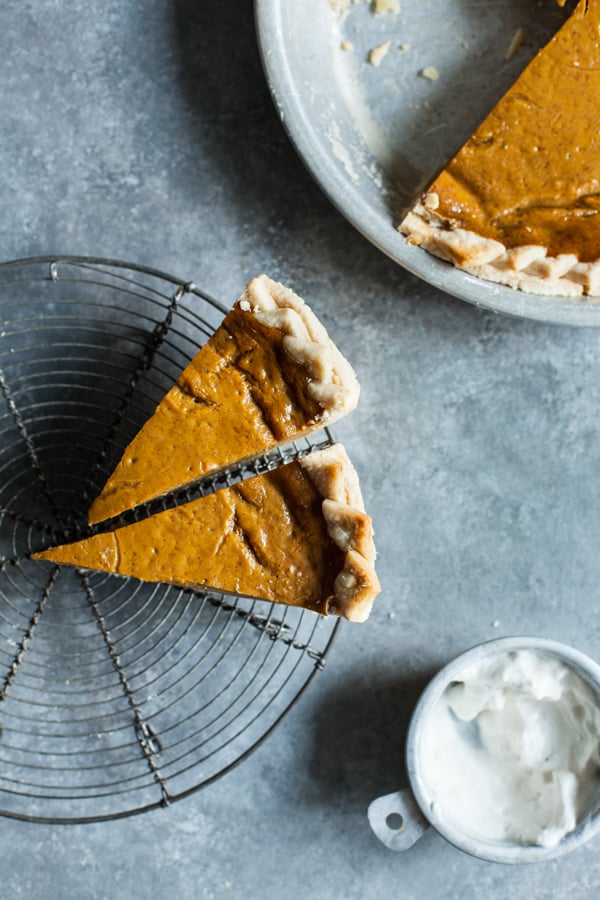 When I was growing up, there was an ongoing debate in my family about which pie reigned supreme. According to my mother, it was pecan. My uncle liked apple. My grandmother didn't care, as long as it was a la mode. Me? I've always liked pumpkin best, and I still do: of all the pies, crumbles, and tarts out there, it's by far my favorite. And these days, my go-to recipe is this perfect vegan pumpkin pie.
I was a pretty good pie maker growing up. I purchased a Martha Stewart holiday book when I was twelve or thirteen and quickly perfected the art of pate brisée and pate sucrée. I took Martha at her word, and internalized the idea that a fine pie crust was always made from butter, ice cold, flour, egg yolks on occasion, and a good egg wash for a pretty finish. When I became vegan, I never really tried to make pie at first because I just assumed it was impossible to get authentic results. If it was possible, I reasoned, it probably took extraordinary amounts of work and/or a lot of ingredients. How wrong I was.
I have made vegan pie crust in many different ways now—raw and cooked, whole grain and refined, no bake and bake—but the version I use in this recipe is my favorite because it's the most authentic. It has only five ingredients: vegan buttery spread (you can use coconut oil, too), salt, a pinch of sugar, flour, and cold water. Pie crust is one of those things that sounds really complicated, but is actually really simple once you get the hang of it. And a single crust pie, like this one, is a good place to start.
I've seen vegan pumpkin pie recipes with coconut milk, cashews, vegan cream cheese, and all manner of filling ingredients. Cashews work very nicely, but in order to get them to a perfect consistency and texture, you need to use a high speed blender, which not everybody has.
My personal choice for pumpkin pie filling is silken tofu. It creates a pie filling that has amazingly authentic texture, and you don't need a high speed blender to make it happen. I combine the silken tofu with pumpkin (of course!), spices, sugar, vanilla, and a mixture of starches to help it set. Some recipes call for as many as five or six tablespoons cornstarch, but with this much you run the risk of tasting the cornstarch in the pie. I like to use two tablespoons cornstarch and 2 tablespoons of tapioca starch (or flour): the texture is just right, and you won't taste starch in the filling at all.
I'm always amazed at what silken tofu can do in vegan desserts–and I find it impressive that it can create silky, creamy textures without adding too much fat. After you try it in this perfect pumpkin pie, you can try using silken tofu in chocolate pudding, in frosting, or in vegan cheesecake!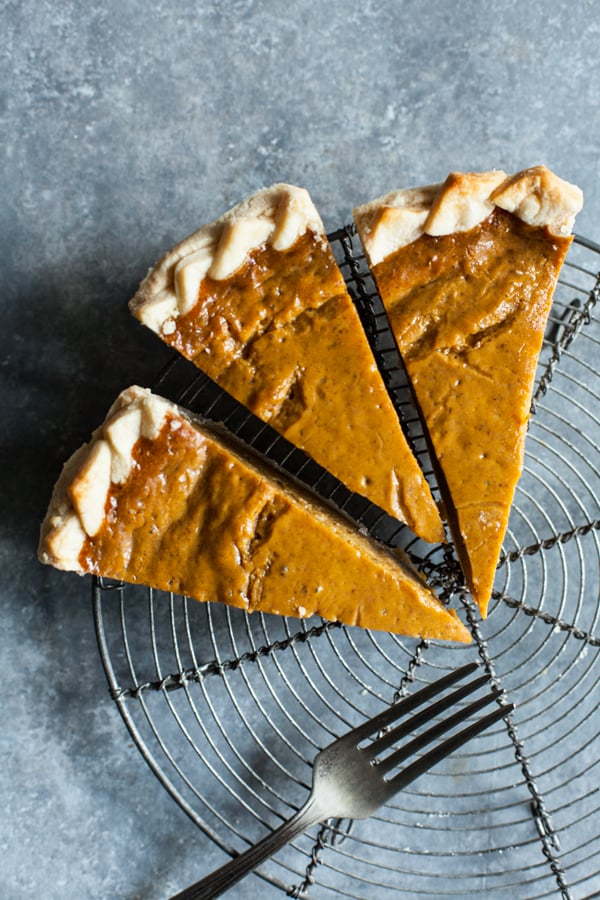 Perfect Vegan Pumpkin Pie.
Recipe type:
dessert, holidays
Cuisine:
vegan, gluten free optional, tree nut free
Prep time:
Cook time:
Total time: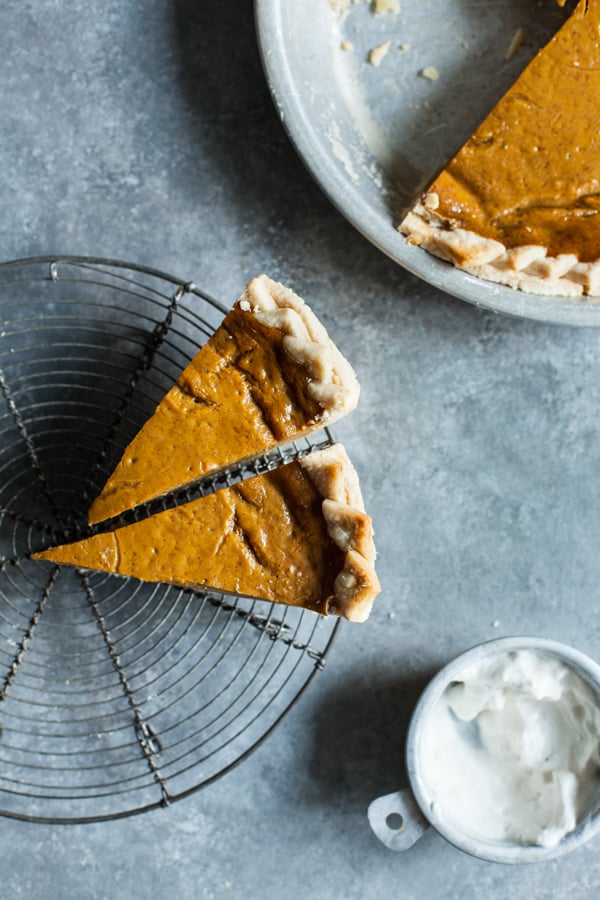 Ingredients
For the crust:
1¼ cups all purpose, unbleached flour (you can substitute a 1-to-1 gluten free flour of choice)
½ teaspoon salt
1 teaspoon sugar
1 stick (8 tablespoons) cold vegan buttery spread, cut into pieces
Ice cold water
For the filling:
12 ounces silken tofu (some packages of silken tofu contain 14 or 16 ounces--this is fine, too)
1 15-ounce can pureed pumpkin (not pumpkin pie filling)
2 tablespoons cornstarch
2 tablespoons tapioca starch (also known as tapioca flour)
2 teaspoons vanilla extract
½ cup light or dark brown sugar
½ cup cane sugar
¾ teaspoon salt
1 teaspoon ground cinnamon
1 teaspoon ground ginger
½ teaspoon ground nutmeg
¼ teaspoon ground cloves
Instructions
To prepare the crust, place the flour, sugar, and salt in a food processor and pulse to combine. Add the buttery spread and pulse the processor until the spread is broken down into pea-sized pieces. With the motor of the machine running, drizzle in ice water until the dough is just coming together (about 3-4 tablespoons, but it might be more or less). It's better if the dough is a little dry than if it's wet or sticky. Transfer the dough to a floured surface and shape into a disk. Wrap it up in saran and refrigerate it for at least 30 minutes, or up to 2 days before baking the pie.
Preheat your oven to 400F. Butter or oil and lightly flour a pie dish. Roll the pie dough out about ¼-inch thick, into a large disk, and fit it into the pie dish. Prick the bottom of the crust about 6 times. Transfer it to the oven and bake for 15-20 minutes, or until the edges of the pie crust are just barely golden. Transfer the crust to the fridge and allow it to cool for 15 minutes.
While the par-baked crust cools, place all of the filling ingredients into a food processor or blender. Blend till perfectly smooth. When the crust has cooled, pour the filling into the crust and gently smooth it over. Transfer to the oven and bake for 50-55 minutes, or until the top is dark and the edges of the crust are golden. Allow the pie to cool to room temperature on a cooling rack, then transfer it to the fridge. Allow it to chill for at least 4 hours before slicing and serving (it's best when it has chilled overnight). Enjoy with cashew whipped cream, vegan ice cream, or vegan caramel!
Notes
Leftover pie should be covered and kept in the fridge. It will keep for up to four days.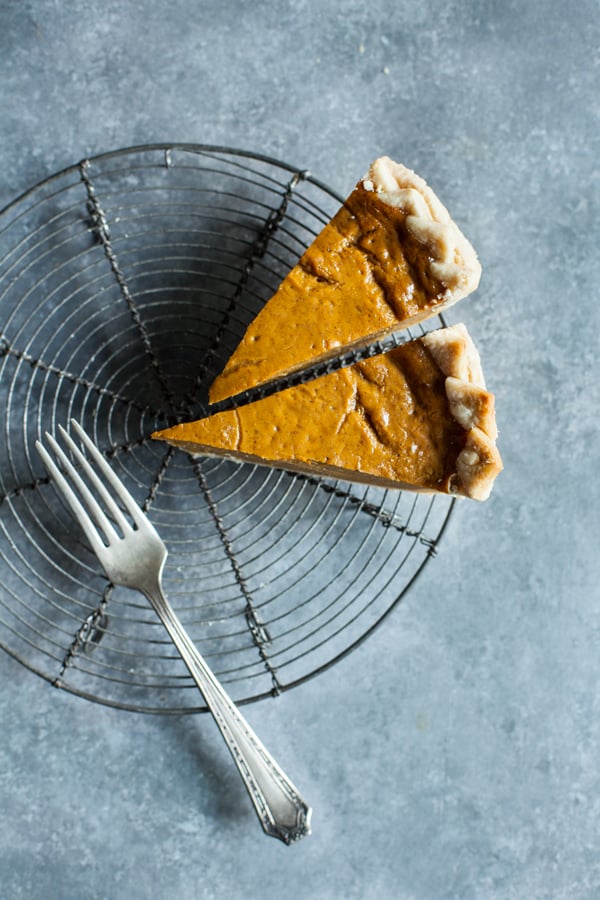 Making delicious, authentic food is a wonderful form of advocacy, proving to the others that the choice to become vegan does not entail sacrificing time honored and beloved recipes. This holiday season, begin with a perfect vegan pumpkin pie. You won't be sorry, and neither will your loved ones!
xo