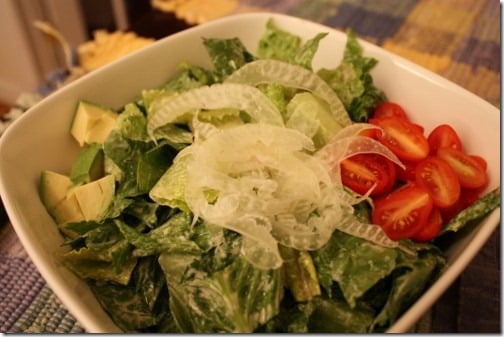 Why, hello there.
My lord, it feels good to be back. I think I often underestimate how much I love writing this blog. I love food, and I love to share food with others, but it goes so far beyond that. Blogging allows me to reflect on my actions and thoughts, to shape my experiences into a narrative that I can understand, and to seek out a sense of communion with you, my readers. In short, blogging appears to have turned me into a writer—or at least, a person who loves to write. After six years of seeing myself only as an editor, who shapes the words of other people, it's a little new and a little surprising to suddenly feel like a writer, too. Who knew?Sorry to have been MIA for a few days. Sorry to my fellow bloggers, for being so remiss in my comments lately. I can't wait to write and comment more, because I miss your blogs, too. For the next week or two, I'll be dealing with some pretty seismic life change—which is scary and big and great, and I'll write about soon—but for now, I simply ask that you forgive me if I seem a little distracted. My head is being tugged in a lot of directions, but my heart is always close to this blog.
As I attempt to juggle the ups and downs of an emotional week, I'm seeking refuge in one thing I know will always offer me a sense of stability: the joy of creating and writing about food. How funny it seems to me that, once upon a time, food was a source of tension and strife in my life: nowadays, being in the kitchen is my favorite way to regain my bearings. And what food could be nearer or dearer to me than—you guessed it—salad? It's my favorite meal of all, and last week, I created a new salad and dressing that are already destined to be eaten and enjoyed again and again. It's raw, vegan caesar salad, and it's delicious.
There was a time not so long ago when I assumed that I Caesar salad and I would never meet again. I was a new vegan, and I didn't know all of the inns and outs, but I did know that eggs and parmesan were not on the menu. Besides that, my memories of Caesar salad were mostly limited to my own sadness that anyone would smother crisp, fresh romaine in heaps of dressing that was often no better than mayo. Little did I know then that there are a million recipes for vegan Caesar out there—raw and cooked—and tons of substitutes for the ingredients that give Caesar salad its taste. With a little nooch, a little seaweed, and some nuts, raw, vegan Caesar is as easy as pie, and I happen to think it's even tastier. Try this dressing, and tell me if you don't agree.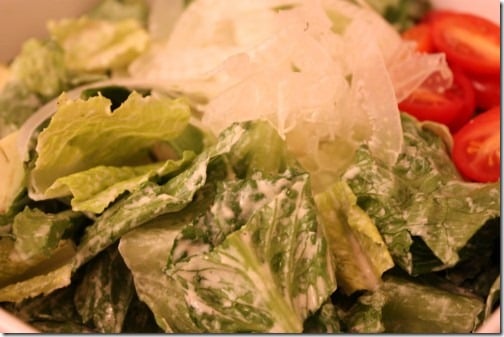 Raw, Vegan Caesar Salad Dressing (makes about 1 1/4 cups)
1/2 c cashews
1/4 c hemp (if you can't afford or don't have hemp seeds, all cashews is fine, too)
1/4 c nutritional yeast
1/4 tsp salt
2 lemons juice
black pepper
3 pitted dates
1 tsp kelp granules (optional, but good for recreating the anchovy taste)
3/4 c water
2 large stalks celery
Blend all ingredients together in a high speed blender, or, if you haven't got one, soak the nuts first and put it all in a regular blender. Serve over romaine lettuce and any other veggies you like. I, for one, kicked up traditional Caesar (which is basically romaine, and nothing more) with some cherry tomatoes, fennel, avocado, and celery. It rocked my world:
Sprinkling a little more nutritional yeast on top—just to mimic the parmesan in regular Caesar—made it all the tastier: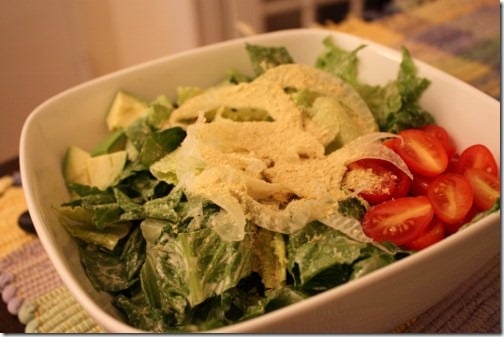 It's a truly delicious salad, and a hearty one, too. The dressing itself could also work as a dip, sauce, or sandwich spread—the possibilities are endless! In fact, tomorrow's post will show you another way to make the dressing sing. I've seen raw Caesar recipes on the web for ages now, and can't imagine why I didn't try my own sooner. I love this salad, and hope you will, too.
On that note, friends, I bid you a very tired au revoir. I'll be back here tomorrow with more salad and more appreciation for the joys of writing about food.
xo