Happy Monday! So glad you guys like the almond ginger nori snacks. They've given me a lot of ideas for future snacks. I'll be keeping you posted, of course
This salad—a creamy, delicious mix of kale, apples, raisins, and carrots, all with a creamy curried dressing—is perfect for autumn. The last time I made a kale and apple salad, it was my "golden harvest" kale salad—a mix of carrots, celery, raisins, and walnuts.
The idea is similar here, but the dressing is rich and creamy and infused with a touch of curry and sweetness from dates. I've made it twice now: the first time, with walnuts, and the second time with cashews. The cashew version definitely tastes more mainstream and less "nutty" than the walnut version, but the walnut version is slightly more nutrient dense. You can certainly experiment with both, and decide which you like more!
Kale Salad with Carrots, Apples, Raisins, and Creamy Curry Dressing (raw, vegan, gluten free, soy free)
Serves 2-4
1 scant cup raw cashews or walnuts
1/4 cup lemon juice
3 pitted dates
3/4 cup water
1/2 tsp sea salt
2 tsp curry powder
1 head kale, de-stemmed, cut into bite sized pieces, washed, and thoroughly dried
2 large carrots, peeled and chopped
1 large apple (I like honeycrisp!), chopped into small pieces
1/3 cup raisins
1. Blend all dressing ingredients in a food processor or high speed blender till smooth.
2. Massage the kale with about 1/3 cup dressing, making sure that everything is well coated and softened. Add the apple, carrot, and raisins, and remix the salad, adding more dressing if you like. Serve!
If you want to turn this one into a meal sized salad, you can definitely add some chickpeas or lentils! It would also be great served with a hummus sandwich, or a fresh batch of raw crackers. Yum.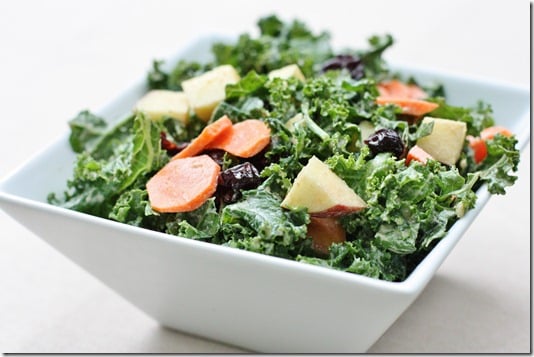 Such a wonderful way to enjoy fall produce! Hope you like it.
The first time I made this salad, it was early last week. The second time, I made a version of it as part of another "ingredient potluck" with Anne, adding beautiful beets:
To find out about the amazing quinoa dish we served it with, you'll just have to tune back in tomorrow! Till then,
xo