When was the last time you cleaned out your freezer? Me, I almost never do. This week, I've been doing some major house cleaning, which has led to all sorts of fascinating discoveries. Juice pulp from 2011, courtesy of Valerie. Sunshine Burgers that have turned into bricks. Thanksgiving stuffing from last year. Flax seeds that I distinctly recall transporting from NYC to D.C. when I moved here. It seems I need to explore the depths of my freezer more than once a year.
Hiding in the back of my freezer were these:
I honestly don't know what these guys were doing in there. I don't really like corn tortillas all that much; I much prefer the Food for Life sprouted wheat tortillas or my raw carrot cumin wraps. I think these are from last spring, when I offered to make enchiladas for a bunch of the post-baccs (and then forgot). But in any case, I'm trying to clean my freezer and pantry out at the moment, and I'm certainly not going to let stuff go to waste (unless it's juice pulp from 2011; I decided to let that go).
Here's what else I had on hand: 4 cups cooked chickpeas. 1 head kale. The usual array of nuts and seeds. Lemon. There were other veggies in my fridge, but those were the standout ingredients. With last week's creamy kale salad with apples and walnut dressing in mind, I figured I'd make some easy tortillas with kale and chickpeas. To give it all extra flavor and texture, I roasted the chickpeas first.
Roasting chickpeas gives them wonderful flavor and an irresistible, crispy texture. It's actually something I do all the time, but it's never occurred to me to blog about it. For this recipe, I kept things super simple, and I tossed 2 cups of chickpeas in a heaping tablespoon of avocado oil (olive would be fine), 1 teaspoon of vegan Worcestershire sauce (speaking of things you find when you clean out your kitchen), the juice of 1 lime, a tablespoon of tamari, and 2 teaspoons of cumin.
Into a 375 degree oven they went, for 35 minutes. And out they came, toasty and delicious!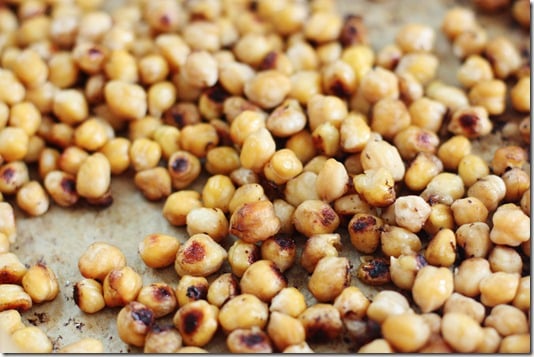 I have been known to sit around eating these guys with a spoon. But they also make a delicious packed snack, and they add a lot to salads! And over the weekend, I found out that they're perfect tortilla stuffers, too.
Tortillas with Creamy Kale and Toasted Chickpeas (vegan, gluten free)
Serves 2
2 cups cooked chickpeas
1 tbsp tamari
1 heaping tbsp avocado oil
2 tsp cumin powder
1 tsp vegan Worchestershire sauce
Juice of 1 lime
1 head kale, stems removed and chopped into bite sized pieces, washed and dried
Creamy raw dressing (recipe below)
4 corn tortillas
Simple, Creamy Raw Dressing (yields 1 ½ cups, or so)
1 cup cashews or walnuts
1 tbsp chia seeds
1 cup water
2-3 tbsp lemon juice
¼-½ tsp. salt (to taste)
1 pitted date
1 tbsp dried dill (optional)
Blend all ingredients in a high speed blender.
1. Toss chickpeas in the tamari, oil, Worchestershire sauce, lime, and cumin. Bake at 375 degrees for 35 minutes, or until chickpeas are toasted well.
2. Remove stems from kale and tear into bite sized pieces. Wash and dry. Massage with the creamy raw dressing (you'll need about 1/2 cup dressing at least; keep adding till the kale is coated well and very soft).
3. Stuff each tortilla with about half cup each kale and chickpeas. Divide onto two plates, and serve with extra kale salad (it'll also keep in the fridge for a day or two!).
These tortillas combine so many of my favorite things—kale, a good dressing, toasty chickpeas. So many of my favorite things, in fact, that I could totally overlook the fact that corn tortillas are not among my favorite things.
Delicious. I hope you will like them as much as I did.
So, after just having announced that I'd be posting more of my simple, everyday food—and that I might be a little shorter on real recipes than usual—I happen to have just posted a recipe. That said, I wanted to mention that I actually doubled the chickpeas called for in the recipe (in other words, I made 4 cups) to use in salads through the week, and that I also doubled the dressing, so that I'd have it. One of the things I almost always do when I see a recipe I know I'll like is to make extra; it makes student meal planning a lot easier!
And in general, I want to thank you all for welcoming my everyday, simple food with so much love. Today I was thinking that, since I started writing CR, my life has changed in so many ways. I have a new career, a new lifestyle (student vs. full time working), I'm in a new city, and in between all of those shifts, my relationship with raw foods has gone through various transformations, my ED recovery has gotten firmer, and I've come into my own as someone who publicly talks about my struggles with food. Throughout all of this change, you guys have encouraged me to be myself, in ways as small as saying "hey, we don't mind if you just post an iPhone photo of your lunch!" and ways as profound as welcoming my decision to get a post-bacc. I'm so grateful. Thanks.
xo