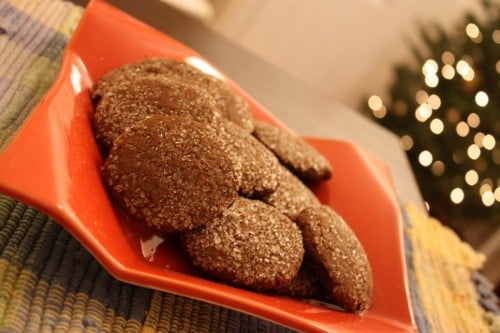 My blog this week seems to have vacillated rather dramatically between the intimate and the edible. I wrote about my career change on Monday, parsnip spread on Tuesday, my fondness for the publishing world yesterday, and today I'm writing about cookies. Can't say I don't have range, right?
It's Christmas eve, which means that many of you spent the nights working hard in your kitchens. I did, too–and I'll have a vegan shepherd's pie to share as a result in a day or too. But I first wanted to share a recipe that will be perfect for Santa's late night munching this evening, or for the dessert spread tomorrow.
I've always been a huge fan of gingerbread, but not always a fan of gingerbread cookies: even if they flavors are good, they taste like cardboard to me. I much prefer their softer and more delectable cousins, molasses ginger cookies, which are soft, warm, and sweet.
The recipe below was my attempt at replicating them. In an effort to appease those (ahem, Mom) who like a crunchier cookie, I tried to make these a little less chewy than the normal variety. But they're still a whole lot softer than gingerbread men and ladies, and spicier, too. Make them to please a crowd, to win over the hearts of nieces and nephews and other young friends, or as a gift for someone you love. No matter what, they'll be appreciated.
Vegan Molasses Ginger Cookies (makes about 24 cookies)
1 c. brown sugar or sucanat
3/4 cup Earth Balance
1 tbsp ground flax seed mixed with 2 tbsp warm water and left to gel (a "flax egg") or the egg replacer equivalent of one egg
1/4 c. unsulfured molasses
2 c. all purpose flour
2 tsp. baking soda
1/2 tsp. salt
1 tsp. ginger
1 tsp. cinnamon
1/4 tsp. cloves
1/4 tsp nutmeg
Granulated sugar
1) Preheat oven to 350 degrees. Beat together the Earth Balance and sugar till light and fluffy. Mix in the molasses and egg replacer.
2) Sift flour, baking soda and spices together. Add the dry ingredients to the wet and mix until well incorporated (I used an electric mixer to beat the EB+sugar and to mix the dough, but you could definitely do it by hand).
3) When it's all well incorporated, roll the dough into 1-inch balls. Working on a clean surface, flatten the balls against a sprinkling of granulated sugar, like so:
4) Place the flattened cookies 2 inches apart on parchment lined or nonstick cookie sheet. Bake 10 to 12 minutes until golden. Remove from cookie sheet and allow to cool.
Could anything look more festive than a plate of these guys in front of a lit tree?
I'm sure that all of us vegans are used to being asked what vegans eat on holidays, or being glanced at apologetically when the dessert plate rolls around. This year, have some bragging rights: bring these to your Christmas lunches and dinners tomorrow. Shock skeptics when you announce that they're vegan, or don't even bother mentioning it. Instead, watch and smile inwardly as your friends and family rank them among the best molasses ginger cookies they've eaten, and know that your edible gift to the people you love came without the expense of cruelty.
From my cozy little room at my mother's cozy little apartment, I wish you all a wonderful Christmas eve and morning.
xo
0