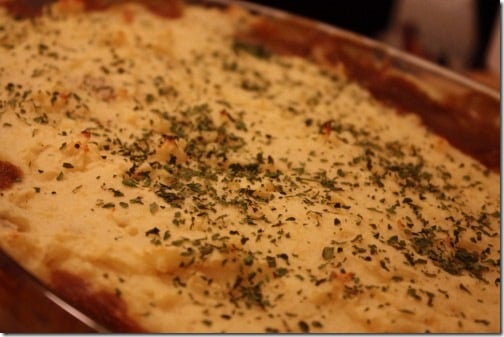 Hey all! Hope you're recovering from a wonderful Christmas celebration (or from a nice day of rest). My day was cozy and quiet, just as I was hoping it would be! But before I get to Christmas day, let me tell you a big more about my Christmas eve.
For the last five years or so, I've taken the liberty of cooking Christmas dinner for my Mom and me. I've always enjoyed the meals, and for the most part, Mom has too. There have, however, been a few meals she didn't relish: I'm thinking, for example, of the raw beet ravioli with cashew cheese and massaged kale salad we split two years ago. It all tasted good, she said, but it was a little "cold."
Of course it was cold. It was raw.
Looking back, I see that I have a tendency to bombard my mother with food that I like, but I'm not certain she'll like. Given that eating 100% vegan on any holiday is already a concession for her, I decided that this year, I'd focus more on her palate than on mine. I'd find a dish she loved, and veganize it. The choice wasn't very hard: my mom has one favorite comfort food dish that stands out above all others, and it's shepherd's pie.
Traditional shepherd's pie is, as you probably know, made with ground beef, carrots, and beans or celery, and it's topped with mashed potatoes and then baked. When I was growing up, my mother made a very traditional version for parties and entertaining friends. I still remember the smell of beef browning in butter (not fondly), and the sight of her putting dots of butter on top of the potatoes before it all went in to the oven. My mom was always adamant about the fact that her shepherd's pie was a "special treat" dish—too rich, she said, to serve on just any old night. Now, all these years later, I hope I've persuaded her that it's not hard to make shepherd's pie that's healthy enough for any weeknight supper, but also tasty enough to satisfy our appetites.
My vegan shepherd's pie was borrowed heavily from this recipe, courtesy of Aida Mollencamp. I did, though, make a few adjustments, so I thought I'd go through it all step by step.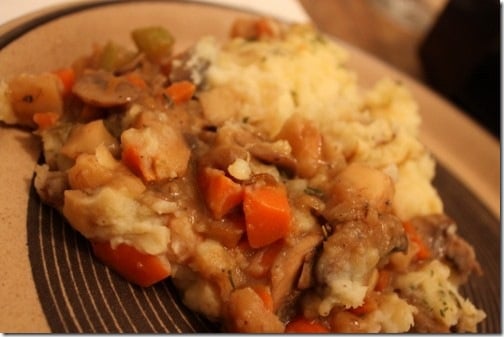 Vegan Shepherd's Pie (serves 6 generously)
Ingredients
1 1/2 cups low-sodium vegetable broth
1/3 cup red wine
3/4 ounce dried porcini mushrooms
3 pounds russet potatoes, peeled, and cut into large dice
4 tbsp Earth Balance, divided
1/3 cup rice, almond, or soy milk
Salt and freshly ground black pepper
2 pounds cremini mushrooms, stemmed and quartered
1 small yellow onion, finely chopped
2 cloves garlic, minced (optional)
2 medium celery stalks, finely chopped
1 small celery root, peeled and small dice
3 medium carrots, peeled and small dice
2 large parsnips, peeled and small dice
1 tbsp minced fresh sage leaves
1 tbsp minced fresh thyme leaves
3 tbsp all purpose flour (if you're gluten free, you can go ahead and use GF flour, or you can try a thickener like agar agar or arrowroot)
Directions
1) In a medium bowl, whisk together broth and wine. Stir in dried porcinis and set aside to plump up; give it at least 30 minutes. Strain mushrooms before using, reserving liquid.
2) Place potatoes in a large pot and cover with heavily salted water. Bring them to a boil and cook until very tender (about 30 minutes).
3) Using a potato masher or potato ricer, mash the potatoes. Add 2 tbsp Earth Balance and milk as you go along. Add more of both or either if you need to adjust texture. Season well with salt and pepper. Set mashed potatoes aside.
4) Preheat oven to 450 degrees. Spray a large cooking dish with olive oil or coconut oil.
5) In a large pot (at least 3-4 quarts), heat 1 tbsp Earth Balance over medium heat and begin cooking mushrooms. Start with 1/2 of the creminis, seasoning them well with salt and pepper as you cook them. When they're brown and well cooked, set them aside. Add the remaining half to the pot and repeat.
6) When mushrooms are cooked, set them aside and heat the remaining 1 tbsp Earth Balance in the pot. Add onions and garlic and cook till translucent or golden. Add carrots and celery and cook till carrots are tender. Add parsnips and celery root and continue cooking till all vegetables are getting tender.
7) Add the cremini and the porcini mushrooms to the pot. Next, whisk 3 tbps flour into the reserved broth and wine, and add the liquid to the pot, along with the sage and thyme. Continue cooking the vegetables in the broth over a low to medium flame, stirring frequently. Check the broth and vegetables for seasoning, and season to taste with salt and pepper.
8 ) When the vegetables are very tender, and the broth has reduced almost completely (you want a bit of liquid in the pot, but not much), you're ready to assemble the shepherd's pie. Take the pot off of the heat. Transfer the vegetables to the large baking dish or casserole.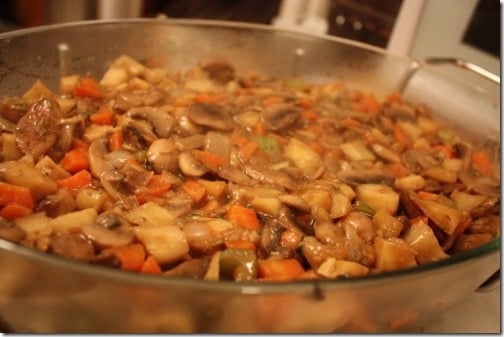 Next, spread the mashed potatoes carefully over the surface of the vegetables, so that it forms two neat layers.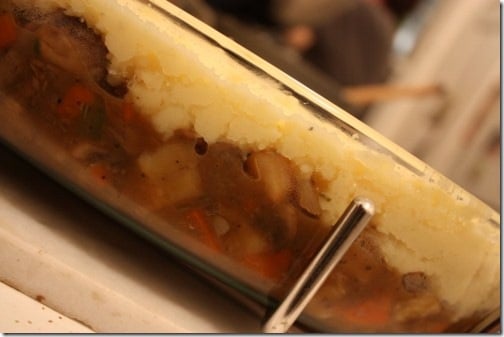 Sprinkle the top of the potatoes with dried parsley or thyme. Transfer the dish to the oven, and bake for 30 minutes, or until the vegetables are bubbling ever so slightly, and the top of the potatoes is golden brown.
9) Remove shepherd's pie from oven, and cut to serve.
It should be piping hot, fragrant, and absolutely scrumptious-looking: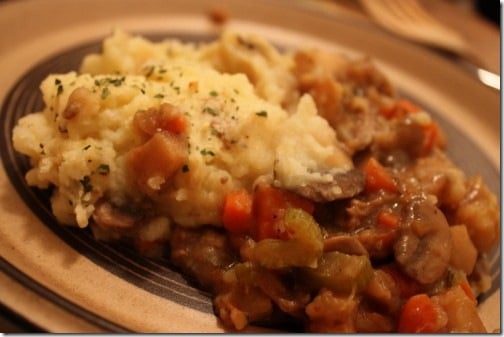 My mom, who claims that I "only eat vegetables," declared that she could not possibly eat both the pie, and a salad. "And I don't know how you can possibly eat so many vegetables, either!" she added.
I scoffed. Just try me, Mom.
Spinach, fennel, and celery met olive oil, lemon, and salt. I rarely eat a meal that hasn't at least got a raw, green component, and I'm not about to start.
My plate: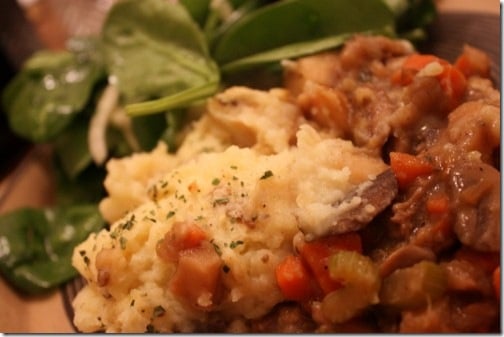 The pie was divine – earthy, comforting, very flavorful, and bursting with root vegetable goodness. My mom claimed I was heavy on the pepper; I disagree, and so did my father when he devoured some leftovers the next day. Even so, season according to your whole family's tastes!
For dessert, I treated mom to lemon coconut Bundt cake, courtesy of Epicurean Vegan. Perfect example of a food Mom loves, and I don't. I'd so much rather have a raw macaroon or chocolate for dessert than cake. But Bundt cake is mom's favorite, and I was thrilled to show her how easy it is to veganize:
By the end of the night, Mom seemed thrilled with her eats. And I, in turn, was thrilled to have given her a meal that she loved.
Today, it was back to meals I love, and that included some raw soup. Raw soup isn't always a crowd pleaser—even among raw foodies, it's not for everyone—but it happens to be one of my favorite dishes, and after all of the chopping and dicing and sautéing and baking on Christmas, I was thrilled to throw together a soup as simple as the following.
Raw Celery Soup (serves 1)
1 cup celery juice
1 cup almond milk
1/4 avocado
Small squeeze lemon
Blend all ingredients in a blender till smooth.
Paired with a salad, it was a lovely and simple lunch—just for me.
Before I go, I wanted to mention that I also visited my father and his girlfriend on Christmas day, and that they have a new domestic companion. Meet my rambunctious younger brother, Fritz:
Meeting him was the best of Christmas presents!
How were your holidays? Did you cook mostly for yourself, or for others? According to your own tastes, or in keeping with the tastes of a crowd? I'm dying to know.
xo