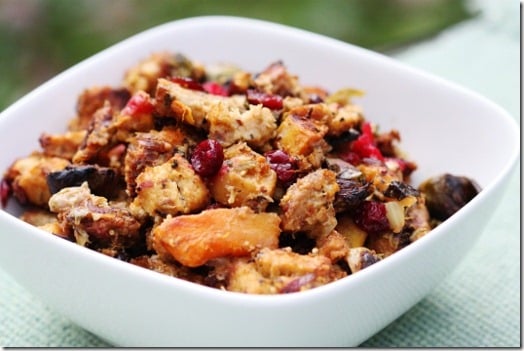 Happy (almost) Thanksgiving!
My holiday is split this year: I'm spending tonight in Arlington with my Uncle and Cousins, and tomorrow I'll be heading home to New York to be with my Mom and her boyfriend. For that reason, it's as good as Thanksgiving for me right now, as I write. How better to commemorate the special occasion with the two – that's right, two—fabulous vegan Thanksgiving stuffing recipes I concocted today?
Stuffing: it's one of the most beloved Thanksgiving mainstays. Unfortunately, it can also be one of the most calorie-laden and often the least healthy, what with the sticks of butter and pounds of white bread. The following two options offer more healthful alternatives and "swaps" to the originals (for example, coconut oil in place of butter) as well as a higher concentration of veggies! Both are also gluten free.
The first of the two stuffings has a traditional bread base. It is also a gluten-free bread base, which I know will send shouts of joy through the ranks of my GF readers: I used the Food For Life millet bread, which I actually got so that I could experiment with a GF version of my banana caramel bread pudding (more on that soon!). I will confess that I don't love this bread on its own—for toast, for example, I will always use good old Ezekiel bread—but I do love it in other applications, like this stuffing. It has the thickness and texture of cornbread without the hassle of actually baking cornbread, and it's made from one of my favorite whole grains—millet!!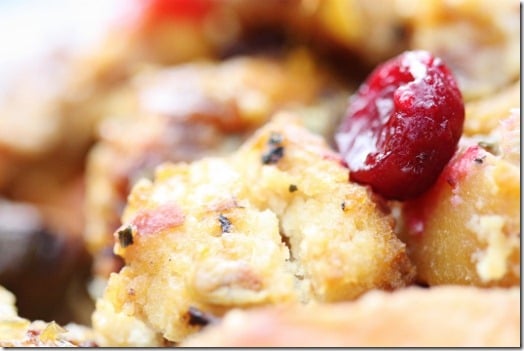 Don't be deterred by the long procedures in either of these recipes. As someone who is always very short on time, I designed them so that I could make them in a stepwise fashion, starting one day in advance with roasting either the veggies for the first stuffing or the mock meat for the second. But you can definitely make them in a single day if you want. Once the initial roasting step is over, it's easy as pie!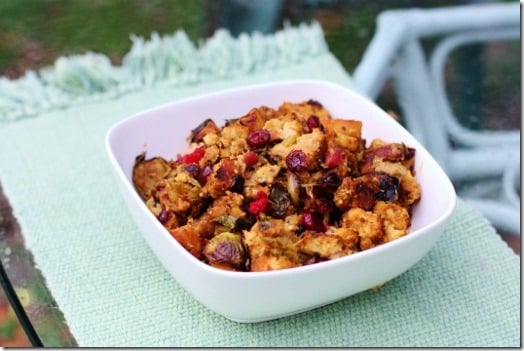 Millet, Butternut Squash, Brussels Sprout, and Cranberry Stuffing, a.k.a. "Kitchen Sink" Stuffing! (gluten free, vegan)
Serves 6
1 lb butternut squash, cubed
1 lb brussels sprouts, halved
4 shallots, thinly sliced
2 tbsp coconut oil, divided
1 cup onion and celery, diced
10 slices Food for Life Millet bread (or any bread of choice), left out for a day to become slightly dry and cut into cubes
1 1/2 cup vegetable broth
2 tbsp nutritional yeast
1 tsp dried rosemary
1/2 tsp dried thyme
1 tsp poultry seasoning (check labels to be sure it's vegan)
1/2 cup dried cranberries
Salt and pepper to taste
1) Heat oven to 375 degrees. Toss the squash, sprouts, and shallots in 1 tbsp oil and season well with salt and pepper. Roast till vegetables are very tender (I actually like my sprouts a bit singed) and remove from oven. Reduce oven heat to 350.
2) Heat other tbsp oil in a large pot. Sautee the onion and celery till translucent (about 5-8 min). Add the bread cubes and allow them to get golden brown with the veggies in the oil. Add a dash of salt and pepper.
3) Add the roasted vegetables, broth, nutritional yeast, cranberries, and seasonings. Stir the mix till the broth has absorbed in the toasted bread. Transfer to a baking sheet and bake at 350 for about 20 minutes. Serve hot. And delicious.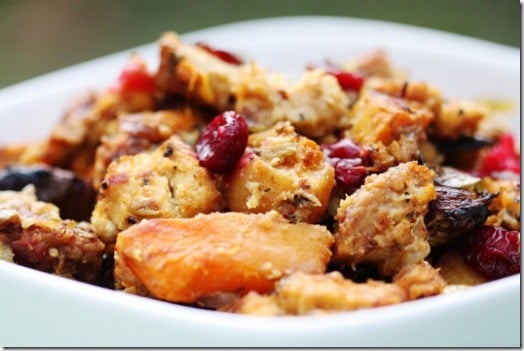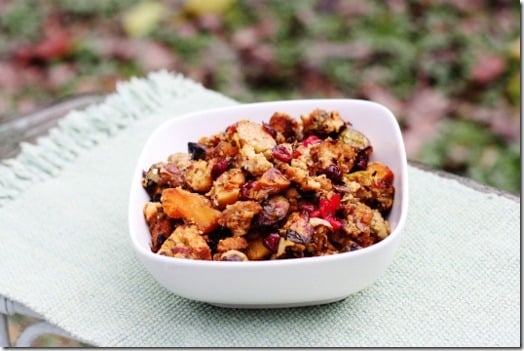 This second stuffing is based on my friend Ricki's amazing mock "meat" made with cauliflower. I added some veggies and seasonings, but the concept is the same. If you like the sounds of an all veggie and nut mock meat—sans soy isolates or other junk—check out the lasagna Ricki makes with this!
"Meaty" Wild Rice Stuffing (gluten free, vegan)
Serves 6
1 small head cauliflower, loosely chopped
1 cup walnuts
2 tbsp low sodium tamari, nama shoyu, or soy sauce
2 tsp liquid smoke
1 tsp poultry seasoning (see above)
1 cup diced onion
1/2 cup diced celery
1 diced carrot
2 clove garlic, minced and divided
1 tbsp coconut oil
2 cups mixed mushrooms (cremini, bello, shitake, etc.)
1 cup wild rice, cooked
1/2 cup vegetable broth
1) Process cauliflower and walnuts till crumbly in a food processor fitted with the S blade. Transfer to a large bowl and add the tamari, onion, carrot, 1 clove garlic, celery, poultry seasoning, and liquid smoke.
2) Roast cauliflower and walnut mixture at 350 degrees till nicely browned, about 30 minutes. You'll want to stir it every now and then for even cooking. Remove from oven and set aside.
3) Cook rice according to package instructions in a rice cooker or over the stovetop. When it's almost ready, sautee the other clove garlic and mushrooms till tender and thoroughly cooked. Add the cooked rice to that pan, mixing well, and then add the cauliflower mock "meat." Add the 1/2 cup broth and mix everything well. You should end up with a hearty, filling, "meaty" rice stuffing that tastes divine–earthy from the mushrooms and savory from the veggies!
This post is proof, I hope, that there are incredible stuffing options for every table that are 100% vegan, as well as 100% whole foods. While both of these stuffings are hearty, they are tremendously healthy.
Most importantly, both of these dishes are designed to please omnivores, but they are animal friendly food options for a holiday which is often anything but. Feel good about the flavor and the nutrition, yes, but most of all, make these stuffings and know that no living creatures suffered so that they could taste good.
With that, off to VA I go. Have a cozy, warm, and happy pre-holiday eve!
xo