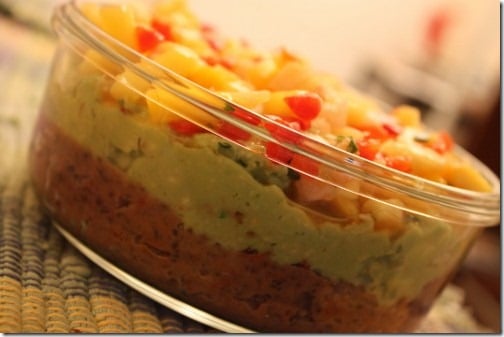 Love the response to my pizza recipe and tutorial! It was a lot of text, I know, but I hope I was able to convey the ease of pizza making in spite of that. Homemade crust is so much more worthy than store-bought, and kneading can double as stress relief therapy. Seriously. Please make some vegan pizza soon, and then come talk to me about it.
What you may not have realized yesterday as you salivated over my artichoke, red onion, and sundried tomato pie was that it was the first in a series of recipes dedicated to Sunday's big game. That's right, my friends. This is officially Super Bowl week at Choosing Raw. Yesterday was Day 1, and today the fun continues with a three-layer dip I think you'll love!
If I asked you to guess whether or not I've always been a football lover, would you guess (a) absolutely, Gena, you seem like a hardcore sports fanatic, or (b) to be honest, it came as a surprise to me, but I've just been going along with it, I'm guessing most of you would choose (b). And you'd be right. I did not grow up a sports fan, and it wasn't until Chloe and her Dad introduced me to all things Yankees that I really tasted the exhilaration that comes from rooting for a great team (a few Bostonians just took me off Google reader, didn't they?). My love of the baseball didn't begin in childhood, and it wasn't passed down from parent to child (Hamshaws all root for the Red Sox). It didn't come from any natural ability in sports, because lord knows, I haven't got any of that. It came from the fact that my best friend and her father loved the game and loved the team, and I, out of solidarity, learned to love them, too.
Do I enjoy the Yankees any less because I became a fan by proxy? No, not really. I'd actually say it works the opposite way: my loyalty is amplified by the fact that I associate the team with people I love. And so too with the Packers. M is a big fan, and this year, out of solidarity (and curiosity), I've become a big fan as well. Do I understand most of what goes on in an average game? No. Do I have poignant and patriotic childhood football memories? No. Does it matter? Not at all. It's fun to be rooting for Green Bay this week, and even more fun to be planning some delicious vegan eats for Sunday.
The following dip is the kind of thing I love to serve to party guests because it's so sneaky: it's 2/3 raw and all vegan, but it's composed of familiar components, so everyone gets really excited about it before they realize that they're eating a plant-based, cruelty free appetizer. It's a win for everyone's taste buds, and it's a win for veganism. One can only hope these wins are met by on-screen victories, too.
Three Layer Super Bowl Dip (Semi-raw, vegan, gluten free and soy free)
Serves 6
To assemble the dip, you'll need the following 3 components:
Gena's Famous Black Bean and Red Pepper Dip (Vegan, gluten free, and soy free)
Serves 4-6
I call this "famous" only because I make it constantly and use it in various recipes–a version of it goes in my polenta stacks, and I stuff it into collard wraps all the time. Everyone who tastes it likes it as much as I do, and it's so simple to make!
1 can black beans, rinsed and drained
1 red bell pepper, coarsely chopped, or about 2/3 cup roasted red peppers (jarred is fine, if that's what you have)
4 sundried tomatoes, pre-soaked and drained, OR oil packed and drained
1/2 clove garlic, finely minced (optional)
3/4 tsp cumin
1/4-1/2 tsp salt (use 1/4 if the canned beans are salted; 1/2 if they're unsalted)
2 tbsp lime juice
Black pepper to taste
Water
1) Empty beans into a food processor and process till thick and broken down.
2) Add the peppers, sun-dried tomatoes, garlic, lime juice, cumin, salt, and pepper, and pulse until the mix looks like refried beans. If it needs thinning, add a little water.
3) Serve!
2 batches of My Favorite Guacamole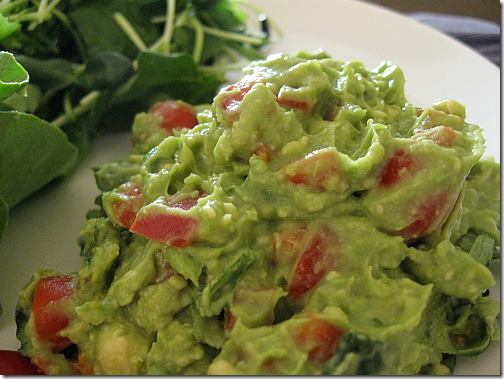 Mango-Jicama Salsa (Raw, vegan, gluten free and soy free)
Serves 4-6
I'm not a fan of mangoes, and this recipe is 100% un-seasonal. But it's the tastiest way I've found to eat a fruit I don't like very much, and it's a wonderful alternative to regular salsa.
2 ripe mangoes, diced small
1 medium beefsteak tomato, diced small
1 large jicama, peeled and diced small
1/2 red onion, finely minced
1/2 cup fresh cilantro, chopped
1/2 jalapeno pepper, seeded and finely chopped
1/4-1/3 cup lime juice (I like my food tart, so I err on the generous side)
1 tbsp agave nectar
1 tsp sea salt
Freshly ground pepper to taste
Toss all ingredients together, and let marinate for at least one hour in the fridge before serving.
To assemble, simply layer your components. I halved the recipe, knowing I'd be the sole recipient of this foodie offering, and used a glass storage container that was about 5 1/2 inches in diameter, so if you make this for company, I'd suggest making the whole recipe and using a glass dish that's about 6×8 inches, or 48 inches squared in area. <————– Look, I'm learning math!
Begin with a thick layer of the bean dip, then a layer of the guac, and top with salsa. If you suspect one layer may get too thick, set aside some of it for later (I have some leftover bean dip now).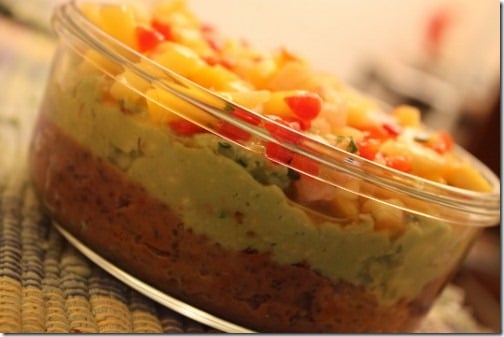 Heaven!
This is perfect with some corn chips:
And you'll notice that the top two layers are yellow and green.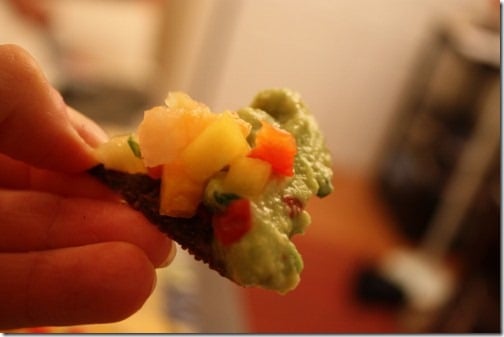 Coincidence? I think not.
I actually recommend making this in a container that's transportable, because it makes it so easy to pack up and bring to parties. See?
This isn't a recipe you'll want to have sitting around, as it'll get goopy and the guac will start to go brown, so do try to eat it right away.
For more plant-based Super Bowl eats, please check back throughout the week! And also go over to Wendy's blog, where the lady herself will be having a week long Super Bowl festival.
Sporty readers: what are your favorite things to eat as a sports spectator? And how did you become a sports fan in the first place?
xo