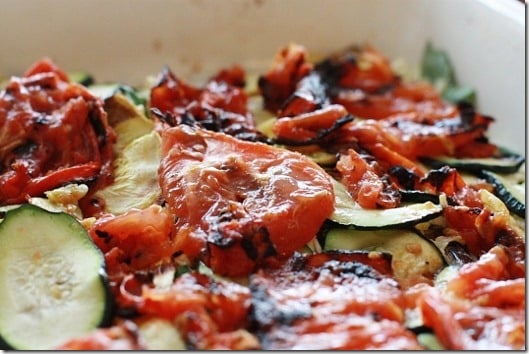 Hey guys! Hope the weekend treated you well. I spent a great four days with the boy, and now I'm gearing up for some power packing.
I loved your responses to my spinach burgers; they're well worth making, and I'd love to hear about it if you try them! In the meantime, excited to share my first truly summery recipe of the summer: a vegan summer vegetable gratin with crispy eggplant and Daiya cheese.
As you may have noticed, when I'm either a) very busy, or b) away from M, I tend to revert to what I'll call my "foundational" eating style. This means mostly raw food, lots of chia pudding, lots of nutrient dense salads, lots of blended salads, lots of wraps and spreads and sushi rolls and grain bowls. That's about as complex as it ever gets. It's not particularly exciting, but it's how I like to eat, and as I mentioned in my post last week on staying healthy under deadlines, it's important to stick to the tried-and-true.
Even so, I write a food blog. And cooking is one of my most cherished and lived-for activities. Nothing makes me happier than cooking a wonderful vegan meal, and I'm so excited to be settled in DC so that I can start making some truly blog-worthy meals for M and for me.
And for you guys, too.
The following gratin (or "gray-tun," as my Dad would say), which M and I devoured on Thursday night, was the first non-nutrient dense salad or zucchini pasta dinner I'd had in a while. It was inspired by Kath and Matt's summer squash gratin, which I made a note to make a long time ago, but I added breaded eggplant. It sounds complex, because it involves a lot of steps, but believe me when I say that it's a very accessible and straightforward dinner: you just have to work piecemeal.
The key to the gratin turning out well is that you salt and pat dry your vegetables before you bake them: they're all very watery, and it's important to both season and dry them out with salt before you assemble the gratin, lest it end up a watery mess. Sounds annoying, and this technique is no friend to those on low-sodium diets, but if you consider that there's no salty sauce in this recipe, and if you take care to serve it with a salad or sides that aren't high in sodium, it's nothing to worry about.
Vegan Summer Vegetable Gratin (vegan, GF if you use brown rice bread crumbs, soy free)
Makes 6 pieces
2 small summer squashes, sliced into 1/4 inch thick slices on a slight diagonal
1 large eggplant, sliced vertically into 1/4 inch thin slices
1 cup almond or rice milk
1 cup whole wheat or brown rice bread crumbs (I love the brown rice ones)
2 tsps oregano
2 beefsteak tomatoes
1 1/2 cups daiya cheese
3 cups finely chopped fresh basil
Salt and Pepper
1) Sprinkle the eggplant and the tomatoes with a generous dose of salt and let them sit for about 30 minutes.
2) While you do this, set oven to broiler, and sprinkle the squash slices with salt and pepper till nearly crispy (but still moist). When they're done, set them aside. Reduce oven heat to 400 degrees.
3) Pat eggplant and tomatoes dry with some pressure, to ensure that they're on the dry side. Mix the oregano into the bread crumbes in a wide bowl or on a plate. Dip your eggplant slices in the almond or rice milk, then dredge them in the bread crumbs and transfer to an oiled or parchment lined baking sheet.
Also place tomatoes on an oiled or parchment lined baking sheet.
4) Place tomatoes and eggplant in the oven. After 15 minutes, flip the eggplant slices over. After about 20 or 25 minutes, check the tomatoes: if they're soft and browning, they're ready and you can remove them, leaving the eggplant in the oven. (If not, give them another 5-10). After 30-35 minutes, or when the eggplant is brown and getting crispy, it's ready.
5) Mix Daiya and basil together in a bowl.
6) Reduce oven heat to 350 degrees. Layer 3-4 slices of the eggplant in a small casserole dish.
Top with about 1/3 of the Daiya mixture.
Top with the summer squash…
…then the tomatoes.
Top with another third of the Daiya mixture. Finally, layer 3-4 slices of the eggplant on top, and cover that with the remaining third of Daiya and basil.
Bake for 10-15 minutes, or until the Daiya is totally melted. The vegetables will be slightly crispy from the baking, the Daiya will be decadent and tangy, and your tastebuds will be over the moon. Promise.
What a nice way to celebrate early summer. And now that my finals are over, summer really is here—in spite of the slight upheaval that's ahead of me.
What are you most excited to cook this summer? And what's the first thing you tend to make when you're in the mood to go above and beyond the usual?
xo