Glad everyone liked the looks of my curried carrot and red grape slaw!!!
This week, temperatures plummeted for the first time since I've lived in DC. In a span of only a few hours, it seemed, we'd gone from swampy heat to the distinctive chill of autumn. Fall is my favorite season, and so I welcome this change , but even I was taken aback by its suddenness, which left me with a couple of critical questions:
Should I sleep with my window open or shut?
Should I break out my heavier fall coat now, or should I layer my lighter jacket with a sweater?
Is it too chilly for flats?
Most importantly,
What am I in the mood to eat?
I'm not really a seasonal eater: my food cravings are all over the place, and I'm as likely to go through a high raw phase in the dead of winter as I am to crave hot soup in the summertime. For whatever reason, the temperatures and textures my body seems to need have very little to do with the seasons. That said, I love to use seasonal produce, and autumn is the season of winter squash. I devour pumpkin, acorn, kabocha squash, and butternut squash from September onward, with relish. I'll eat them in the summer, sure, but for whatever reason they don't seem to have the same allure when it's piping hot outside.
A few nights ago, I was struck by one of my first annual butternut squash cravings. The problem was that I was equally eager for something raw and cooling. I took a moment to think about what was in my fridge, and after some consideration I decided to throw together the following high-raw dinner. It was creamy, savory, and totally satisfying, and it met my simultaneous cravings for autumnal and summer produce nicely. I even went out of my comfort zone and made my typical zucchini alfredo sauce a little garlicky: it worked beautifully, and I surprised myself by loving every bit of the garlicky taste. If you're not into garlic, simply omit or half the amount in the recipe.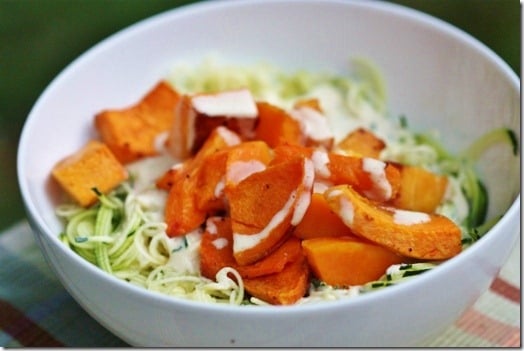 Zucchini Pasta with Roasted Butternut Squash and Cream Sauce (high raw, vegan, gluten free)
Serves 1
1 zucchini, spiralized
1 heaping cup butternut squash, cubed, drizzled lightly with olive oil, dusted with sea salt and pepper, and roasted at 400 degrees for 25 minutes.
For the sauce:
1 ¼ cup cashews, soaked for a few hours
¾ cup water
2 small cloves garlic
1 tsp agave
1/3 cup lemon juice
¾ tsp sea salt
1 tsp miso
1) Toss zucchini and squash together.
2) To make the sauce, put the soaked cashews in your Vita-Mix or food processor along with the agave, garlic, lemon juice, sea salt, miso, and 1/3 cup water. Blend until it looks thick and creamy. With the motor running (in either the processor or the Vita), drizzle more water in until the sauce is totally smooth (if you're using a food processor, you'll have to stop and scrape sides occasionally) and the consistency you want.
3) Pour enough sauce over your zucchini and butternut squash to coat them generously. Serve, topped with some nutritional yeast if you like!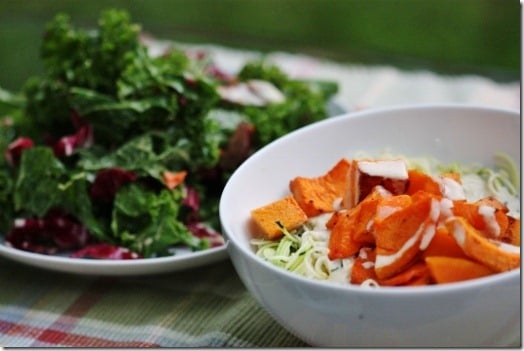 This dinner got served with a giant salad of massaged kale and black lentils. The following night, I used up the sauce and butternut squash by making another helping, and I added chickpeas to that bowl. Absolutely delicious.
This is a perfect example of the kind of easy, versatile, and satisfying raw dinner I love. You could modify this in countless ways by adding different kinds of beans, nuts, seeds (hemp seeds would be fantastic!) or some seared tempeh. You could also substitute any winter squash or yams for the butternut here. No matter what, this is a delectable and simple way to enjoy a high raw meal that's touched by the flavors and textures of autumnal food.
Before I go, I wanted to share a link to an article that my friend Sarah–whom you may remember from her wonderful green recovery joint post–wrote last night about the difficulties of being a raw foods lover in a community of people who are slightly more orthodox and extreme about raw foodism than she is (or wants to be). Given that
a) many people in the raw foods community do have histories of disorderd eating habits
b) dietary guidelines prescribed by 100% raw foodists can feel restrictive, and
c) restriction tends to be triggering for people with ED histories
we have a formula for potential conflict. Raw foodism (and plant-based diet in general) often speaks powerfully to men and women with ED histories; it's a frustrating irony that it can also evoke or trigger the same black or white, rule-oriented thinking that got us into trouble in the first place. Some might claim that people with ED pasts are simply not well suited to raw foodism. But I'd like to believe that there's another answer out there, which is for those same people to approach the diet without orthodoxy. Enjoy yourself, maintain an inclusive diet, and find a way of enjoying raw food that feels organic and reasonable to you.
This is my advice, and it's the essence of Sarah's honest, thoughtful, and respectful post. Sarah works in the heart of the raw world, and I think it's very brave of her to assert her own food needs and preferences in spite of the fact that she so obviously reveres her raw food mentors. Check it out if you have some reading time, and share your thoughts!
Till tomorrow,
xo