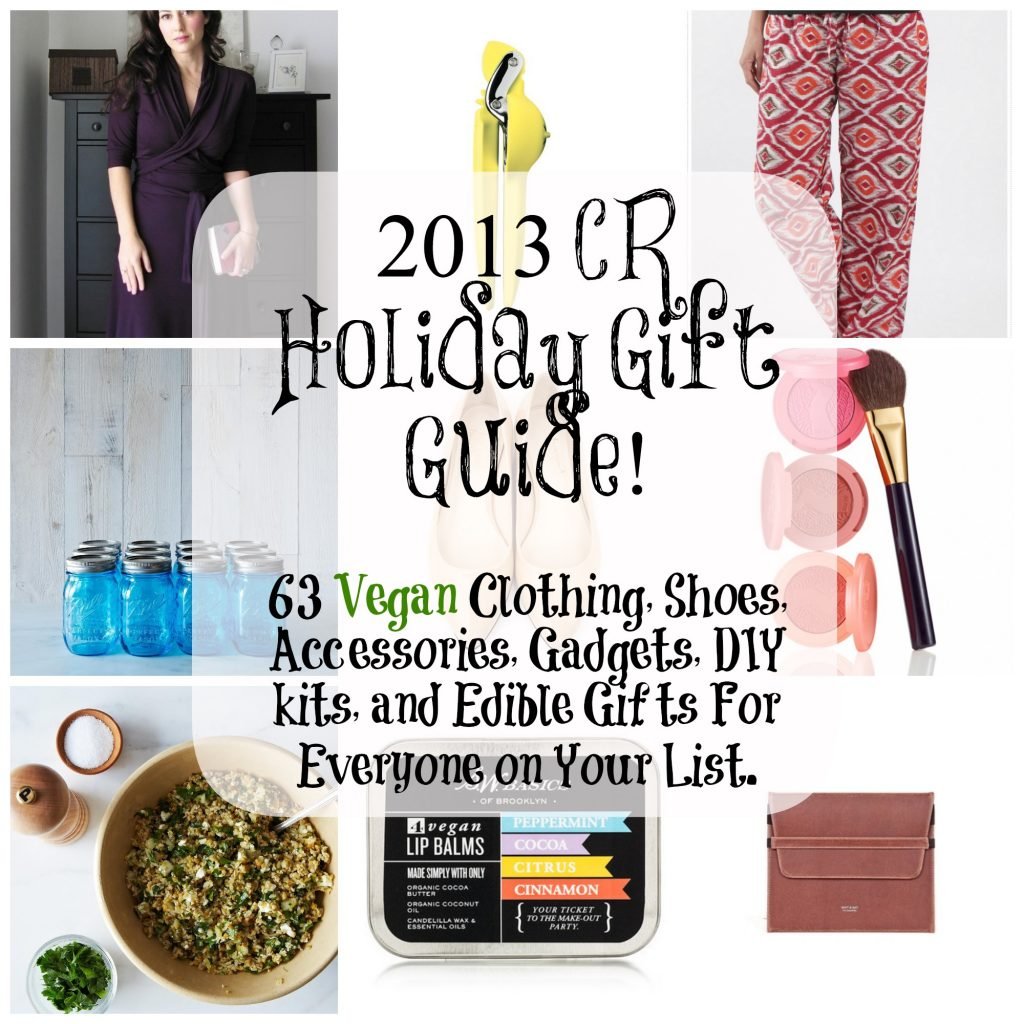 It's been years since I posted a holiday gift guide, mostly because finals always had me too distracted to scour the internet for the appropriate goodies! But this year, I had a little time to pick out some special items. These 63 pieces of clothing, accessories, kitchen gadgets, pantry items, stocking stuffers, and more are the ones that stood out to me. I'd be happy to share these gifts with any of my loved ones, and I hope that some of them will speak to you, too.

1. Three piece organic soap set, $23.95, found on ForAnima.com.
2. Bath salt and lip balm set, $19.00, from the Orange Owl.
3. LVX nail lacquer set, $36.00, found on Vegan Cuts.
4. Complete bare bones body kit, $25.00, found on Vegan Cuts.
5. SW Basics lip balm flights, $18.00, found on One Lucky Duck.
6. "Leave her blushing" 3 blush and vegan brush set, $34.00, from Tarte.
7. Set of 4 mini lip tars from Obsessive Compulsive Cosmetics, $20.00, found on Sephora.
8. 3-piece hand buttercream set, $10.00, from 100% Pure.
9. Rosy Christmas shower gel and lotion set, $15.95, from Lush Cosmetics.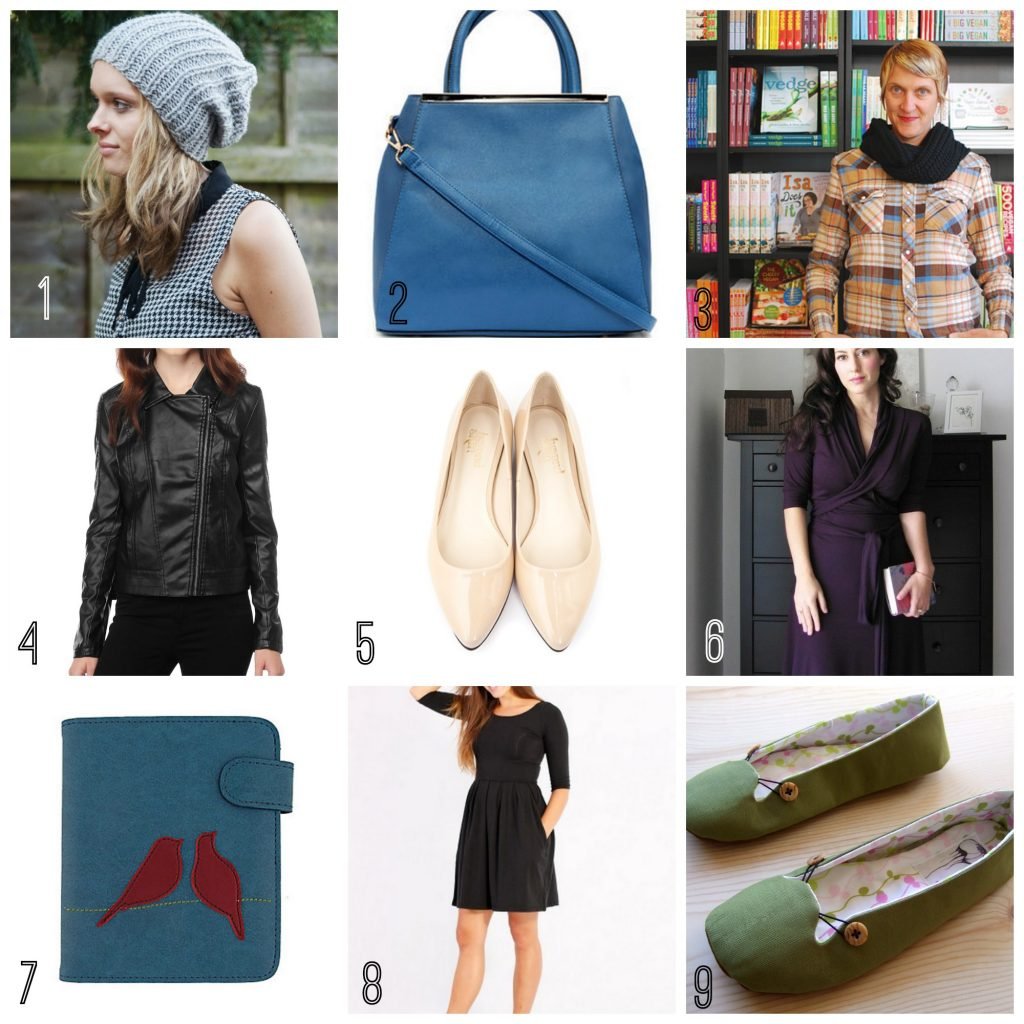 1. Knitted slouchy beanie, $39.50, on Etsy.
2. Tote couture blue tote, $35.00, on Lulus.
3. Infinity scarf by Shiraleah, $26.00, from Herbivore Clothing (and any of the Herbivore tees are a great gift, too!).
4. Women's faux leather moto jacket, $48.00, on Alternative Outfitters.
5. Shelley nude cream faux patent leather flats, £89.00, from Beyond Skin (available online).
6. Lirola wrap dress in plum, $98.00, on Foranima.
7. Travel love bird wallet, $15.00, on Vegan Cuts.
8. Ballerina dress, $82.00, from Five Bamboo.
9. Equinox flats in vine, $$56.00, from Hydra Heart (vegan, organic, and handmade–love them!)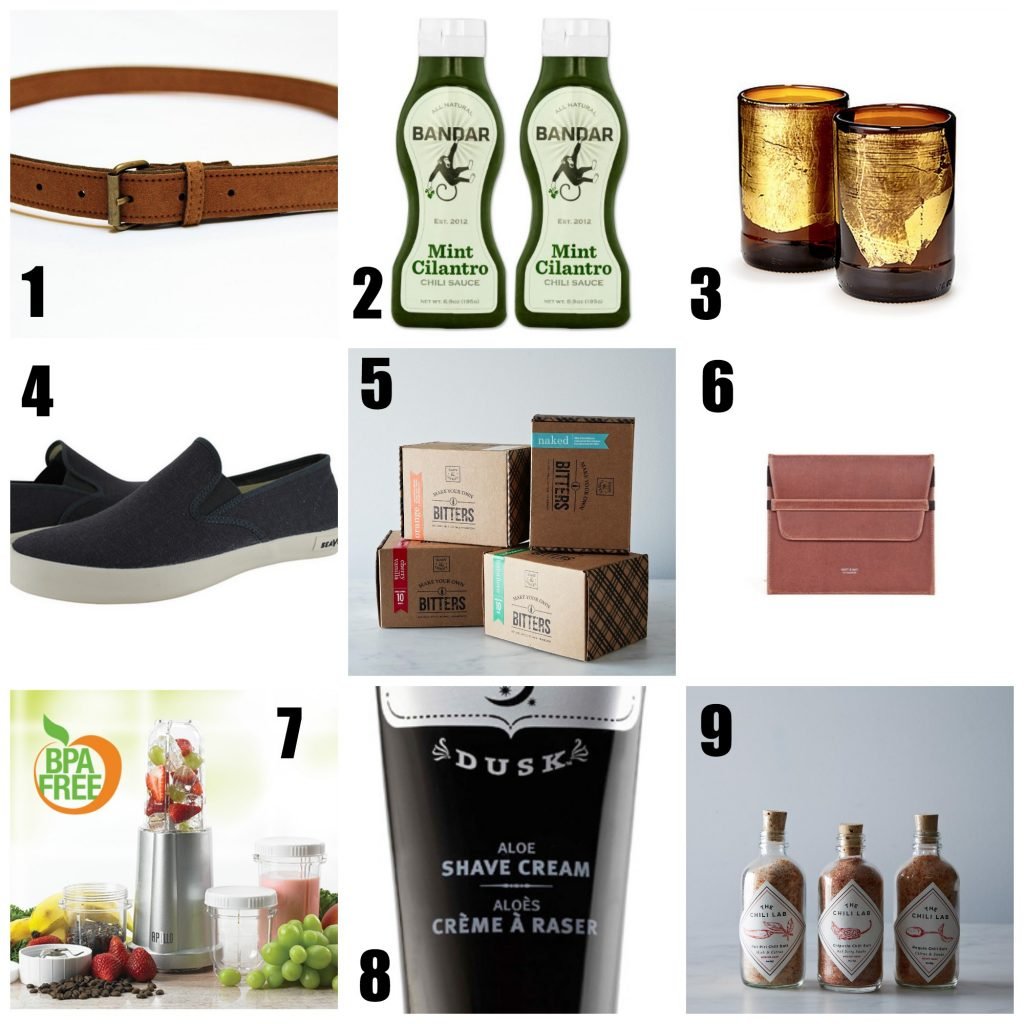 1. Hand cut belt in future leather, $80.00, from Brave Gentleman.
2. Mint cilantro chili sauce 2-pack from Bandar, $7.00, on Vegan Cuts.
3. Upcycled beer bottle tumblers, $56.00, on Uncommon Goods.
4. Baja slip on sneakers in navy by Seavees, $59.99, on Mooshoes.
5. Make Your Own Bitters Kit, $48.00, from Food52 Provisions.
6. Verve iPad sleeve from Matt & Natt, $35.00, on Mooshoes.
7. Tribest personal blender, $49.95.
8. Organic shave grooming cream for men by Herban Cowboy, $9.49, on Vegan Essentials.
9. Chili salt trio, $38.00, from Food52 Provisions.

1. Sleekstore collapsable colander, $19.99, on Fab.
2. Kitchen tablet stand, $29.50, from Pottery Barn.
3. Freshforce citrus juicer, $31.75, on Fab.
4. Cuisinart immersion blender (so great for winter soups), $34.95, on Amazon.
5. Verterra Compostable Dinnerware From Fallen Leaves, Set of 25, $15.00, from Food52 Provisions.
6. Fruit and avocado tool set, $19.99, on Fab.
7. Ball American Heritage Collection Pint Jars (Set of 12), $24.00, from Food52 Provisions.
8. Paderno spiralizer, $39.95, on Williams Sonoma.
9. Le Creuset heritage rosemary gratin dishes, $49.95, on Sur La Table.

1. Dried mulberries (my favorite dried berry), $8.99 per pound, from Nuts.com.
2. 1 Gallon Ceramic Deluxe Kombucha Brewing Kit with Cloth Cover, $60.00, from Food52 Provisions.
3. DIY water kefir grains, $16.99, from Cultures for Health.
4. Breakfast in bed sampler (pancake mix, granola, oatmeal, and maple syrup), $34.00, from Purely Elizabeth.
5. Wholegrain Freekeh 4 Pack, $20.00, from Food52 Provisions.
6. Caviart vegan caviar 4 jar set, $24.00, from Vegan Cuts.
7. DIY Kimchi Kit with Signed Copy of The Kimchi Cookbook, $34.00, from Food52 Provisions.
8. Sprouting kit gift pack, $29.00, from Vegan Cuts.
9. Cacao butter, $24.99, from Navitas Naturals (you could give this along with some dried fruits and cacao powder for a DIY raw chocolate gift set!)

1. Zyliss julienne peeler, $7.99, on Amazon (perfect for making zucchini noodles without a spiralizer).
2. Mediterranean spice trio, $15.00, from Food52 Provisions.
3. Nut milk bag from Elaina Joy's Pure Joy Planet, 7.50, on Amazon.
4. Traditional Medicinals Throat Coat Tea, $4.99, on Amazon (or wherever sold).
5. EcoJarz drink tops, $18.95, on Vegan Cuts.
6. Bring Joy tote bag, $9.00, from Janae of Bring-Joy.
7. Dusty Rose convertible vegan gloves, $16.00, from Alternative Outfitters.
8. Sampler pack of Emmy's macaroons, $14.00, from Vegan Cuts.
9. Gnosis Chocolate gingerbread bar, $7.99.

Big thanks to this post by Kristen of Rage Against the Minivan for putting some of these organizations on my radar.
1.  Rescue Chocolate 6-pack, $29.00, on Vegan Cuts. Organic, fairly traded, and 100% of net profits directly benefit animal rescue organizations. The peanut butter pit bull bar is bliss.
2. Goat ornament, $15.00, from The Time Travel Tabby Cat shop on Etsy. The Time Travel Tabby Cat online store features adorable felt ornaments, and two of them directly help to benefit animals. 10% of the pig ornament proceeds go to Pigs Peace Animal Sanctuary and 10% of the goat ornament proceeds go to Peace Ridge Animal Sanctuary.
3. Handmade soap, $5.50, from Shea Yeleen (online or available at Whole Foods). Shea Yeleen International is 501(c)3 nonprofit that promotes sustainable economic development in rural sub-Saharan Africa. The company empowers and trains women to produce handmade shea butter soaps and products in women-owned shea butter cooperatives. The women are given a fair wage through the soap profits. The soaps are vegan, with coconut oil and shea butter bases.
4. The Madeline hat, $27.95, from Krochet Kids International. This company offers 3 year programs to women living in poverty in Ugunda and Peru. The women learn to krochet hats in order to become empowered and independent. Many of the hats are acrylic, nylon or bamboo.
5. Priya full length cotton punjammies, $35.00, from the International Princess Project. This organization began when founder Shannon Keith traveled to India and learned about the magnitude of the local sex trade. She learned that women who had escaped the sex trade stood little chance of surviving outside of brothels without a new occupation, as well as aid in rebuilding their dignity and overcoming the trauma and unjust social stigma attached to their experiences. She and some friends founded International Princess™ Project to advocate for these women and empower them to live in freedom. They began to collaborate with local seamstresses to help train the women to sew cotton pajama pants (punjammies). The project now employs over 150 women and girls. Each pair of pants is named after one of the seamstresses.
6. Think Pink necklace, $30.00, from 31 Bits. 31 Bits began when a 21-year-old college student took a life changing trip to Ugunda, and witnessed how difficult it was for women who had grown up in wartime to achieve security and empowerment. She also noticed how beautiful their beaded, homemade jewelry was. She and a group of friends returned to Ugunda a few years later on a mission to help women in Ugunda to share their talents with a new market, and in so doing find independence. They implemented a five-year holistic development program in Uganda, wherein women receive health education, finance training, counseling, and business training. After five years in the program, the women graduate, leaving with an education, a career, and newfound community.
15% of the Think Pink necklace proceeds go to breast cancer research, in addition to providing the 119 women currently in the 31Bits program with a fair wage. The beads are made from recycled paper. (Note that some of the headbands  on the site do contain leather.)
7. Blue Ripple Scarf by Beth Begany, $20.00, on the Our Hen House Etsy Shop. 100% of proceeds go to support the work that Our Hen House is doing to spread awareness about the plight of animals across multimedia platforms.
8. Nouri Bar 12 pack, $39.99, from Nouri Bar. I love Nouri Bars: they're organic, raw, vegan, crafted with simple ingredients, made locally in the DC area, and for each bar you purchase, the folks at Nouri supply a wholesome meal to a child in school in a third world country. They do so by working with local food growers and farmers, so as not to disrupt local economies. I plan to write more about Nouri in the future, but for now I'll just say that it's wonderful to meet business owners who are equally focused on animal and human rights.
9. Farm animal sponsorship, $15.00-$200.00 per month, from Farm Sanctuary. Your monthly donation, starting at $15.00, will help to shelter, feed, and support the care of a rescued farm animal. You can also give a sponsorship gift to a friend!
Phew!! That was a lot of gifts.
Of course, donations to animal rescue operations, farm sanctuaries, and other charitable organizations that align with your values also make wonderful holiday gifts, to yourself or to others. And if you are able to adopt an animal in need, you'll be giving him or her the most wonderful holiday gift of all: safety, warmth, and love.
As excited as I am about all of the gift ideas I just shared, I have to confess that my favorite type of holiday giving is the edible kind! So, starting tomorrow, I'll share 9 ideas for easy, delicious, edible vegan gifts. A fun challenge for me, and fun inspiration, I hope, for you.
xo