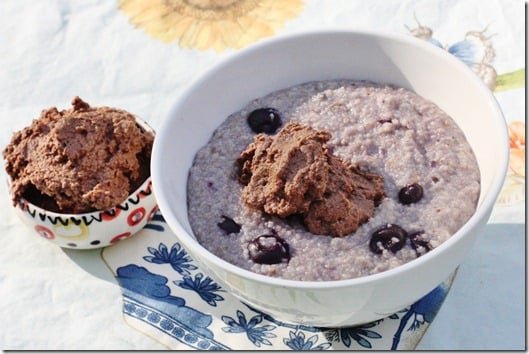 Waste not, want not. It's the essence of student budgeting, and it's a proverb I've taken much to heart this year, as I fight to make loans stretch and adjust to life without a steady income. Even as a student, I spend more money on food than do most people. Why? Because
a) Food is more important to me than it is to most people. I value food the way some people value travel, others clothing, others square footage, and my budget reflects food as a priority.
b) I write a food blog.
c) I shop as organic and local as I can, and sometimes this means I pay more. To me, it's worth it.
The tradeoff, however, is that I do my very best not to waste the high quality food I buy! And this means reusing and recycling everything, from my juice pulp—which comes from making fresh vegetable juices—to my almond pulp, which is what I strain out when I make homemade almond milk or cashew milk. Making homemade juices and nut milks is nutritious, delicious, and fun, but it also creates leftover food that many would discard. Trust me when I say that this food does not have to go to waste. Let me show you why and how.
Recently, I shared a recipe for almond and coconut macaroons made with my almond milk pulp: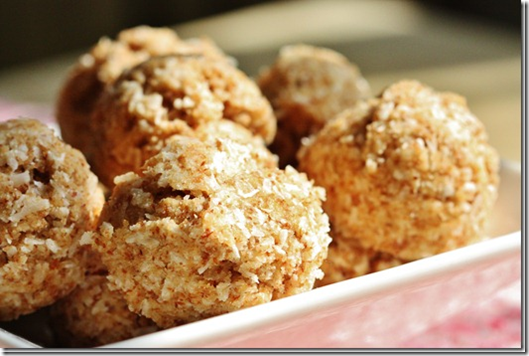 Today, I have three more ideas for you. These are simple, easy, and fast. They may not be the most gourmet recipes I'll ever post, but they're useful, and you may find that they help motivate you to try making almond milk, among other things!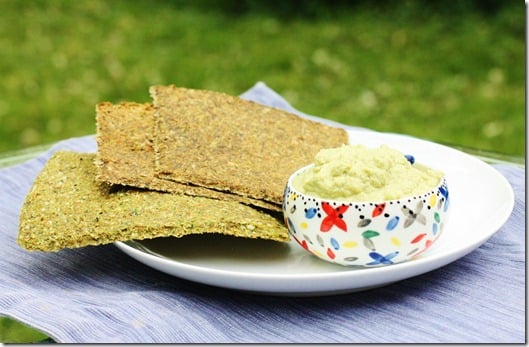 The first recipe is for a homemade flax and veggie bread. I made mine with juice pulp, but you can definitely use shredded zucchini and carrot instead. Like all of my raw breads, it's not going to taste like "real" bread, but it's crispy, simple, and a great way to make something very handy out of leftovers.
Raw Almond, Flax, and Veggie Bread (Vegan, Raw, Gluten Free, Soy Free)
Makes 9 Large Slices
1 cup almond pulp
1 1/2 cups veggie pulp
1/4 cup flax meal
1/4 cup nutritional yeast
2 tbsp Bragg's Liquid Aminos (or 1 tbsp tamari or nama shoyu)
2 tbsp chia seeds
Blend all ingredients in a food processor. Spread on a Teflex lined dehydrator sheet and score into 9 pieces of bread. Dehydrate at 115 for 6 or more hours, flipping once toward the end of the dehydration time.
You may notice that I served my raw "bread" with a dip that looks suspiciously like my raw zucchini and almond hummus.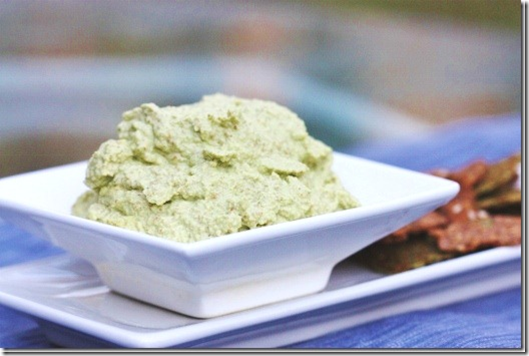 This new recipe is pretty much a rip off of that old one, except that I used almond pulp instead of almonds. The result is a hummus that is far lighter and fluffier than regular hummus, but still adds a lot of flavor as a dip or spread!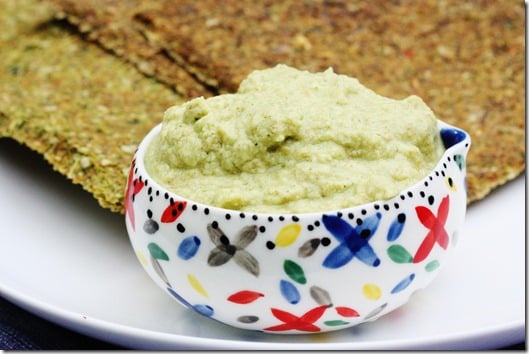 Zucchini and Almond (Pulp) Hummus (raw, vegan, gluten free, soy free)
Makes 2 heaping cups
1 large zucchini, chopped
1 1/2 – 2 cups almond pulp (use up what you have)
1-2 tbsp lemon juice (to taste)
1 small clove garlic
1 tsp cumin powder
1/4 tsp sea salt
Blend all ingredients together in a high speed blender till silky smooth. Serve as a dip, spread, or sauce.
And last, but not least, my favorite new use of almond pulp! Chocolate almond protein fluff.
I know, I know. This sounds like the kind of recipe you might find on a body building site (made with whey protein, of course). But in considering the kind of texture this most resembled, I had to admit that marshmellow fluff was really the closest approximation. This recipe is basically a stand in for nut butter, but it's infused with a protein boost in the form of vegan chocolate protein powder. It's tasty, it takes 5 minutes to make, and it's fantastic on oatmeal, as you can see (those are fresh blueberry oats!),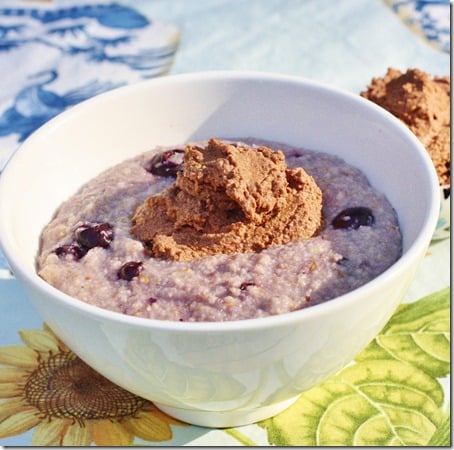 Chocolate Almond Protein Fluff (raw, vegan, gluten free, soy free)
Makes 2 cups
2 cups almond pulp
1 heaping scoop chocolate protein powder (I used Sun Warrior; Vega would also be fantastic)
Dash sea salt
2 tbsp raw cacao powder (I use Navitas Naturals)
Stevia to taste (I use dates in my almond milk, so the pulp is already a little sweet, and I didn't need much stevia)
Blend with a fork or in a food processor. Serve on toast, with a banana, over oats, or in any way you like for a chocolate fix!
This stuff is unexpected magic. In truth, I've been eating it with a spoon.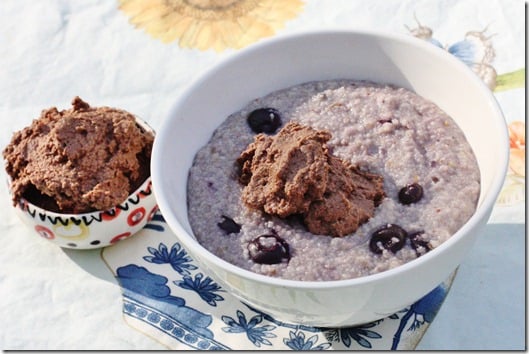 In a way, all of the recipes here resemble "poor man's" recipes—they're quick, economical versions of the "real thing" (be it hummus or nut butter). So they're not the recipes you'll take to a dinner party, or cook when you're attempting to woo a date. They're the recipes you'll make to keep your kitchen economical and waste-free, and enjoy a tasty bite or two in the meantime. You'll feel proud and resourceful for it, I assure you!
Side note, before I sign off: alas, I haven't thought of a replacement for almond pulp. So I can't offer modifications for these 3 recipes, as I wouldn't want to lead you astray with something I haven't tested myself. Even so, anyone can make homemade almond milk, so I hope the post inspires you to at least give it a shot!
Night, all.
xo