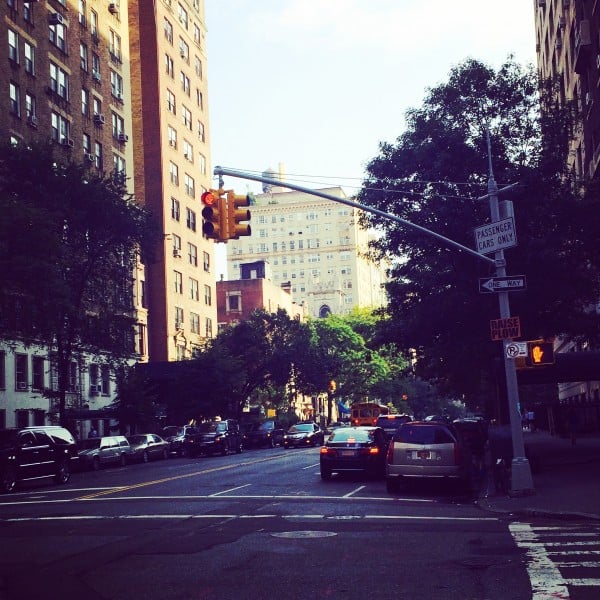 Last year's birthday post was both difficult and easy to write. Difficult because I was recounting my rejection from med school, which had been painful, but easy because there was no doubt that my year had been oriented around that single experience. This year's post has been a little harder to start and finish, because the twelve months behind me feel varied and complicated and hard to sum up.
I guess you could say that the theme of my 33rd year was homecoming. After nearly four years of feeling uprooted and stalled, stuck in the odd limbo of a second undergraduate career and the medical school application process, it was time to regroup. My post-bacc changed me in ways that I only fully realized after it was over. I left the process tougher in some ways but mostly a lot more vulnerable.
In August of this year, I came back to New York. People asked me how it felt to be back—was it different? The same? At first, I was quick to respond that things were mostly the same, because on the surface, they were. I was living in the same neighborhood I lived in before I moved to DC. I returned to old friends, to my mom, to the city I love. And I dove back into the work I'd been doing before pre-med changed everything: my nutrition counseling practice, my blog, recipe development, and freelance writing.
At the same time, a lot wasn't the same. For the first time in my life, I was living with a significant other, which was about both lovely and also challenging (more on that below). And even though I was doing the same work, I was doing it with a very different sense of purpose. Before my post-bacc, my nutrition work had always been circumscribed by my editorial job, which was full time. During my post-bacc, everything took second place to the stresses and pressures of school.
All of a sudden, nutrition work was my whole career. It was a big shift for me, and the pressures associated with doing it full time were surprising. My blog began exclusively as a passion/hobby, and even after I started to professionalize it in some ways (with my nutrition counseling), the fact that I had another job allowed me to keep it mostly within the realm of pleasure. I want my blog to remain a source of pleasure for as long as I write it, which I hope will be good long time. But there's no denying that professionalizing something changes your relationship with it. It reminds me of how I felt when I got a full time publishing job. You go into publishing because you love to read, but when you start reading manuscripts for a living, you inevitably stop reading for pleasure. It's hard to strike a proper balance between professional immersion and personal interest.
For the first time, I felt compelled to make my blog and my nutrition work a success—not just a personal success, in the sense of creating food and words and counsel I was proud of. I also had to make a living with it, and that was new. The anxieties were strong this fall, as I reframed my professional goals. In one weekend reading post, I mentioned an article I'd read about composite professional identities, which are more and more common in our day and age. I commented on this because my own professional identity was very much on my mind. As someone who has always taken comfort (however insecurely) in having a clear role and a clear title, I wasn't really sure how to make sense of my work, which usually involves several different projects and objectives at any given time.
Over time, I started to adjust. I was able to see what a profound blessing it is that I can do work that I enjoy and care about. I was also able to see that, even when the work feels disjointed, it is really unified, brought together by my passion for food. I learned how to adjust my expectations of what it means to work for oneself. There's this idea, I think, that self-employment is all passion and fulfillment, when in fact, working for oneself is full of all of the ups and downs of any other job. As with any job, there are projects that feel rewarding and some that don't, some days that move fluidly and others that drag. That's the reality, and it's all good.
Throughout all of this, I settled into the first real, mature partnership I've ever had. When I met Steven last winter, I wasn't looking for a serious relationship—in fact, I felt pretty ambivalent about how much I wanted to be involved with anyone, in any capacity. I'm so glad that I kept an open mind as Steven and I got to know each other; after a few dates it felt clear to me that he was very special, and that I'd be a fool not to allow our relationship to deepen and grow. Grow we did, and after only a few months we were discussing moving to New York and living together. The decision demanded a bold level of trust from us both, and we we're lucky that it turned out so well—even if we sort of knew it would.
A lot of my friends asked me, once Steven and I had been living together for a few months, how I felt about the transition to cohabitation. My answer was that it wasn't hard in any of the ways I thought it would be, and it was hard in others. Contrary to all of my lifelong fears about living with a significant other, I did not feel deprived of privacy, "me time," or space. I was not restless, and I didn't miss my independence; in fact, what I realized is that I had been confusing the state of independence with the state of being by myself. I feel as independent as I did before I started dating Steven, except now we have a life that we also share, and our shared existence enriches my private one.
What has been hard is having a mirror in the form of a partner/roommate. Living alone for an extended period of time can cloud one's self-awareness. It's easy not to question behaviors and tendencies. It's easy to be selfish. It's easy to allow certain habits to become calcified. The hardest part of cohabitation, for me, is that it has forced me to become more conscious of some of my less flattering angles: my stubbornness, my dramatic shifts in mood, my propensity to obsess and worry and overthink. This is consciousness is heightened by the fact that Steven and I have different foibles. He is not a worrier or a wallower, and he does not intensify his troubles by overthinking them, as I do. He has his own stuff, of course, but the fact that he is so remarkably even tempered makes me aware of how stormy and stressed my own temperament can be. It's not something I want to change, exactly, but I'd like to temper it, to learn how better to distinguish between things that are worth obsessing over and things that aren't.
Overall, though, settling into my life with Steven has been a sweet, sweet journey. I was never sure that I wanted to spend my life with someone romantically, perhaps because I hadn't been in relationships that instilled enough trust or inspired enough happiness to push me in that direction. And I like being alone—too much, sometimes—so I didn't have a fundamental predisposition to partner up. Steven has shown me how delightful it can be to share one's experience intimately with another person, even if it's also sometimes more challenging than processing everything on one's own. He has embraced my whole and highly imperfect character, which shocked me at first and sometimes still does. My friend Victoria Moran has a quote that I love:
"To the people who love you, you are beautiful already. This is not because they're blind to your shortcomings but because they so clearly see your soul. Your shortcomings then dim by comparison. The people who care about you are willing to let you be imperfect and beautiful, too."
When I first read this, it touched me because I had not yet felt it in a romantic sense (I do feel it with my friends). Today, it touches me because it seems to capture the way that Steven regards me and treats me. This may be the essence of real, mature love between two people, but I have not always experienced love this way, and I don't for a moment take it for granted.
This spring, after rekindling my counseling practice and considering how I'd like it to grow, I made the choice to begin an RD program this coming fall. I had quietly laid down the groundwork: when I got back to New York, I figured out which pre-reqs I'd still need to be eligible for RD programs, and I went about finishing up the last three classes at night. I was nervous about retaking biochemistry (a post-bacc nemesis) and about diving back into science courses in general, but the experience was actually rather redemptive. Without the incredible pressures of pre-med life, I was able to approach my classes more strategically and successfully. Much to my surprise, I had retained a lot of the knowledge that I struggled so hard to acquire the first time. I got into Columbia's program in March, and I'll be starting in September. I'll be going to school part time, so that I don't have to give up my counseling or the rest of my work. And I am very, very excited.
Before I did my post-bacc, I had been torn between pre-med and doing an RD. It's amusing to me that today, just about five years later, I am finally perched on the cusp of an RD path. Perhaps I should have had the sense to see that this was a good fit for me all along, but I'm a firm believer that our detours in life often teach us more than our determined strides forward: at the very least, they show us more landscape. This fall, when I opened up my nutrition counseling to clients again, it became clear to me how passionately I love the work. I don't know if the idea of a "vocation" is overly determined or not, whether it puts too much pressure on people. But if I have a vocation, it is helping other people to love food. Food writing is one dimension of this work; nutritional counseling is the other. I don't know where the RD will take me, precisely—perhaps it will lead me into different kinds of eating disorder work, and perhaps it will simply enhance the work I'm doing now. But I know that I welcome the chance to deepen my nutrition education. For all of the struggles I've had as a science student, my perspective on nutrition is infinitely richer for it, and I know that I have a lot to learn.
Finally, this year presented me with a few notable blogging moments. I'm recounting them now because I use these birthday posts as a way of organizing my own understanding of the year behind me. In January, I wrote a new year's post that ended up becoming my final farewell to the post-bacc experience, though I did not know it at the time. Until that point, I was still prone to passing pangs of pain and regret and envy when I thought about the whole med school rejection. That post was my closure, my own peacemaking with the process. My post-bacc remains a vivid memory, but not a painful one. (It is, in fact, a frequent source of amused storytelling.) I don't know if I think things happen for a reason, per se, but I do know that I have been delivered to a very fortunate place, and my post-bacc had a lot to do with that.
This year also marked some strides forward in ED recovery. In sharing life with Steven, I've learned to also share food, which means letting go of some of my own rules (there were more of them than I realized). I'm eating more diversely and with more freedom, which is wonderful. I also got better at facing my body this year, which was made evident when I took a yoga class in a sports bra for the first time in my life. It sounds silly, I know, but the experience signified a lot of deeper stuff, for me. I learned to bounce back more effectively from bad body days. Finally and most importantly, I shared my own Green Recovery story for NEDA week this year. Telling the tale consecutively and honestly felt very different from sharing in thematic bits and pieces, as I've done in the past. It was scary, but it was also really powerful, and I'm glad I did it.
I've mentioned several times now that my post-bacc changed the way I write and the way I blog. It made it harder to put myself out there, to assert opinions, to chronicle my life. I think part of this is the vulnerability that my post-bacc left me with, the tenderness you carry around after a deeply humbling experience. Part of it, I know, is simply getting older. The older we get, the less we know, or so they say. I see things with more nuance these days, and often with conflicted feelings and responses. This makes it harder to sum up my feelings and share them with an audience. When I look back at posts from 2009, they were so bold, so assertive, so confident. So little concern with how I'd be perceived. For better or for worse, I don't feel brazen like that anymore. This year, I would like to bring my inner life back to this blog, while remaining true to the consideration and discretion that I've necessarily acquired. We'll see how it goes.
So that, friends, is 33. I've written these birthday posts since I turned 30, and they have become a very special ritual for me. I know I always say this, but I feel so lucky to have you as readers. Thanks for letting me share another year with you.
xo