Oftentimes, people hear about raw foods and think, "but it's so extreme. I could never do that. Where would I even start?"
Very few people go raw overnight: most have long, gradual transitions that begin with a few simple changes. Below you'll find some easy raw "swaps"—raw for cooked—that can help push you in a raw direction. (And if they don't, they're still healthy choices to feel good about.) Enjoy!

● Hemp protein for whey or soy protein
Hemp is a nutritional powerhouse. Hemp oil is a rich source of polyunsaturated essential fatty acids (aka, the "good" fats). Hemp seeds contain all the essential amino acids and essential fatty acids. And hemp proteins are similar to proteins found in the human body, which makes them easy to digest and assimilate quickly, so they're a great alternative to whey and soy proteins, which are often heavily processed. Vegan and raw athletes, take note: they're terrific for athletic recovery and muscle repair. And don't let the green color scare you: hemp protein is tasty, and the popular Nutiva brand comes in several flavors.
Best of all (and unlike other protein sources), hemp protein is also rich in fiber, boasting eight natural grams per serving. Drink up!
● Larabars for Lunabars, Clif Bars, Probars, Quaker Bars, etc.
Most popular snack and fitness bars are 100% healthy…right?  Not necessarily. Lunabars and Clif Bars routinely list soy protein isolate (a potentially carcinogenic compound) in their ingredients. Probars list brown rice syrup as their first ingredient, which means that it's the most plentiful ingredient in the mix. Quaker True Delight bars include corn syrup, fructose, and maltodextrin. And don't even get me started on protein bars.
Enjoying these products is perfectly OK, once in a while. But wouldn't you feel a little better eating something that's totally unprocessed and just as satisfying? Larabars have all the flavor of other snack bars, with none of the questionable ingredients. Check out Purebars, too: they're a little less tasty in my opinion, but also pretty great (I recommend the blueberry flavor).
● Almond milk for soy milk
While there's nothing wrong with soy foods in moderation and in relatively unprocessed forms (such as organic, non-GMO tempeh), soy milk happens to be a more heavily processed variety of soy food, and it irritates many peoples' digestion. For that reason, it's good to explore other alternatives.
Instead of soy, try almond or hemp milk. The latter is very high in protein, and both are fantastic, tasty, and easy-to-digest alternatives with your morning meal. If you're feeling super creative, give my recipe for almond milk a try. It's delicious!
● Coconut water for Gatorade
The next time you reach for a Gatorade after your workout, ask yourself this question: would I like a little high-fructose corn syrup with my endorphins?
No matter how you slice it, Gatorade is lousy for you. Processed, full of sugar, and a scary color, to boot. Try coconut water instead. Naturally rich in potassium and magnesium, coconut water is nature's Gatorade (it's also a miracle worker for fatigue, dehydration, headaches, hangovers, and irregularity). It's widely available in stores now. If you're really intrepid, go to your nearest health food store and try purchasing a whole young thai coconut. Many will open it for you on the spot, and you can enjoy the water from the source!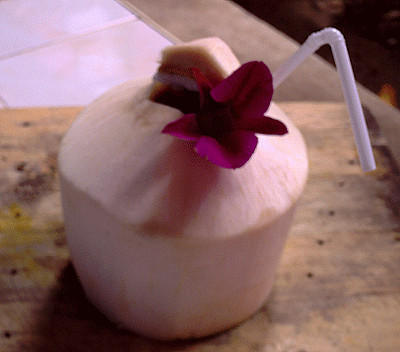 ● Collard leaves for wraps
I know, I know. It sounds a little crazy, right? Using collard leaves in place of wraps? Trust me, though, this is a truly delicious way to enjoy your lunch. If you're not ready for the taste of raw collards, just steam them for a few moments. Trim the bottom of the stem, fill the center of the leaf with veggies, hummus, or guacamole, fold, roll and go!
● Green juice for coffee
Uh oh. I can hear the grumblings of resistance now. Believe me, I get it: back in college, I used to drink five cups of coffee every single day. Coffee is tasty, and it makes you alert, and it smells pretty great (at least I think so). Keep in mind, though, that it's also highly acidic, and it can be addictive. One or two cups daily is fine, but if you start drinking more, it may affect your energy and immunity.
Do your body a tremendous favor, and try drinking vegetable juice in place of coffee once in a while. Start with something sweet, like carrot, apple, celery, and cucumber. I promise it won't taste too "veggie-like." If you like it, try a greener combination, like green apple, celery, cucumber, spinach, and ginger, which is my absolute favorite. You'll be surprised at how delicious—and addictive—juice can be! If you live in any urban area, you should be able to find a juice bar near you with a simple Google search. No, your green juice needn't come first thing in the morning: I typically make juice as a snack or before dinner. It's just smart to drink it a few times weekly (daily if you can), especially if it means skipping one of your caffeine breaks.
Embracing a semi-raw lifestyle doesn't have to come in leaps and bounds: sometimes it comes with small changes like these. So try one or all of the above: you may fall in love with these raw alternatives. At the very least, you can feel great knowing that you're making a more natural choice for your body. Happy eating!
xo