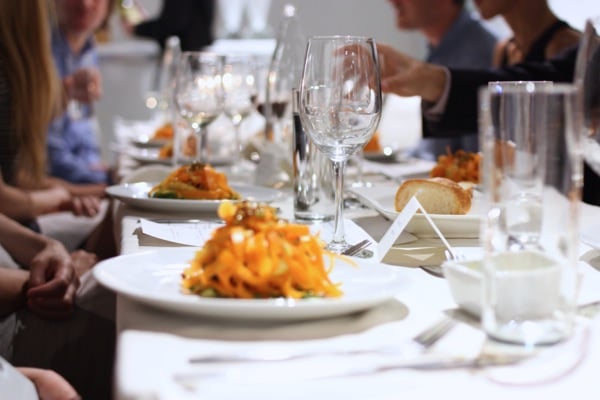 It's been a whole month, almost, since my book was published. I thought that having been on the editorial side of things would have made me an old pro at this, but of course what I learned along the way is that the experience of publishing a book is entirely different when one is an author. For one thing, I came to understand how it is that nearly every author turns in his or her manuscript late; I may have griped about this fact back in the day, but man. Book deadlines are merciless, and I'm not sure how it is that anyone can churn out a book every year, or every few.
I also realized how much harder it is to write a book than I imagined. When I started writing, last spring, I assumed that my ability to produce a lot of words quickly would make for an easy and seamless authorial process. Wrong. My prolix tendencies made the text-writing itself a little easier, it's true, but I was totally unprepared for how hard it would be to develop 125 recipes, test them, and then perfect them, especially given the somewhat looney deadline I was on. If I'm lucky enough to write another cookbook, I will not attempt to do the bulk of it in a four month period. I will not do it right after taking the MCAT. I will not plan on testing all of my recipes in the middle of an unseasonably sweltering DC summer.
In spite of the fact that I went through the same vicissitudes that every first-time author does–all of them a big deal in the moment, and very funny in retrospect–I feel proud of the book I wrote. I think the information is credible and solid, which was my first priority. I think it's passionate and honest, which was a second priority. I think it's a love letter to veganism, and I hope that it does my passion for the lifestyle justice. And most of all, I think the food is pretty tasty.
One of the sweetest parts of this book's fruition has been the opportunity to celebrate it a little with friends, family, clients, fellow bloggers, and (of course) all of you. I had a book party in D.C. on the day that Choosing Raw was published, and two weeks ago, I got to celebrate for a second time in my home town (soon to be my residential town as well!) of New York City. I felt so lucky to be sharing the book with a group of my closest friends, including Chloe (who traveled all the way from New Orleans to attend), Melissa and Dori and Heidi and a few other blogging buddies, a few friends from the activist community, some publishing buddies, and (of course) my Mom.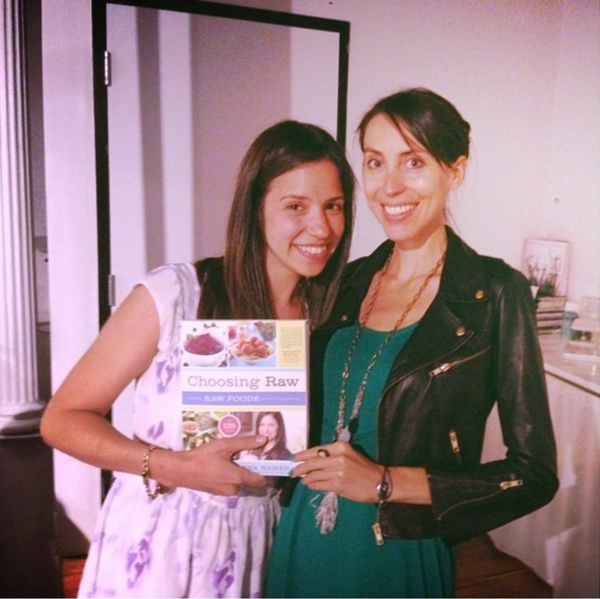 (Here I am, hold the book up like a proud mama and making the awkward face I make in most photos. Pictured with the lovely Rebecca of La Fleur Paris NY.)
Perhaps the most wonderful thing about this evening was that we were able to celebrate at Suite Three-Oh-Six, a supper club and cooking academy. The space and kitchen are vegan, innovative, and totally dynamic. You can attend classes or workshops at Suite Three-Oh-Six, or attend a 30 person supper club or event. The menus are always published very close to the day of the meal, so that the food can be seasonal and fresh. And the cuisine presented is, without fail, elegant, creative, and delicious.
The mastermind behind this incredible is Daphne Cheng, a 25-year-old culinary genius. Daphne is a graduate of the Natural Gourmet Institute in New York. A math and science whiz, she always imagined she might do something like engineering or medicine, but instead she was drawn into the world of food. This is in part a matter of personal history; Daphne had a long and arduous ED struggle, which she wrote about powerfully here on Choosing Raw, as a Green Recovery narrative. I love the fact that Daphne (like so many of us) has channeled her painful experience of disordered eating into an entirely reformed, renewed relationship with food. I also love the fact that she, too, has been able to invest food with meaning and beauty through the experience of becoming vegan. Her passion for veganism is incredible, as is her culinary talent. It's always a joy for me to meet other women who have come to love food as fiercely as I do, and Daphne is one of them.
 When Daphne and I met to chat about the meal, we decided that we'd do a five course menu. Here's the twist: each course was inspired by a recipe from the book, to which Daphne added her own unique artistry and flair. I felt incredibly lucky to have a chef of Daphne's caliber using my recipes as a canvas, and the results of her work were amazing. Here's a glimpse at our menu: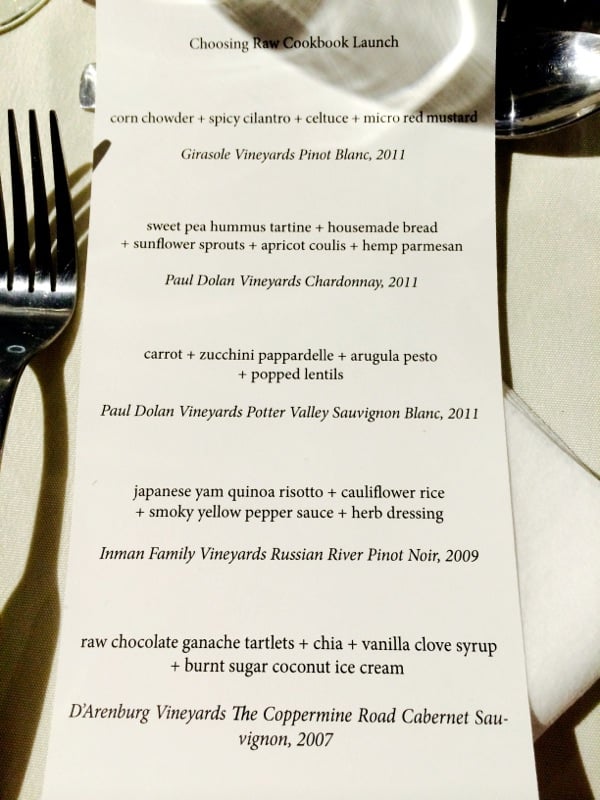 All of the wines for the event were provided by Vintner's Alliance. Vintner's Alliance is an online marketplace for unique wines of exceptional quality. They ship all over the country for 1 cent (!) shipping, with no minimum, and offer competitive prices on all of the wines they offer. The company's collection of vegan wine is growing rapidly, and it features some of the wonderful wines you see listed above (like the heavenly Inman Family Vineyards Russion River Pinot, which literally everyone was obsessed with). I'll be writing more about Vintner's Alliance and what they do soon, but for now, I can only say that I felt very fortunate to have them curate spirits for the evening, since a) everything was amazing, and b) I know absolutely nothing about wine, really.
Anyway, let's talk about the food. Our first course was a corn chowder with spicy cilantro, celtuce, and micro red mustard. It's based off of the corn chowder recipe in my book. Here's the original, as it appears in Choosing Raw:
 And here's Daphne's (beautiful) reinvented version:
A little thinner and silkier than mine, and made bold by the fresh greens, the drizzle of oil, the celtuce (which I now know is a thing). I also loved the baby corn as a playful touch!
The next course was based upon the sweet pea hummus tartines with pea shoots from the book: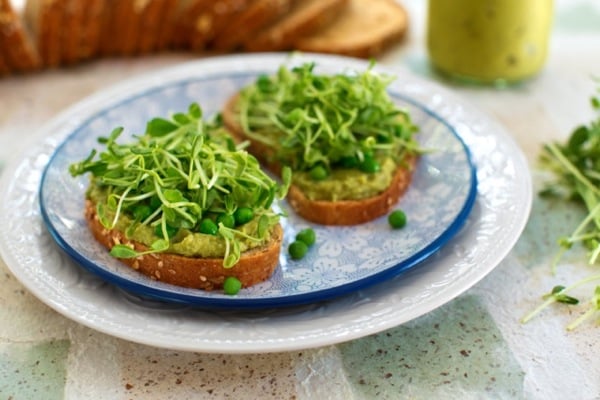 Daphne served the same hummus over house made bread (which was incredibly dense and rich–I loved it) and garnished with sunflower sprouts, apricot coulis, and my hemp parmesan:
The dish was hearty and elegant, all at once.
Next up was a take on one of my favorite dishes from the book: my carrot and zucchini pappardelle with pesto:
 Daphne focused slightly more on carrot than zucchini, and she added popped lentils (oven toasted–crunchy and delicious) and a spicy arugula pesto. Which I could have licked off of the plate, and probably did:
Next came the main entree, which was my favorite dish of the evening. It was inspired, not surprisingly, by one of my favorite recipes from the book: my pumpkin quinoa risotto with pomegranate seeds. Here's the original: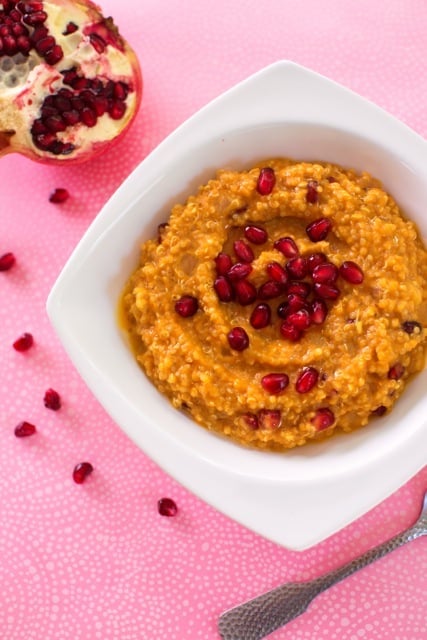 And here's Daphne's creation:
It was amazing. She prepared the risotto with Japanese yam in place of pumpkin, and then topped the dish with cauliflower rice, basil, and sweet potato chips. She also served the dish over the smoky red pepper sauce that's paired with Mediterranean cauliflower rice in my book; I love the way she mixed and matched recipes! I'd never have thought of these pairings. The dish was an absolute hit.
At this point, it's a miracle that any of us had room for dessert. But where there's a will, there's a way. And Daphne's way was to make not two, but three desserts from my book join forces. First, my raw chocolate tart with chocolate ganache filling:
Second, my basic chia pudding, and finally, my burnt sugar coconut ice cream: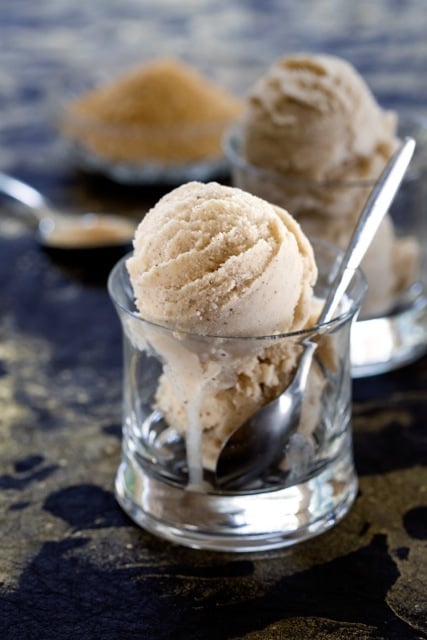 Here's the tower of amazingness that resulted:
It was beautiful, rich, and a heavenly mix of flavors and textures. Even my mom, avowed chia-hater, raved about it.
Throughout the dinner, I was astounded at how calm and collected Daphne was. My boyfriend and I dropped off party favors in the afternoon, when none of the cooking was yet underway, and I remember feeling astonished that Daphne wasn't even a little sweaty, or frazzled, or any of the things I am when I entertain. Her incredible placidity continued throughout the entire meal; it was like watching the lead dancer in a perfectly rehearsed ballet. The mark, I suppose, of a true chef.
Speaking of gift bags, I was lucky to have a few generous sponsors for this event, who shared their products with me and my friends. One was the folks at Brad's Raw Chips, who generously sent both kale and veggie chips for us. It was a challenge not to keep them all for me, but…
We also had nut milks from Pacific Foods and copies of the book itself. But the main highlight was bars and protein powders from 22 Days Nutrition, which is one of my favorite leading snack brands in the plant-based world. I love their products, and I was particularly excited to have some of the Cherry Chocolate Bliss bars on hand, as they're my fave flavor. (You can read my in depth profile of 22 Days here.)
The event was about food and drink and about the book, of course. But what stands out to me now, two weeks after the fact, was how powerfully the evening seemed to affirm the things that matter most to me: friends and family. As you know, this year has presented me with some unexpected curveballs. At one point this winter, I'd mapped the disappointment I was feeling about school onto my entire forecast for 2014; I didn't expect to remember it as a good year.
Now, only six months later, so many things have conspired to remind me of how rich my life is, and how fortunate I am. At some point during this epic meal, I stared out at the faces of my friends and thought about how little the med school rejection–which felt like such a big deal when it was still fresh–matters. How little any "goal" matters in comparison to the experience of loving and being loved. No matter how much I tried to orient my life around the objective of becoming a doctor in the last four years, the proverbial true north in my life is what it has always been: relationships.
All of these musings were sweetened by the fact that the dinner gave me a chance to introduce my boyfriend to some of the folks I care most about in New York.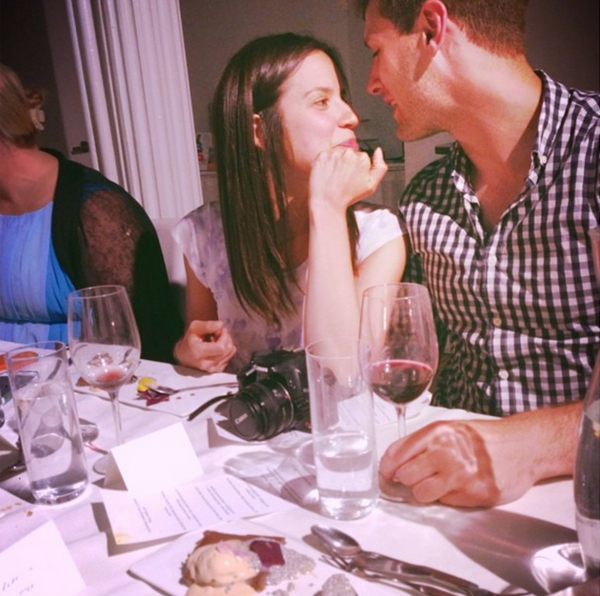 He and I met here in D.C., just as I was absorbing the long train of rejections. I wasn't expecting to open up my life to anyone in a significant way, much less fall madly in love, but life is weird like that. In spite of the fact that he didn't witness the great post-bacc adventure, my boyfriend has managed to support me through its outcome with tremendous empathy, and he's handled the book publication craziness with patience and humor and endless tolerance for the amount of time I spend on Instagram. I'm excited that we're starting a new chapter this Thursday, when we leave D.C. for the Big Apple.
Huge thanks to Daphne Cheng, 22 Days Nutrition, Vintner's Alliance, and Suite Three-Oh-Six for such a lovely event. To learn more about Suite Three-Oh-Six, check out their website, Instagram account, and Facebook Page.
xo