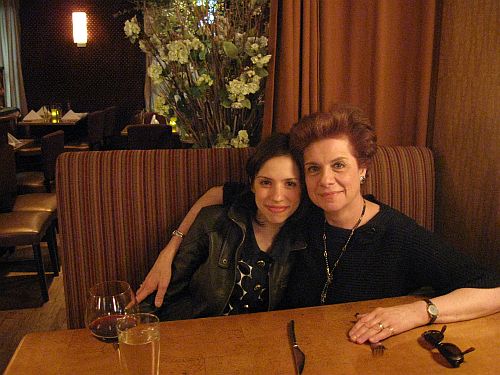 Awesome responses to the energy bars! I'm excited to see how they hold up to your own recipe testing.
It's been a while since I subjected you all to my musings, and today I've got some leftover thoughts from staycation week. I typically waste no opportunity to vocalize gratitude for my mother and everything she's given me: a good upbringing, a love of art and culture, a model of female independence, an appreciation of books – the list goes on. Most of all, I thank her for instilling in me a sense of my own worth. But there's one particular part of my thankfulness that I rarely put into words, and this is my appreciation of my mother's relationship with food and body.
It's hardly a secret that a huge percentage of women who have struggled with disordered eating can trace the genesis of their problems to a mother figure. It is the theme of countless emails I get from clients, and countless conversations I've had with eating disorder veterans. She's always there, hovering in the background of these narratives: the mother who sipped diet coke all day or nibbled on low-carb bread; who tried every diet plan and bought every weight loss bestseller in print; who woke up at 5 a.m. each morning to do calisthenics or jump on the stairmaster; who cautioned her daughter to eat less, to stay away from sweets, to avoid seconds.
My mother did none of these things. Not a one. For as long as I can remember, my mother has loved food without qualification or neuroses. She loves to eat it, to prepare it, to talk about it, and even to look at it. She's famous for making enthusiastic exclamations about tempting food commercials on TV, or for interrupting a conversation to say, "you know what I would love right now? A slice of chocolate cake."
My mother is beautiful, and although she conspicuously lacks conceit of any kind, she's also comfortable—as comfortable as I think any woman can be—with her physical self. Once, when I told her how much I admire her seemingly peaceful relationship with her body, she said, "well Gena, no woman is ever totally happy. There are always little things I would change. But yes, it is what it is!" To someone like me, who has hated, resented, and fought furiously to accept her physical self for as long as I can remember, this statement seemed astoundingly simple. My mother has her little insecurities, but they do not obsess her, and I don't believe she would ever do anything self-destructive in an attempt to correct them.
Of course, my mother is a woman like any other, and I remember a few brief "diets" when I was growing up. There was the Scarsdale diet one summer, an intense but short lived regimen that stood out to me mostly because my mother was miserable without cream and sugar in her coffee (my mom likes her morning java "light and bright"). I also remember the Scarsdale diet because of its ill-fated creator and our indelicate jokes about him; Dr. Tarnower was murdered by a spurned lover, and my mother and I always used to say, "guess the diet didn't work for her!"
But these little "diets" were, in comparison to what the average American woman puts herself through in a year, let alone a lifetime, truly negligible. My mother rarely persisted with them for very long, or gave them much thought. In the end, love of cream in her coffee would always triumph over my mother's patience for a regime, and when it did, she was more pleased than rueful. The guilt that so many women experience when they deviate from a "diet" was, as far as I know, entirely foreign to her. My mother is a sensualist, a lover of taste and color and smell (it should come as no surprise to you that she's an artist), and food is a part of that. I hope that I've inherited at least a bit of that love of food, even if it's taken me a rather long time to grow into it.
That I was never able to directly emulate my mother's relationship with her body proves how unpredictable disordered eating is. There is no single family dynamic or genetic predisposition or media influence that's determinative. But the fact that I didn't grow up with a sense of ease within my body hardly means that I'll be that way forever: I'm far more at ease than I was even five years ago, or ten years before that, and who knows what the next decade will bring. I'd like to think I'll eventually be a lot like my mom: that I'll recognize physical insecurity as a part of life, but I'll manage not to let it dominate me in any significant way; that I'll be able to look upon my body and its imperfections with humor, rather than a sense of doom; and that I'll always eat with relish.
My mother and I are similar in many ways, and in many ways we're different, but I've never had trouble knowing when I ought to follow her lead. When it comes to food and body, I'm pretty sure she knows what's up. Thanks, Mom, for for never drinking black coffee for too long. I love you for it.