Suzanne is a frequent commenter on Choosing Raw. You may also know her through her own delightful blog, Hello, Veggy!, where she shares vegan recipes, offers DIY tips for wholesome living, and chronicles her own life.
Long before we ever corresponded, I was struck by Suzanne's thoughtful and precocious comments. Some time ago, she confided to me personally that she herself had an eating disorder history. She said that she wanted to talk about her struggles publicly, but that she was struggling to find the right approach (and she was, understandably, nervous about how her story would be received). When she submitted the following Green Recovery post–which is thoughtful, self-aware, and full of bravery–I knew she'd found her voice, and then some. I hope you'll join me in hearing, and responding to, Suzanne's story.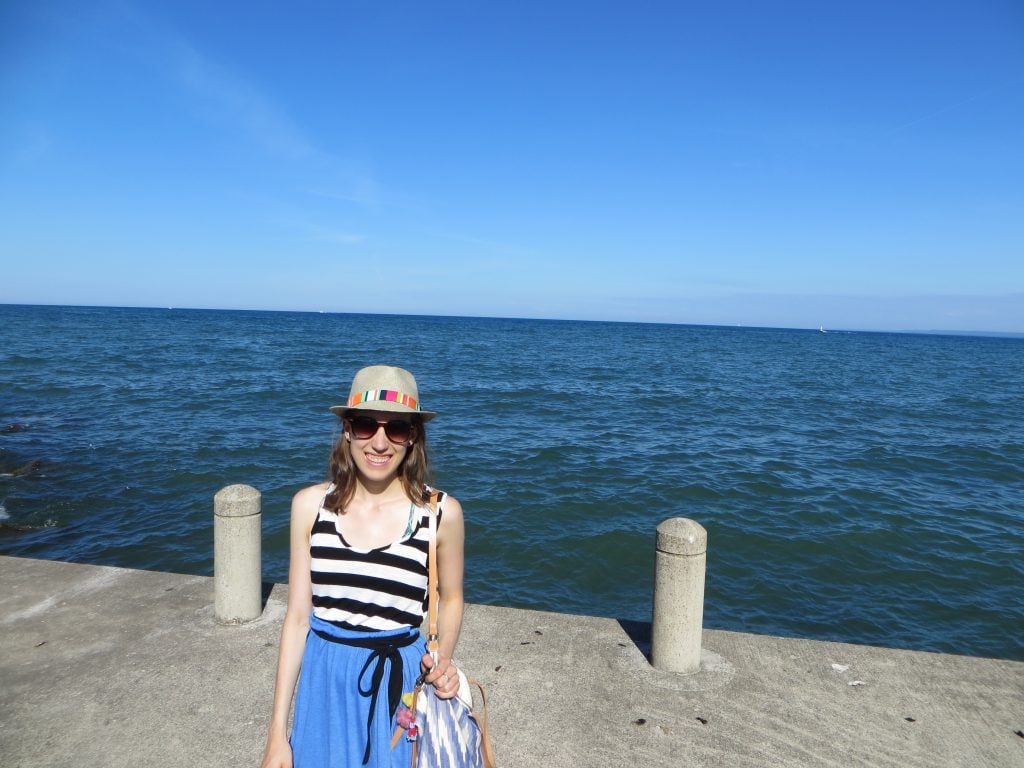 I'm Suzanne; currently I am an undergraduate nursing student in my final year of school, getting ready to embark on a whole new chapter in my life. I converted to a vegan diet almost a year ago, and have never looked back! This past June, I began writing hello, veggy! as a way to share my love of vegan food, and to document my life as it unfolds. These months have been extremely healing, and have helped immensely in the continuation of my recovery from Anorexia Nervosa. Here is my Green Recovery Story:
For any young person, the late teenage years and early twenties are a time of transition that inevitably brings upon struggles, be that with identity, purpose, or what-have-you. I was not immune to this, but unfortunately this time was further complicated by a serious eating disorder.
I'm unsure how or why it started exactly, but it is likely that many factors contributed to my shifting relationship with food and exercise. Growing up I was quite active, my wonderful parents keeping me busy with dance class, soccer, cross country, and martial arts, among many other activities. I was also largely involved in the performing arts, which guided my decision to attend an arts-focused high school. By the time I was 13, my interests shifted away from more intensive sports and with my pubertal age, my body changed too. Middle school kids can be cruel, and my first stabbing pains of body shame were felt at this time.
Graduating to high school only brought upon more change. As it turns out, my high school (where I majored in musical theatre) was extremely competitive. Either you learned to swim, or you sunk like a heavy stone. Similarly to many freshmen, I exuded an air of confidence, although I certainly didn't feel that way in the inside. My attempts at poise and confidence in my talents were rarely met with much positive feedback, and I quickly learned that I had to compensate in other ways.
It was at this time where I seriously began to question whether the way I looked was the problem. Unfortunately, my eating habits weren't the best, as vending machines in the cafeteria were a novelty I had welcomed with open arms. This combined with a relatively sedentary lifestyle only added to my body discomfort.
I set out to gain control over my confidence, and at first it was innocent. I reduced my consumption of junk foods and joined a small fitness club with my Mom. After a few months I began to see favourable results, and was genuinely happy with the progress I had made. By the end of grade 10 I was feeling significantly better about myself overall, and had a great summer studying in Italy where I also gained quite a bit of independence. The beginning of the school year as a junior was met with many compliments about my new looks. It felt good to receive these compliments, but it only fed the incubating monster in my head.
Despite the changes I made, I had yet to see any difference in the response from my performing arts teachers. Being rejected for ensembles and roles time after time crushed my confidence, and fed the monster even more. It was around Christmas time that year where my attitudes and behaviours surrounding food started becoming troublesome; I denied dessert and Christmas cookies for the sake of my figure, and hid in another room doing crunches while my family and friends rang in the New Year.
The next five months were the climax of these disordered patterns. I would sleep much longer than usual in attempt to escape my thoughts, wake up unable to feel my legs, drag myself downstairs to eat a miniscule breakfast alone, and pack my tiny lunch to bring to school. I would walk a long 30 minutes to school (rain, shine, or snowstorm) where I would try to muster through the day with the little energy I had. I couldn't focus on my classes; I would usually hide my nose in a book trying to be invisible. I was also constantly freezing, despite wearing several baggy layers of clothes. Somehow, I always made it through each day, but they were not without stares from peers and words of concern from my friends. I remember feeling very isolated and helpless, even though I thought I was in control.
Come the end of the school year, things had become much worse. It was evident, even to myself that I wasn't eating enough and was exercising far too much. I would insist on attending soccer practice, having only eaten a quarter of my dinner. Everyone was concerned about me, yet I couldn't and wouldn't relinquish the behaviours I had been perfecting. I still hadn't gained any ground in my performing arts courses, but I was satisfied enough with my eating disorder; at least I had control of something.
My wonderful friends attempted to intervene several times, but to no avail. My parents tried desperately to get help, first with a horrible social worker, then with a doctor who brushed off my eating disorder as 'normal teenage coping'. Bullshit, pardon my French. At that point, even I knew deep down that I had disordered eating patterns. It wasn't until I was introduced to the most wonderful and caring nurse that recovery was initiated. She was somebody who I felt I could trust, and I essentially put my life in her hands and gave up my control to her. That May, I was admitted to an adolescent inpatient eating disorders program. It was probably the scariest, but also the best thing I have even done for myself.
Two months later, I was discharged from the program quite a bit heavier but also a lot happier. I still had quite a ways to go in my recovery, and I followed up with a doctor on a very frequent basis. There were many guidelines I had to follow, for example meal plans, and very restricted exercise. I was absolutely itching to get moving, but my activity was limited to walking and yoga, much to my chagrin. Yoga classes were nothing intensive, but it felt great to move my body even just a bit. I'll admit that I didn't love it at first (in fact, I sort of hated it), but I persisted for the sake of having a little bit of control over my very constrained life as an individual in recovery.
Grade 12 was a breeze compared to the previous school year. I felt miles better and although I still was denied many performance opportunities I found joy and purpose in other things, namely my studies. Having been in the hospital nearly all summer, I gained a great deal of respect for the nursing profession and had made it my goal to be accepted to nursing school in a city two hours away from home. This new purpose was my beacon and significantly drove my recovery efforts in an upward direction. After months of hard work, I was finally rewarded with entrance to my school of choice.
I would be lying if I said that transitioning to university with an eating disorder was not met with challenges. I most definitely experienced setbacks, except this time I was the one accountable. Being responsible for my actions brought me back to reality, and pushed me to foster recovery behaviours on a daily basis. In the past three and a half years, I have learned and gained many things that bolstered my recovery, although two stand out. The first, discovering yoga, and second a vegan diet.
I credit my recovery largely to yoga. There is an amazing studio here in Kingston, Ontario that is donation based; it made yoga extremely accessible for me as a student and allowed me to practice more frequently. The teachers are outstanding, and shone a new light on the meaning of yoga practice. The idea of tuning out the noise and focusing on the breath was pivotal in helping me to ignore the disordered voices in my head, both on and off the mat. As I became more and more enamoured with my yoga practice, I joined the studio's energy exchange program, which gave me free classes in exchange for some light duties. This helped to deepen my practice, which is when I noticed my disordered thoughts were beginning to fade into the background.
There are many spiritual teachings associated with yoga, which I began to familiarize myself with. One in particular that resonated with me was ahimsa; not doing harm. I took this teaching on as my mantra, and made a conscious effort to not say, do, or think harm about anyone or anything. I was finally beginning to feel good again. Not every day was perfect, but I was surely having fewer 'bad' days; a promising trend for my recovery.
Despite my overall positive mentality, something was still not right. Not only was I dealing with a ton of digestion issues, but also meat had lost its appeal in my life. Growing up, my family followed a pretty typical diet with meat a staple at each meal. Since I was living on my own at this time, I began experimenting with vegetarianism. Cutting back on meat significantly and adding plant-based sources of protein not only made me feel more energetic but like I was doing less harm; ahimsa began to find a bigger place in my life.
Returning home for summer break was difficult that year. Those around me immediately correlated my vegetarianism with disordered eating, and despite my best efforts to convince them otherwise could not be dissuaded. That summer I persisted in eating mostly vegetarian, save for fish, and made bounds and strides in recovery. I think everyone noticed that I was beginning to feel like the old me after spending three years in what felt like an alternate universe. As I prepared to return to school for the third year of my degree, I was becoming more interested in vegan and plant-based food. I experimented with this way of cooking on a daily basis and found that I was enjoying eating again. Food had been the enemy for so long, and as much as my eating disorder did not want it to be so, I loved eating plant-based foods. By Christmas that year, I was ready to commit to a full-vegan diet. Again, my decision was met with some resistance from my parents, especially since I still had a few pounds to gain in order to achieve a healthy weight. I was able to convince them that I could carry out eating this way in a healthy manner by consulting my dietician on nutritional matters and checking in with my doctor regularly.
Things have been almost nothing but up since then. I am now in my final year of my nursing degree, and a new chapter in my life is on the horizon. Disordered thoughts are no longer a daily occurrence, and when they do return, are much quieter and easier to silence. I still have my bad days, but they are mental molehills in comparison to the mountains I used to face. Fostering my love for plant-based cuisine has also been stimulated through writing my blog, hello,veggy!; I now have a love for eating and a true passion for sharing food that I can truly say I never thought could have existed again.
My green recovery has opened my mind to so many amazing experiences and opportunities. I hope post-grad that I am able to incorporate some of my newfound passions into my professional and adult life. The possibilities are endless, but I envision myself getting involved in the health promotion field, and hopefully earning a certificate in teaching yoga. I have no idea where my life is headed, but I am now confident that I am on the right track.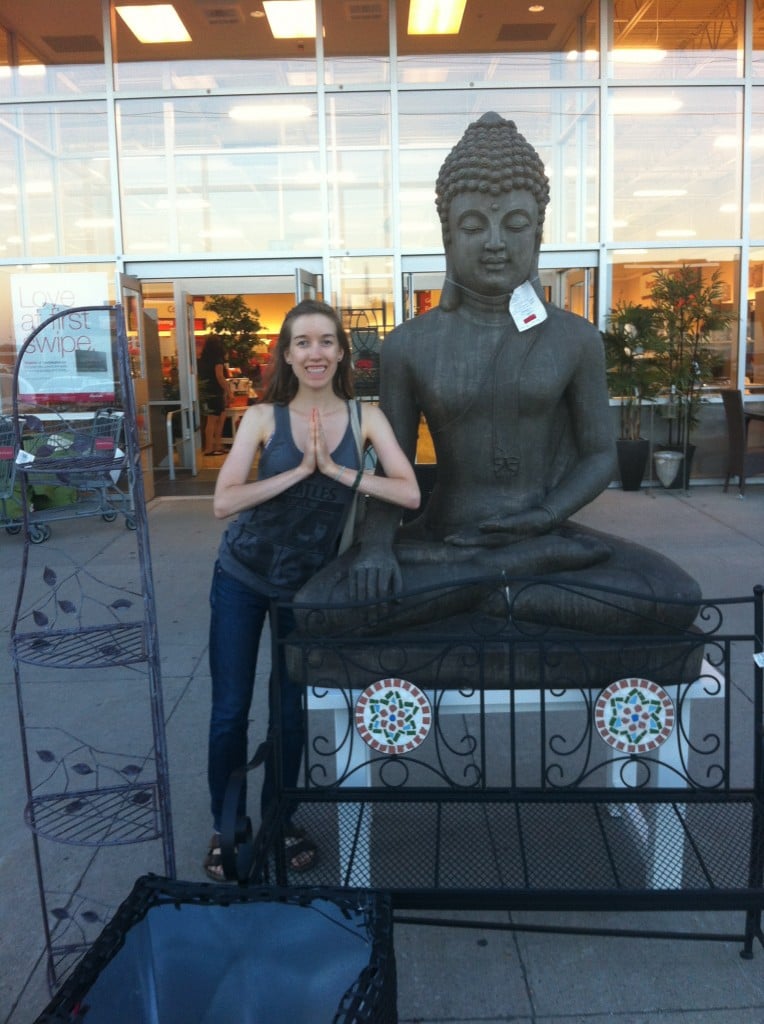 Thank you so much, Suzanne.
I had two main thoughts as I read Suzanne's story. The first was a deep pang of empathy when I read her line, "I remember feeling very isolated and helpless, even though I thought I was in control." During all three of my disordered phases, I remember being aware of the fact that I had grown isolated, anti-social, secretive, and even a little prone to lying (to myself, and to others). Yet I also remember feeling quite in control of my life, quite certain that if I wanted to be more social, it would be perfectly easy to let people in. It was really only with hindsight that I could see how much I was hiding from the world.
And of course, I love the fact that yoga has played a significant role in Suzanne's recovery. A huge number of things contributed to my recovery: therapy, the support of family and friends, a desire to prioritize lived experience over self-denial, and the realization that I couldn't maintain my disorder and embrace a boundless future at the same time. But on a practical level, veganism and yoga were extraordinarily helpful, too. While veganism figured in my recovery more prominently at first, yoga has taken center stage in recent years as the avenue by which I continue to keep myself accountable and well. (For more on some of the connections between my yoga practice and my recovery, you can check out this article.) I can certainly relate to Suzanne's thoughts on ahimsa, as well as the solace she has taken in "tuning out the noise."
Of course, I want to hear what resonated with my readers, too.
Big thanks for sharing, Suzanne. And as always, I welcome any and all CR readers to share their stories, too. Email me at [email protected] for more details, to ask me questions, or just to bounce ideas off of me.
xo