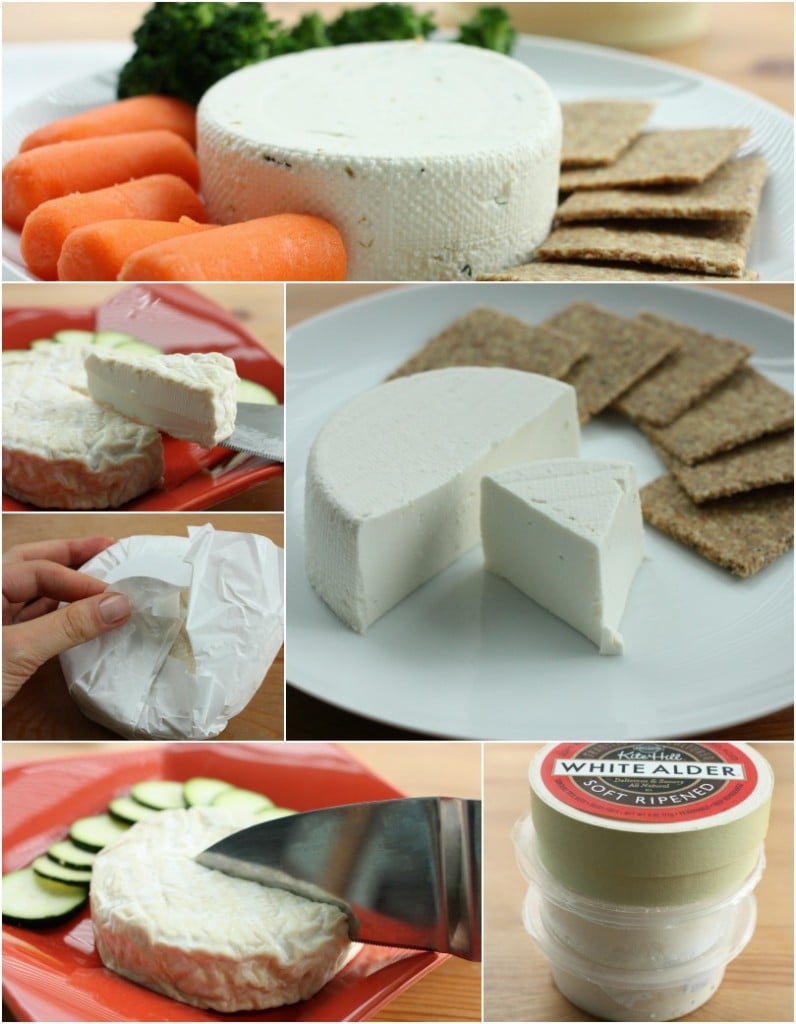 I'm so glad that the dilly cashew cheese and cucumber rounds look as good as they tasted! Because we're on the topic of nut cheese, and how great it is, this is a perfect day for me to be sharing an exciting new product review: my experience with Kite Hill cheeses, a new line of tree nut cheeses developed with the expert culinary skills of Tal Ronnen.
I've been hearing about Kite Hill cheese for months now, and waiting for its arrival with tremendous excitement. Kite Hill is the first ever plant-based (non-dairy) cheese to be included in Whole Food's cheese department, rather than the regular dairy section. The brand is headed by Tal Ronnen, whose name you may know from his wonderful, gourmet cookbook, The Conscious Cook, from his new LA eatery, Crossroads, or because he developed the recipes for Oprah Winfrey's 21 Day Cleanse. Tal has shaped his career around proving that vegan cuisine can be beautiful, flavorful, filling, and enticing.
I remember reading The Conscious Cook when it was released, and noting with a smile Tal's assertion that cashew cream is a "secret weapon" ingredient. I share his enthusiasm for nut cheeses, and always have. I make them at home often, but I've always thought it might be nice if they were commercially available as a special treat; now they are.
The Kite Hill team consists of Tal, Laura Chenel Chevre alum Jean Prevot, Le Cordon Bleu cheese making instructor Monte Casino, and Stanford Biochemist Pat Brown. This impressive team of professionals have created artisanal, unique cheeses that have just four ingredients:  nut milk, cultures, enzymes, and salt.  They've unlocked a technique that makes the proteins in nut milk behave like those in milk, compensating for the lack of casein (milk protein) and lactose so that the nut milk can coagulate and form a curd that is then concentrated and cultured–just like dairy cheese.  After coagulation, Kite Hill follows an artisanal cheesemaking technique–all the way down to the brining and aging.
"I'd love to go vegan, but I could never live without cheese." I hear these words again and again in my own practice, and I remember uttering them myself before I transitioned to a plant based diet. It seems that cheese–more than meat, yogurt, or milk–is the food that keeps many folks from experimenting with veganism. This is partly taste, and partly the fact that cheese is so ubiquitous. It's in so many foods, especially restaurant dishes, and it's a part of many of our fondly remembered childhood comfort foods.
With clients who loved cheese but were trying to go dairy-free, I rarely used to recommend most commercially available vegan cheese substitutes. Instead, I offered nut cheese recipes or recommended focusing on other vegan foods for flavor and texture. This isn't because I'm not tremendously grateful that vegan cheese shreds exist (I am!), or because I think there's anything wrong with them. It's because I know that, no matter much better they've become, they aren't quite authentic enough to please a true cheese lover. Kite Hill may be the first commercially available cheese that is a dead ringer for the "real thing." And the proof of this–for me, anyway–is that my mom, who's a big cheese lover, tried them and loved them at my apartment over the weekend.
The folks at Kite Hill sent me three of their flavors: Cassucio, a soft, spreadable, mild cheese, Cassucio with dill and truffle, and the soft ripened White Alder, which is very similar to brie. I marveled at how similar the latter was to the "real thing"; it even had that characteristic skin and soft, creamy inner texture.
Funnily enough, the Alder was so authentic that it evoked my dislike of brie cheese; I suppose that's as good a testament to it's authenticity as anything!!
Even so, I was impressed with the texture, smell, and taste. So very much like the brie I remember from my dairy eating days.
The Cassucio cheeses were both a total delight!! I loved the soft, delicate texture, and the slightly tangy, sweet taste. They reminded me of cashew cheese the way I might make it at home, but with a silkier, more uniform texture.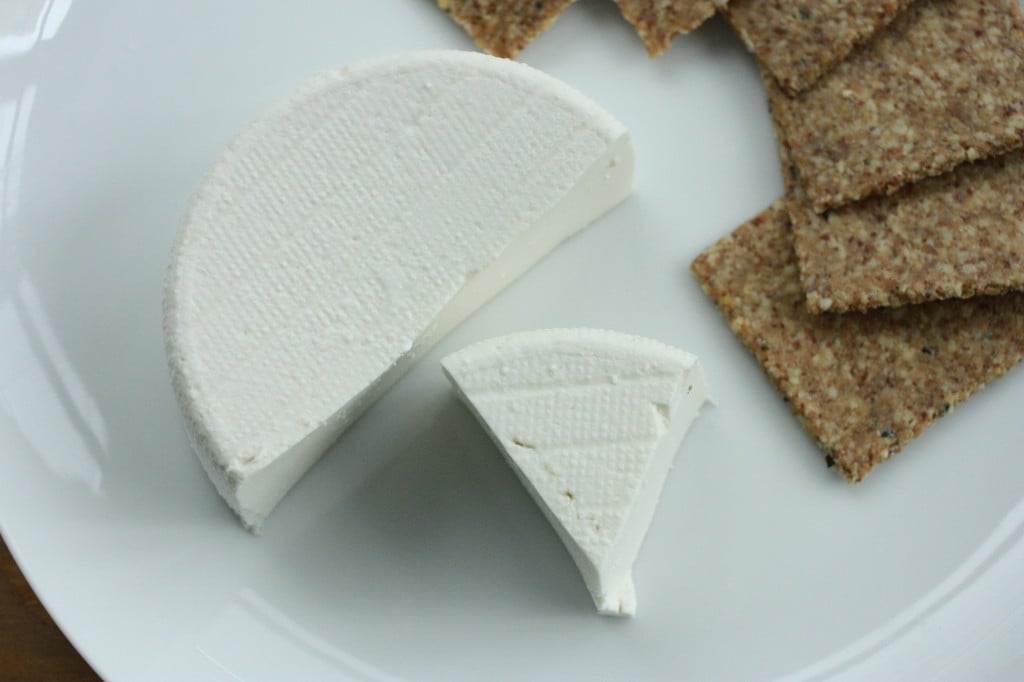 I loved eating the cheese with cucumber, zucchini, and homemade almond crackers as a midday snack. The plain version has a touch of nutty taste, but I'd truly never guess that the herb variety is made from non-dairy milk. So authentic.
I also loved sprinkling it on zucchini noodles or on a lovely summer salads. Here's one with farmer's market greens, red potatoes, and some quinoa and herbs:
Kite Hill also makes two vegan ricottas: whipped and firm. I didn't have a chance to try those, but if they're as good as the other cheeses, then I'm sure they're outstanding! I love how fresh and wholesome this product is. You can certainly taste the hard work and craftsmanship that goes into the cheeses.
Right now, Kite Hill cheeses can be found in the cheese section of select west coast Whole Foods. But the Kite Hill website will be offering updates on when the cheeses will start to be available at Whole Foods locations throughout the country. When it is, it'll be in the cheese section, along with other fine fromage–what a coup for a vegan product!
Keep your eyes peeled for Kite Hill's arrival at a Whole Foods near you; it shouldn't be too long from now. I hope you'll treat yourself to a sampling of this special and unique product, and that you share it with a cheese lover who has expressed his or her doubts about plant-based eating to you. This may just be the vegan "cheese" that plants a seed of curiosity. For more of my thoughts on Kite Hill (and a more thorough description of the flavors) tune into the Our Hen House podcast this coming Saturday!
xo