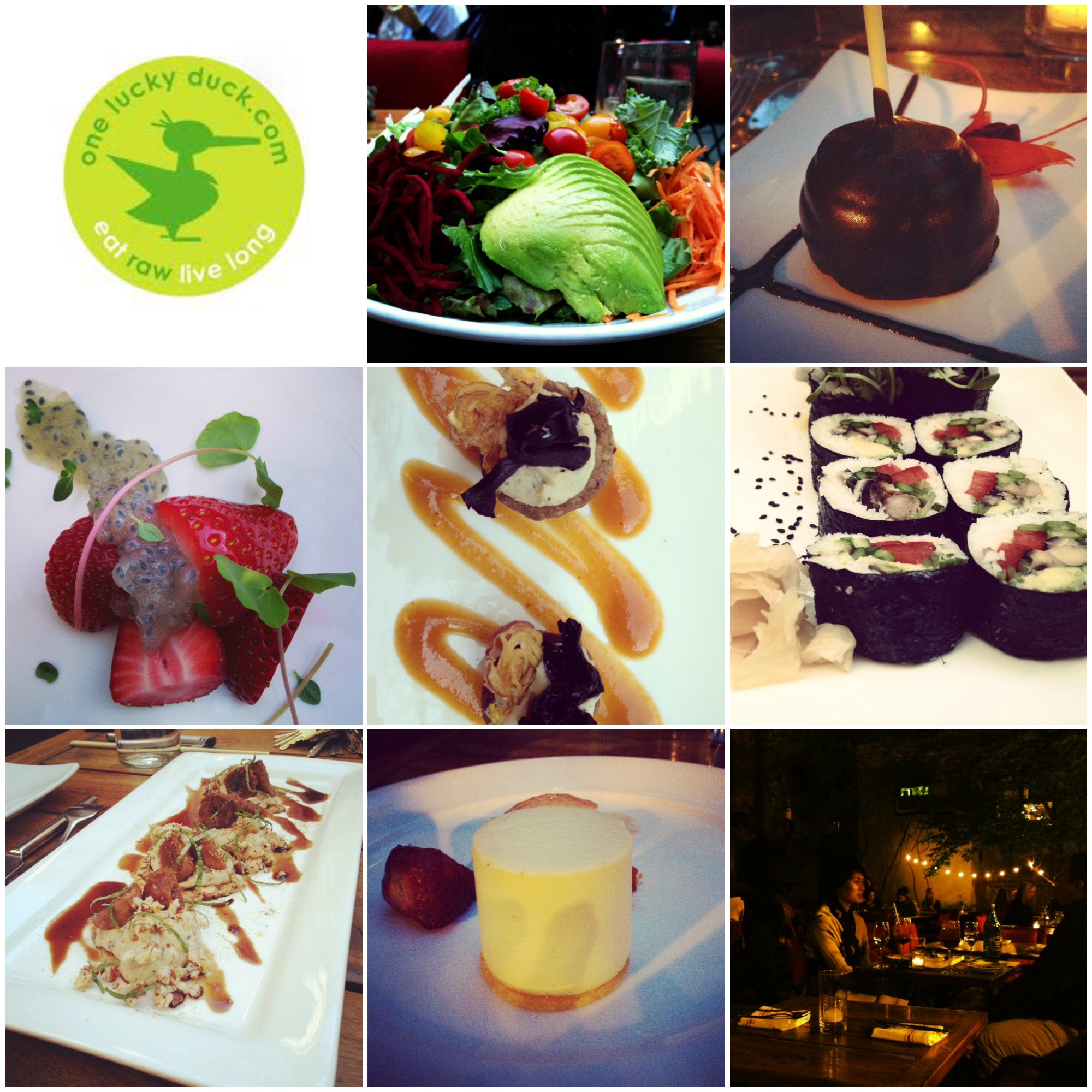 Hello, friends. I hope you had happy weekends, and I'm grateful for your kind responses to Sharon's story on Friday.
As you may have seen on Instagram or via Twitter, I'm home in New York, here to enjoy some time with my mom and catch up with friends. On Friday night, I had a chance to share a meal and enjoy some long overdue conversation and laughter with my friend Sarma, whom many of you know as the owner of Pure Food and Wine, New York City (and probably the world's) most extraordinary raw, vegan dining establishment.
I've interviewed Sarma here on the blog, for articles in VegNews, and I've mentioned her frequently. I admire her on so many fronts; she's a passionate health activist, eco-activist, and animal activist. When she adopted her shelter pet, Leon (who is now an internet celebrity, boasting his own Twitter account and making frequent appearances on Sarma's Instagram feed), she also became a loving champion of adopt/fostering companion animals. When she's not caring for her extraordinary restaurant or Leon, she's busy managing One Lucky Duck, her online company and brand, which sells raw food ingredients, skincare, apparel, pet care items, and more.
Throughout all of this entrepreneurial activity, Sarma remains a levelheaded spokesperson for raw food. Her openminded approach left a big impression on me when I was first exploring raw foods, and finding that so many of the cookbook authors and raw foods proponents I admired were very, very hung up on being "100% raw"–something I really didn't want to be, though I did very much want to explore uncooking. Sarma has always been open about the fact that her diet includes some cooked food, and while Pure Food and Wine remains a mecca of raw food cuisine–a place where people can experience the creativity and beauty of raw dishes–she herself remains flexible and balanced in her approach.
Above all, Sarma is a lover of great food, and that love shines through in the meticulously prepared, sumptuous dishes at Pure. Eating at Pure always brings me back to my early raw food days, and the way my approach to food was changing during that time. I remember how new and exciting it was to be eating abundant portions, to be enjoying healthy fats, to savor desserts, and to experience food that was beautiful, fresh, and whole. It was such a dramatic change from my years of portion control and dry, fatless, unimaginative food. It wasn't long before I figured out how to create beauty in my own kitchen, but in a lot of real ways I have Sarma (and Pure) to thank for showing me a new way to eat.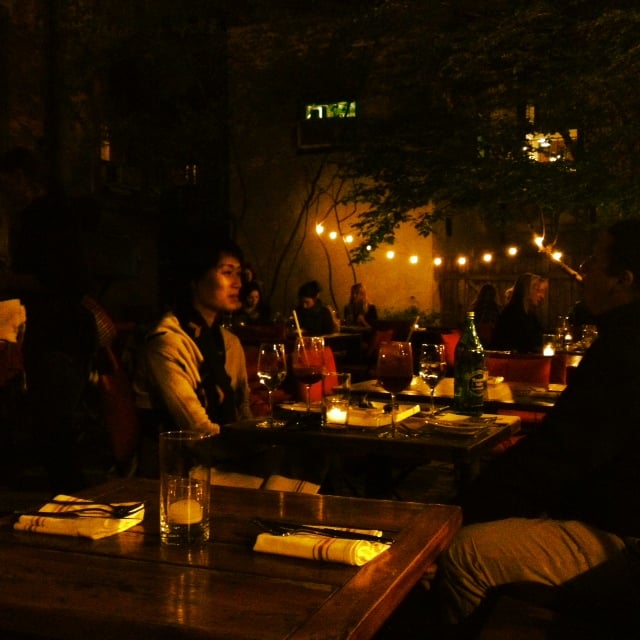 Returning to Pure, no matter how much time goes by, is always a thrill for me, and this dinner was no exception. We started with an amuse bouche: basil seeds (with vinaigrette) over fresh strawberries. Don't they look like chia seeds?
Next came our starters. I got the restaurant's original sushi (available at lunchtime and at One Lucky Duch). These rolls are filled with jicama rice, asparagus, and mirin soaked shitake mushrooms. They are to die for–one of the dishes I never pass up at the restaurant.
Sarma got a new crostini dish with nut cheese, balsamic glaze, and soaked figs. It was complex and delicious.
As a little treat, we got some of the restaurant's pecan and black pepper pinot noir tart shells with herbed cashew cheese and black truffle. These guys are divine–how could that combination of flavors not be?
For my entree, I couldn't pass up a chance to get one of the restaurant's ginormous, meal-sized salads. There are always dishes on the Pure menu that are tempting, but often what tempts me most is the chance to enjoy a salad done right. I built my own, and it included dulse, beets, carrots, jicama, kale, cherry tomatoes, avocado, and a pumpkinseed herb vinaigrette. Yum.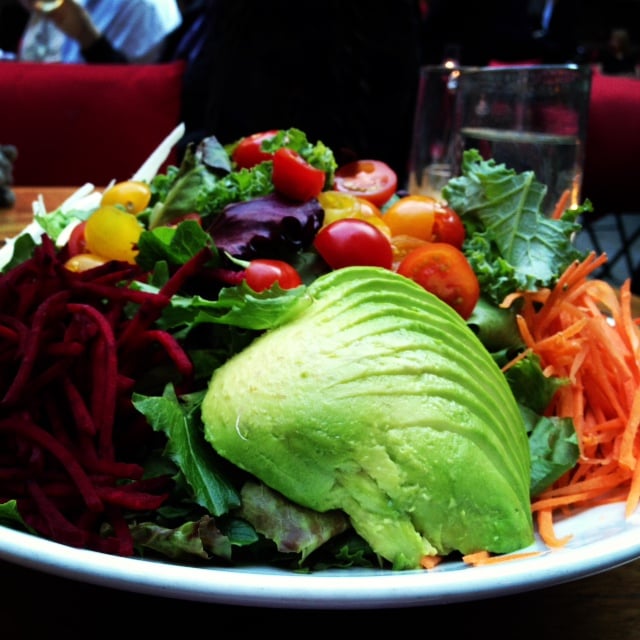 Sarma got the curried vegetables, which I forgot to photograph but will be ordering myself soon! They were delicious, as was the raw "pappadam."
No trip to Pure is complete without one of the restaurant's signature, artful desserts–probably the most exciting part of any visit! We helped ourselves to two: chocolate and raspberry cheesecake pops (available at the takeaway), and the lemon cheesecake.
I have no words.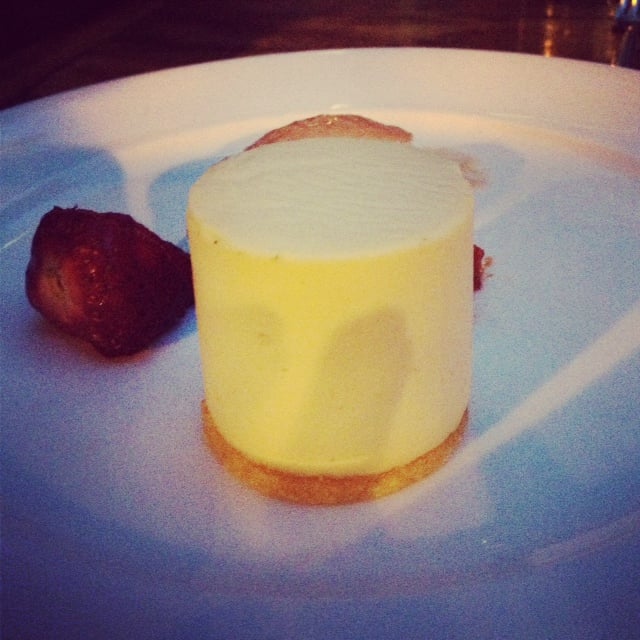 Not a bite of either of these remained.
It's always fun to enjoy exceptional raw food, but it was even nicer to see Sarma. For someone who has accomplished so much–two thriving businesses, caring for a companion animal, activism, and changing the way people perceive vegan and raw foods–she is incredibly modest and down-to-earth. She has also been incredibly supportive of my post-bacc journey, offering me love and good vibes every step of the way. Sarma: you rock. Thank you!
And thanks to everyone at Pure for a great meal, as always. Hope to be back soon.
xo