Hey guys!
Thanks for such an awesome response to Beam Green! I would love to have you NYC gals as guests, so please keep getting in touch if you're interested!
I'm taking a break from a night of reading to recap my very fun dinner last night with Melissa and Liz — aka, the blogcelebrity Veggiegirl! Liz and I have corresponded and spoken before, but this was my first time meeting her in person, and it was great fun! She's witty, sharp, sweet, and passionate about all things raw and vegan. The three of us went to Pure Food and Wine, where I got a simple dinner: a build-your-own salad with avocado and guacamole. (I know, I know, I am the world's most boring woman. But I was in the mood!):
Variety came with the dessert selections, which ranged from Melissa's gorgeous passion fruit tart:
To the complimentary strawberry shortcake (yum) for the table!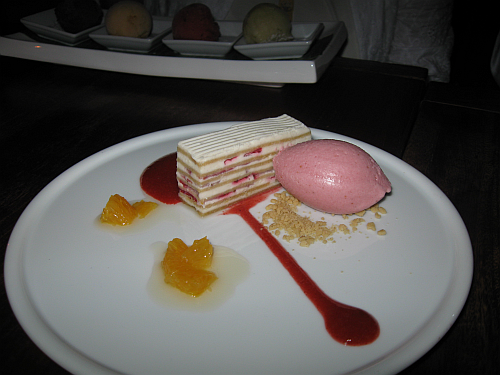 Here's the three of us ladies outside (Me, Mel, and Liz):
Afterwards, Melissa and I went to 71 Irving for some tea and overdue girl talk. It was a really fun night, and a much needed interruption in a busy week.
I hope you're all having wonderful Fridays. I'll be back tomorrow with some recipe action, so stay tuned!
xo
Edited to add: I forgot to mention that Jacques Pepin blurbed one of the books I'm working on today. I don't usually edit food/nutrition books — in fact, this is my only one — and I felt a little starstruck!