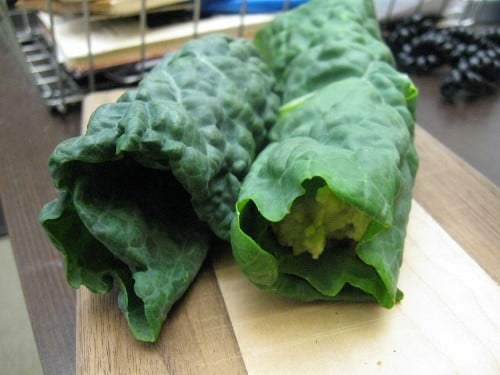 Hey guys!
Glad you're into the Sun In Bloom menu! I'm not quite done with my tribute to this fabulous new eatery. I have one more SIB inspired recipe to share with you, and it's a winner.
So a few of you may have noticed a special wrap on the SIB menu: the rockin' veggie, described as "live hummus and toasted vegetables (dehydrated bell peppers, zucchini, carrots) with a mix of sprouts, cucumber, cabbage dressed in sib's fresh live tahini dressing & invigorating lemon vinaigrette." Um, holy yum! This whole dish sounds like heaven to me, but one thing in particular stuck out: the dehydrated veggies. Why, I thought when I read this, has it never occurred to me to chop and dehydrate veggies to chop into nut pates, cauliflower rice, or hummus? What a simple, yet revelatory idea!
So, with a nod to Aimee Follette, I decided to make my own version of a "rockin' veggie" wrap. No, it's not quite as complex as the SIB original, but it was mighty good, and it was actually easy to assemble at work!
Gena's Rockin' Veggie Wrap (serves 1)
It began by my marinating 1 cup of mixed veggies in a quick marinade of equal parts olive oil, lemon juice, and nama shoyu for about two hours. I removed the veggies from the marinade, spread them on a teflex-lined dehydrator sheet, and dehydrated them for about four hours. They emerged slightly shrunken, soft, and delicious.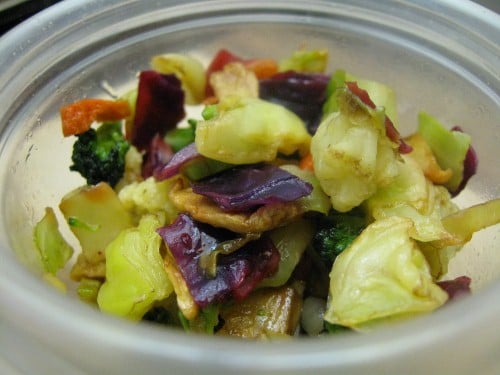 If you're trying this at home, you could easily put the veggies in an oven set low (say, 275 or so) for about an hour.
I stored the veggies in the fridge overnight, and brought them to work with me the following day, along with a 1/2 cup serving of my digestive friendly hummus (NB: you could also use zucchini hummus, regular hummus, or a bean dip of your choosing), and four large Lacinato kale leaves. At work, I mixed the veggies and hummus together, like so:
…and stuffed the filling into the two kale leaves (to do this, I spread it at the bottom end of the kale leaf, leaving about an inch of space, and rolled up from bottom to top).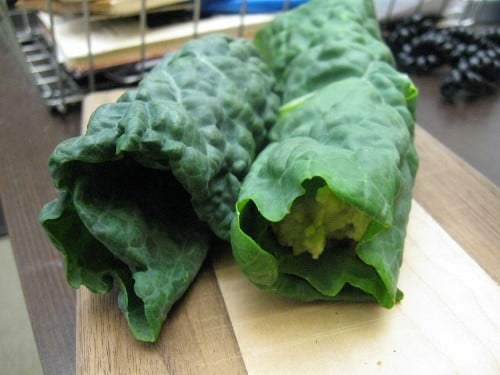 Cute, no?
I served these alongside a salad + simple tahini dressing, and concluded that it was one of the best lunches I'd had in ages (I was rolling wraps as I went along, so only two are pictured here):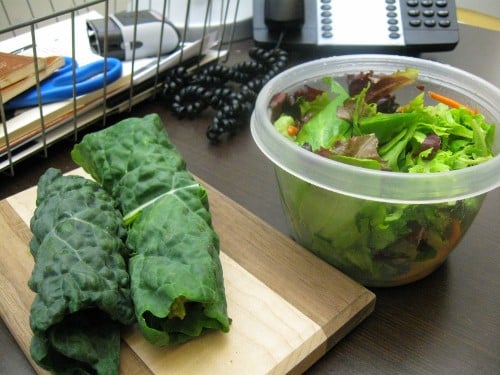 See?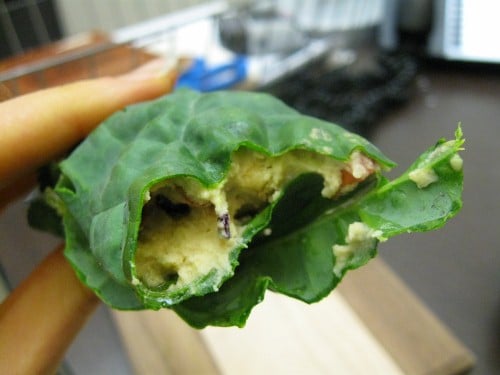 Now that's what I call a crack wrap.
This lunch reminded me that sometimes the best and most inspiring ideas are the most simple. I have a feeling that dehydrated veggies will be making more frequent appearances in my kitchen, in myriad ways!
That's my news on this foggy Monday night, friends. Hope your weeks are off to good starts. Quick head's up that my friend Zesty is hosting a bread giveaway at his blog — Asiago cheese not required! 😉
I'll be back soon with yet another giveaway of my own. Night, folks!
xo