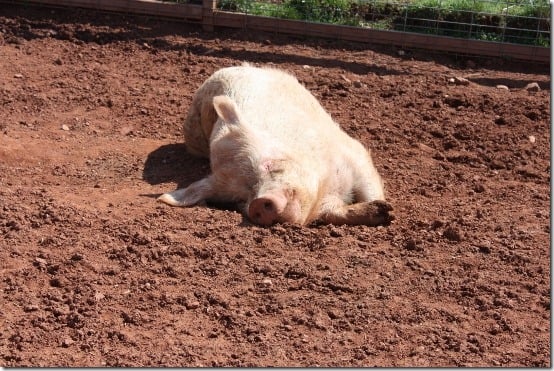 OK, first up: responses to my guest post at JL Goes Vegan have been amazing! Truly amazing. If you haven't read them yet, please check them out: some of the most fun, varied, and interesting commentary on vegan ethics I've read in a long while. If that post represents the ideological foundations of my vegan beliefs, I hope this post illustrates the real life experience that helps me to feel compassion.
One of  my major turning points as a vegan was my volunteer experience at the Woodstock Farm Animal Sanctuary a year and a half ago. The event was called Thanksliving—a fundraiser held two weeks before the holiday that many vegans associate with a celebration of lost life—and I'd simply agreed to go because a good friend was volunteering.
I left the farm a changed woman, literally. My work with the animals that weekend was the start of transformation that continues to this day. Whereas I once thought of myself only as a "dietary vegan," I now consider myself a vegan who remains vegan for compassion's sake. Health will always be a driving factor in my lifestyle, but it's no longer the driving factor, whereas animal life is. This morning, I made my second farm sanctuary trip, and found it equally moving. I've decided to sponsor a pig at Poplar Springs Farm Sanctuary outside of D.C., and today I went to meet him.
I arrived to rolling hills, wooden fences, and a tranquil mood. The sanctuary is situated in a scenic and secluded part of Maryland, but it's easily accessible to city dwellers.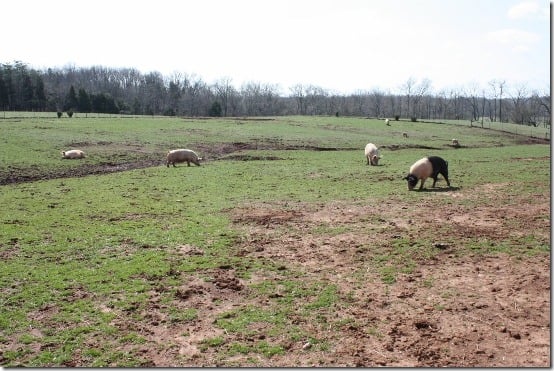 What happens here at Poplar Springs? Well, this 400-acre, entirely non-profit farm is devoted to:
Offering care, rehabilitation, and permanent sanctuary for neglected, abandoned or unwanted farm animals.
Providing protected habitat for wildlife.
Furnishing information to the public regarding farm animal and wildlife issues.
Promoting compassion and humane treatment for all animals.
Many people have asked me in the past what farm sanctuaries do: typically, they provide rehabilitation and shelter to animals who have been rescued from factory farms, live kill markets, and domestic cruelty. The rescued animals are cared for, fed, and allowed to roam freely. Farm sanctuaries often play a part in animal rescue from natural disaster, too.
For this reason, many of the animals at farm sanctuaries live with injuries: as you can see, this sweet sheep is missing a leg, but still managing to feed and wander on her own: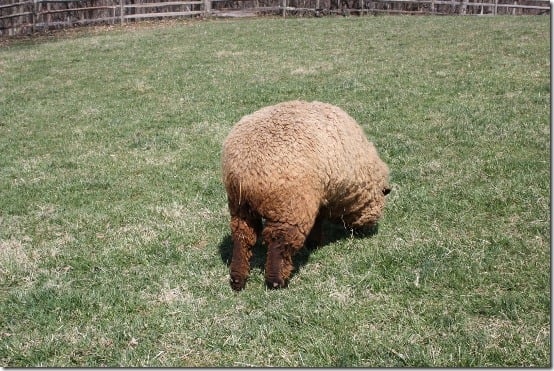 Confession: I have always loved pigs. Maybe it's random, maybe it's their sweet, lackadaisical manner, maybe it's reading Charlotte's Web: who knows. I love them. And they're one of the most highly intelligent farm animals, too: their intelligence is often measured as equal to, if not higher than dogs'.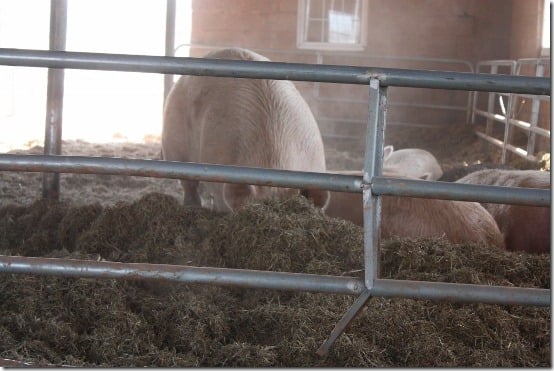 It's difficult to spend time with farm animals like these pigs and not see the terrible contradiction between our treatment of domestic pets versus our treatment of farm animals:
They are smart, affectionate, peaceful, and social—with each other, and with us.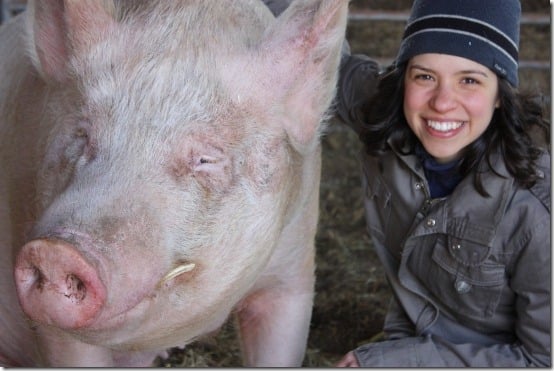 See what I mean?
In the end, I set my sights on a slightly ornery and older pig: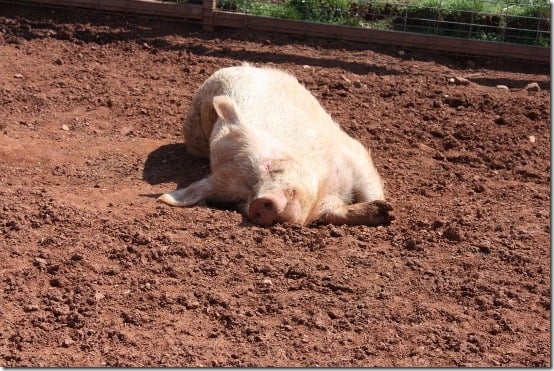 Unlike some of the younger guys and gals, he seemed a little cranky, a little independent. But when Dave, the director of the sanctuary, explained his story, I was determined to help sponsor his care. Apparently this pig was chosen by a local farmer to be used in a pig roast. As the pig grew, he became so attached to his farmer that he would follow the farmer everywhere; the farmer couldn't wrest the pig from his side. The farmer's wife even named the pig Hamlet—whether because it's a play on "ham," or because the pig showed sensitivity and indecision in the face of grave family circumstances, I'm not sure
The farmer was ultimately so moved by Hamlet's loyalty that he decided he couldn't use him for a roast, and donated him to Poplar Springs. They agreed to take Hamlet only on the condition that roasts of all sort would cease: the farmer said he probably could never do another one anyway—not after his experience with Hamlet—and agreed. I loved the dichotomy between Hamlet's gruff demeanor and heart, which was so loyal that it managed to change the farmer's intention. These are exactly the sort of stories that illustrate the depth of animals' emotional lives, not to mention our own capacity to have our lives changed by their behaviors.
I hope that my small sponsorship can help to keep Hamlet and pigs like him safe from the trauma of their past experience.
It's often hard for new vegans who are curious about animal rights to put a face on the issue itself. Yes, we can all watch videos or look at calendar photos, but how to spark a true sense of compassion? How to awaken a real life appreciation of sentience?
Visiting a farm sanctuary is a great place to start. You'll be enchanted, sure, but you'll also leave with a sense of respect for animal life. Farm sanctuary volunteer work is a wonderful way to connect with likeminded thinkers, and visits are a great family activity, too. If you are moved by the experience, I highly suggest sponsoring a farm animal: it's a very small fee, typically, and you know that, each month, you're giving back to the animals who have suffered most profoundly at human hands.
I mean, just look at how happy sponsorship makes me:
Click here for a list of all farm sanctuaries in the US, organized by state. See who's near you, and see if you can't help out for the day, or become a sponsor yourself. I promise you won't regret it.
And now, bedtime calls. See you back here soon with some blooger meet-up recaps!
xo