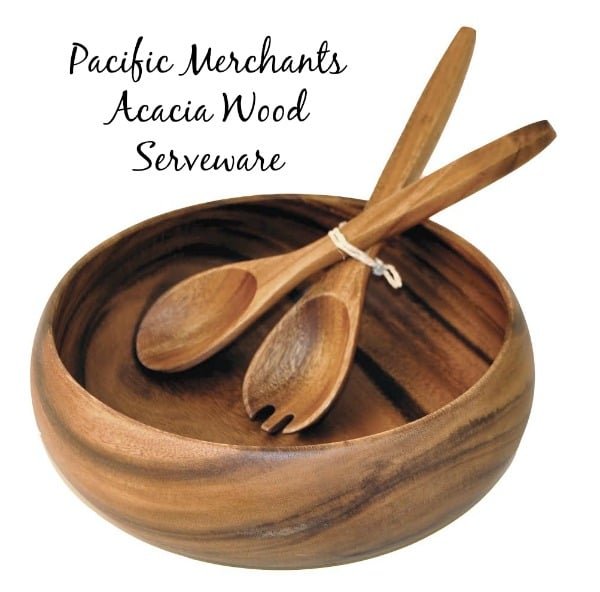 I'm so excited about today's giveaway!
Months ago, the lovely folks at Pacific Merchants Trading Company reached out to me, asking if I'd like to sample some of their products. To give you some background, Pacific Merchants is a small, family run business that passionately seeks the best and most beautiful products around the globe. They sell eco-friendly, acacia hardwood serveware, fermenting crocks, lovely Kilner canning jars, bakeware and baking accessories, and colorful placemats. The company sells these items at a fair price, encouraging food lovers everywhere to take pleasure in simple, high quality home goods.
It was hard to decide which items to select from Pacific Merchants, because everything is so beautiful; I have my eyes on the bakeware and placemats now! But for the time being, I needed some new serveware, so I asked if I could try out the round calabash salad bowl, the wood salad/pasta servers, and the wood chip and dip tray. I've now had some time to use these beautiful pieces at home, for simple suppers, snack plates, and entertaining, and I'm so happy with them. Many of you have noticed the salad bowl in blog pictures or on Instagram, and a few of you have asked about it. It's spacious and lovely: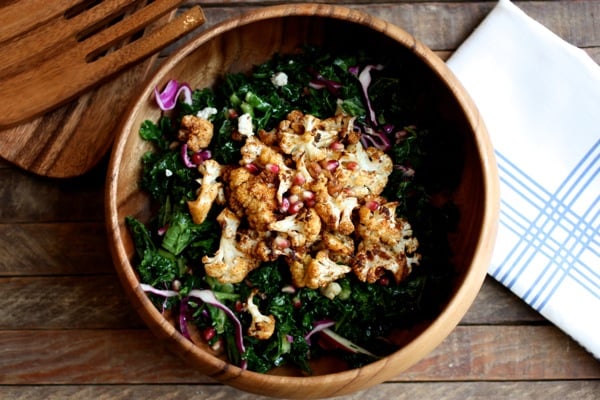 Here it is, stuffed to the brim with my spice rubbed cauliflower, kale, and pomegranate salad.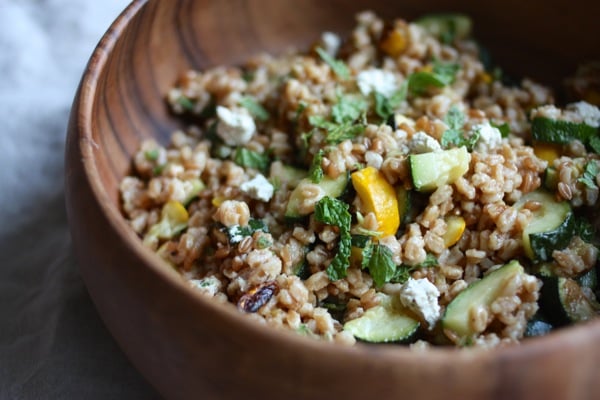 Or here, as a vehicle for my farro salad with roasted zucchini, cashew cheese, and mint.
The bowl measures 12″ x 4″, so it's nice and spacious — perfect for those of us who like our salads large and in charge 😉
The salad/pasta servers, meanwhile, are unique and beautifully designed: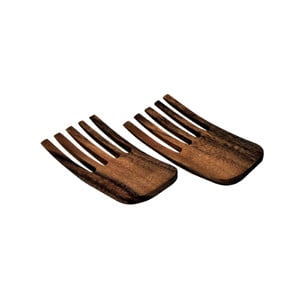 So much nicer than putting two large kitchen spoons into my salad bowl, which is what I usually do in a pinch.
Finally, the chip and dip tray.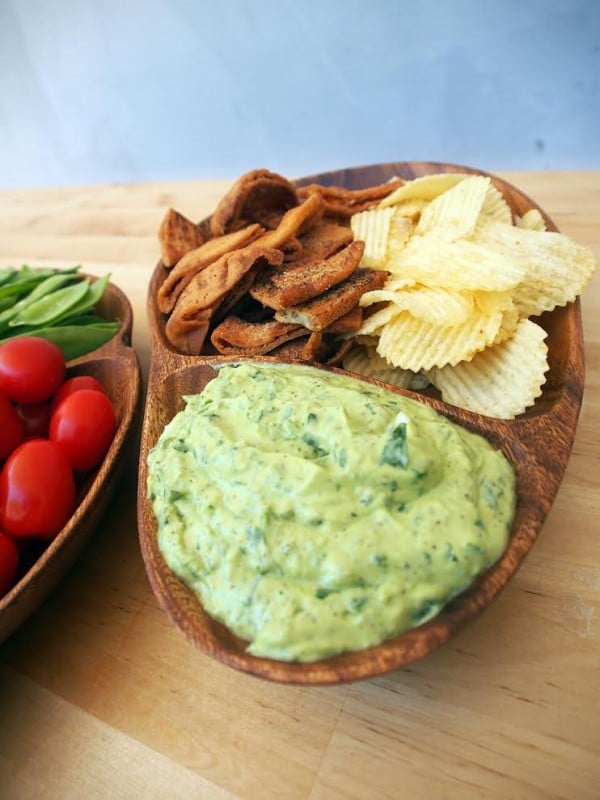 This is obviously designed for chips + guac, or the like, but you could use it for freshly warmed pita bread and hummus, nut pate and raw vegetable sticks, or even chocomole and fresh strawberries (for a sweet dipping plate), or my raw, vegan salted caramel sauce and apple slices. Yum!
I've enjoyed these beautiful pieces so much, and I love knowing that this serveware is so environmentally conscious. Some features of the Pacific Merchants Acaciaware®:
The hardwood is harvested from privately owned lands.
Acacia wood is naturally resinous, resisting penetration by liquids and the hardwood will not stain or pick up odors.
All of Pacific Merchants Acaciaware®  acacia wood bowls are hand turned, and other acacia wood items are hand carved, giving each piece a unique grain and beautiful look.
Packing material is eco-friendly, made from recycled shredded cardboard boxes.
Acaciaware® is easy care–just hand wash with warm soapy water and air dry.
I asked the folks at Pacific Merchants if they'd be willing to share some of their signature Acaciaware® with a lucky Choosing Raw reader, and they generously said yes. Enter my giveaway below to win:
1 round calabash salad bowl
1 set 7″ salad/pasta servers
1 13″ x 9″ organic chip and dip tray
The giveaway is open to US entries only. Enter below to win!
Additional good news for everyone: if you don't want to wait to have one of these lovely pieces of serving ware, you can shop online at the Pacific Merchants Trading Company website, and enter the coupon code "ChoosingRaw20" for a 20% discount at checkout. These bowls make beautiful holiday gifts–for you, or for a loved one!
Enjoy, friends. I'll be back tomorrow with a green recovery post that is, simply put, extraordinary. I can't wait to share it with you.
xo