I'm back from the west coast and the beautiful city of San Francisco. My mom and I ventured out there for a little girls' trip–our first travel together in a very, very long time. We are, as you surely have noticed, incredibly close, and now that my post-bacc is over, I'm trying to spend much more quality time by her side. San Francisco, where she has always wanted to travel, was a great place to start.
Sadly, I left my camera battery in DC before I left for NYC to meet my mom, so I don't have any fancy photos for you. (Just as well, since I spilled coffee on my camera the last time I was in San Fran.) I hope that what I snapped on my phone, along with my words, will be enough to transport you.
For the sake of brevity, I'm dividing trip details into three parts: food, sights, and snacks. The snacks section features what I brought with me on the trip, so it's a really good chance to share some of my tips and tricks for travel planning. But first, let's talk about the extraordinary food that mom and I were lucky enough to experience in the four nights we were there.
Top row, running left to right:
1. The brochettes (mushrooms, Mariquita Farm potatoes, cherry tomatoes peppers, white corn, summer squash, red onions and Hodo Soy tofu with muhammara sauce, brown and red rice, pickled beets with mint) at Greens restaurant
2. Shitake mushroom and tofu spring rolls at The Plant Cafe on Pier 3
3. "Ginger fire" House Kombucha, a local SF brand, which I found at The Source. So. Spicy. And so good.
4. The "Mediterranean Napoleon" at Millennium (eggplant, tomatoes, cashew cheese, sauteed veggies).
Row Two, left to right:
1. "The Source Salad" (mixed greens, spinach, romaine, tri-color quinoa, beets, living taco meat in green goddess dressing) at The Source.
2. A macadamia nut and arugula salad from The Plant Cafe at San Francisco International airport. To fill out the meal, I got a side order of quinoa. And I also had a bag of baby carrots in my backpack, which I brought out at lunch. What an incredible airport meal! I also thought it was lovely that SFO has a public yoga room for travelers; I went in and did a few rounds of Sun A and Sun B before our flight home.
3. More goodness from Plant Cafe: the Dino Kale Salad (dino kale, arugula, red quinoa, cherry tomatoes, avocado, carrots, cucumbers, toasted almonds, lemon cumin vinaigrette).
4. A farmer's market breakfast at the Ferry building on Saturday. I picked this up from the "Live" stand. It was a mix of sprouted buckwheat, shredded coconut, bananas, berries, and almonds. Yum!
Row Three, left to right:
1. A delicious "beta bomb" juice (Pineapple, Orange, Carrot, Turmeric, Ginger, Cinnamon, Lime) from the folks at Project Juice, who kindly invited me over to sample one of their delicious blends. Awesome flavors, a huge variety, and cool packaging, too!
2. Raw tacos (savory almonds, tomatoes, dates, red preppers & jalepeño, served on a romaine leaf, topped with raw nacho cheese) at The Source.
3. The wilted spinach and frisee salad (smoked tofu, roasted new potatoes, seared spring onions, castelvetrano olives, Marcona almond, sangiovese vinaigrette, fresh marjoram) at Millennium.
4. The Massaged Lacinato Kale Salad at Chaya (House Smoked Tofu / Bruins Farm Tomato / Avocado / Red Onion / Yamagobo / Peanut Ponzu Vinaigrette). This was amazingly good — of course I ordered it with no onion!
There were definitely other spots I wanted to make it to, but we just didn't have a chance. Gracias Madre was a favorite the last time I was in SF, but my mom is supernaturally sensitive to spice of any kind (even black pepper), so it wasn't the best option for us this time around. Overall, everything was wonderful. I'd say Plant Cafe and Greens were the highlight, but the salad at Chaya was truly special. Something to recreate at home now!
We also made an effort to see and do as much as we could while we were on the trip. Neither of us had ever seen wine country, so we took a little bus day trip to Napa and Sonoma, which was gorgeous. We also took a bus up to the Muir Woods, which was probably the trip highlight for me–what a peaceful and sacred spot. We were both mesmerized as we walked through those giant redwoods.
More of the spots we saw:
Clockwise from top left: The Pad yoga studio (I went twice — great power classes with Meghan Webster!), the amazing view from Greens, Muir Woods, a shot of the marina, chardonnay grapes, and me feeling the urge to do a tripod in the area around Muir Woods.
We also managed to make it to the De Young Museum, which was wonderful. We wanted to go to the Exploratorium so that I could geek out, but it was the end of the day and we'd been told you really need some time there…so, next time. One could really spend endless time in San Francisco without exhausting it's cultural offerings, scenic views, and incredible cuisine. But I am so happy we had the time we did, and my mom was, too.
On my last morning, I was able to make it to the Ferry building farmers' market for a quick breakfast date with the lovely Carrie of Carrie on Vegan. Carrie has become a good blog friend over the years, and in the last twelve months I've been particularly moved by her experience with thyroid cancer, and her brave approach to healing. It was so nice to catch up.
Carrie, by the way, has a very cool iPhone app called Vegan Delish, which features nutritarian recipes. A few from CR have made the cut!
It seems almost silly to offer vegan travel tips in a post about San Francisco, since it's one of the most decidedly vegan friendly cities I've been to! But even so, I did pack my usual assortment of travel goods before we left, and I thought I'd share them with you, since they're the same things I always have handy when I'm on the road.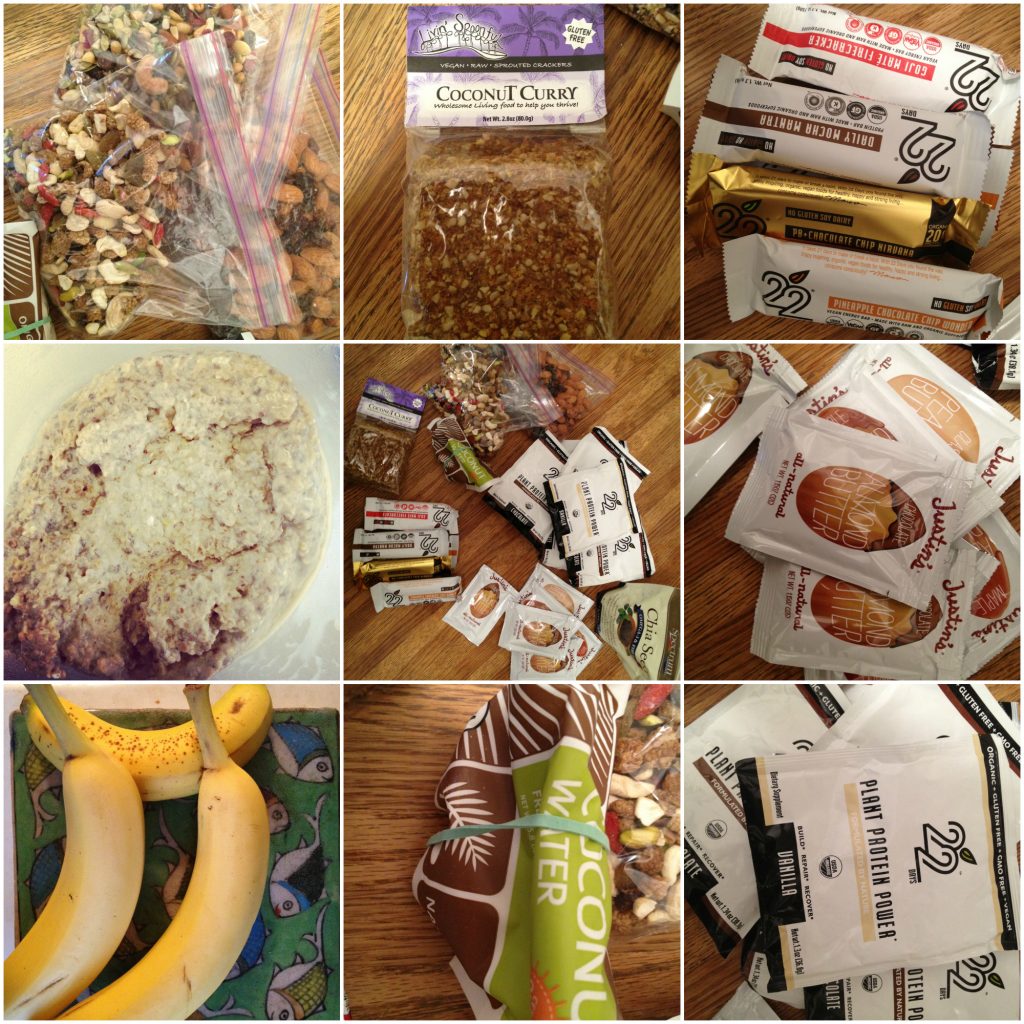 Clockwise from the top:
1. Homemade trail mix (one bag was just almonds and raisins; another cranberries, raisins, almonds, dried soy nuts, and pumpkin seeds; the last was cashews, goji berries, mulberries, and cacao nibs).
2. Some coconut curry crackers from Livin' Spoonful that Valerie shared with me from her recent travels.
3. Snack bars. I travel with any that I have on hand. These are an assortment of flavors from 22 Days. You can read my full profile of the company here — they're one of the nicest brands I've ever worked with, and I really love their flavors, especially the PB chocolate chip nirvana bar!
4. Individual nut butter packets from Justin's. These are super convenient; I carry them around in my backpack all the time in my student life! I often eat them with banana, apple slices, or celery sticks.
5. Protein powder packets. I didn't plant on making smoothies on this trip, but I did know I'd have a mini fridge and would be able to make chia pudding, so I brought some protein (also from 22 Days) for a boost.
6. Coconut water powder from Navitas Naturals! This was a recent sample from the company, and it's really interesting. It definitely doesn't taste the same, but it's a very nice way to get all of those electrolytes in if you are traveling (I would imagine that this is a great product for athletes and runners who are training/exercising away from home).
7. Bananas. My favorite travel fruit because it holds its shape, it's easy to transport, and you can find them almost anywhere you go. Plus, I love them!
8. A little peek at the breakfast I brought on board with me the morning my mom and I took off. It was an overnight mixture of oat bran, chia seeds, and two tablespoons of plain brown rice protein, mixed with almond milk. This got past TSA just fine (I knew chia pudding would be more of a gamble), and I mixed it with chopped banana once we were at our gate. A dear friend told me on Instagram that it looks like spackle…and she is so right. But it tasted good 🙂
In the center of the collage is a bird's eye view of all my packed goodies!
The hotel we stayed at didn't have complimentary breakfast, and the on-site options were fairly pricey (and not very vegan friendly), but we did have a mini fridge in our room. You can often request one if it's not provided, and I generally do, if only so that I can buy some baby carrots for snacking and some almond milk. I ran out to a Safeway when we got in and got almond milk, berries, and carrots. I made chia pudding for me and my mom nearly every morning. Here's one of my concoctions: chocolate protein powder, chia seeds, almond milk, berries, and banana.
Of course, it's not necessary to bring chia along, or go out in search of almond milk when you travel. You can definitely throw together snacks and even whole breakfasts with fruit and snack bars. Oatmeal is also always easy to find. But having almond milk does make it easy to make chia pudding and overnight oats, which are two very filling, nutrient dense breakfasts for folks on the go.
And now, I'm back in DC, playing catch up on quite a lot of work. Before I sign off on this post, and the adventures it recounts, I want to apologize to everyone who got a malware warning for CR over the weekend! Some old files were getting flagged by Google, and it took some time to have the account cleared and the files removed. Everything should be fine now, but I'm beyond mortified that my readers have had to deal with so much tech drama lately from my blog, largely because I'm not the tech-iest of bloggers. I really apologize — from now on, I hope that things will be smooth sailing.
xo