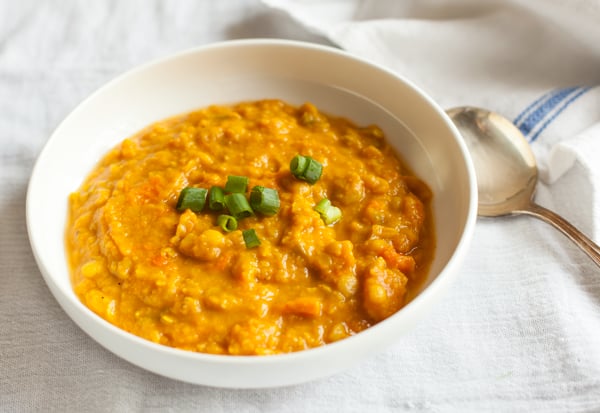 It's appropriate that I'm posting this recipe–a beautifully spiced yellow split pea and sweet potato soup–on the first day of classes for my new semester. It is the sort of recipe that I'll make again and again and again throughout this upcoming school year. Creating a big pot of soup or stew on a Saturday or Sunday leaves me with leftovers for at least four days, and it also means the possibility of doubling a recipe and freezing half, so that I have additional servings to defrost at a moment's notice.
My class days this semester are Tuesday and Wednesday, and I have a night class on Wednesday. In addition, Monday is one of my long days with nutrition clients (meaning that I see folks through the early evening), so my plan is to do as much cooking and batch prep on Saturday and Sunday as I can, so that I have lots of food at the ready for Monday, Tuesday, and Wednesday–both packed lunches and dinners. By Thursday, I'll be able to refresh my fridge stock (any staples I'm out of, like cooked grains) and prepare a weeknight supper. I often see clients late on Friday, too, so if need be I can prepare something that'll give me leftovers when I cook on Thursday.
I'm thinking about posting some variety of my weekly dinner and meal plan–not something comprehensive, because I like to leave some room for spontaneity with breakfast and lunch. But maybe a snapshot of recipes I've picked out for my suppers and what's on my batch cooking list. If you think that would be useful/helpful/interesting, let me know! I know that there are many busy students reading, not to mention professionals and folks who are struggling to feed families healthily and with ease, so my hope is that this could be a fun addition to the blog.
Back to the soup. There's not much to say about it except that it's hearty, filling, and outright delicious. I added some North African spices to the mix, including harissa, cumin, and ginger. I've been enjoying it warmed up with a side of my easy, homemade gluten free flatbread, but it's also great over cooked jasmine or brown rice. A sprinkle of chopped green onion or cilantro is a perfectly bright and flavorful garnish.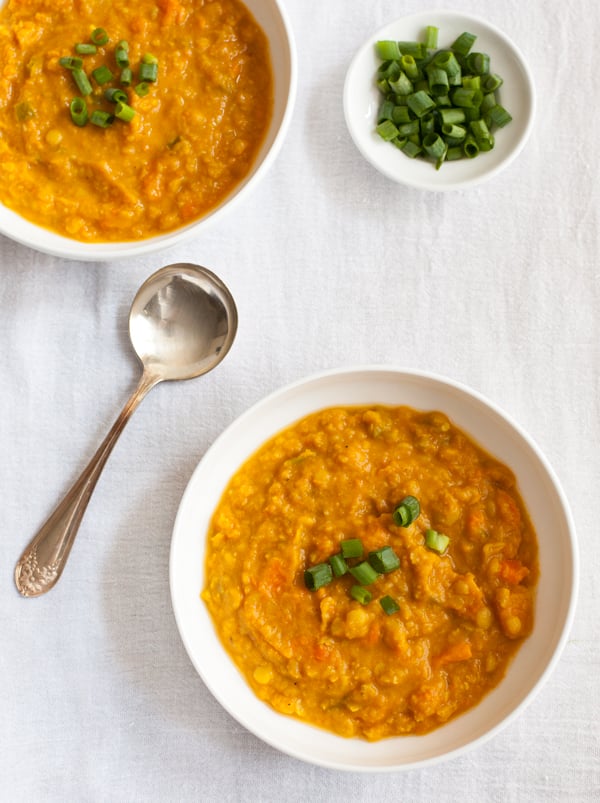 The soup will freeze well, for up to a month at least. I've been enjoying the leftovers too much this week to think about freezing any, but I may double the recipe next time I make it, so that it'll keep on giving.
I love the bright color and complex aroma of this soup (which is thick enough to qualify as a stew, too), and I love the use of yellow split peas here, rather than the green ones that so often appear in split pea soup. (As a sidenote, I'm still working my way through the bag of yellow split peas that gave me these cakes and this dip–they've stretched a long way!)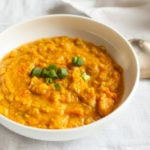 African Spiced Yellow Split Pea and Sweet Potato Soup
Author -
1

tablespoon

olive

grapeseed, or safflower oil

1

yellow onion

chopped

2

poblano or hatch chili peppers

chopped

3

cloves

garlic

minced

1

tablespoon

grated or minced ginger

1

teaspoon

ground cumin

1/2

teaspoon

Harissa powder

more to taste--it's spicy, so feel free to add extra if you like heat!

1/2

teaspoon

turmeric

3/4

teaspoon

salt

or to taste

1

lb

sweet skinned and roughly chopped garnet yams or sweet potatoes

about 3 1/2-4 cups

1 1/4

cups

yellow split peas

picked over to remove any grit

6

cups

water or low sodium vegetable broth

1/2

cup

soy

almond or light coconut milk

Black pepper

1/3

cup

chopped green onion tops or cilantro

optional, for garnish
Heat the oil in a large Dutch oven or soup pot over medium high heat. Add the onion and peppers. Cook for 5-7 minutes, or until the onions are clear and soft. Add the garlic and ginger, and cook, stirring constantly, for another two minutes, until the garlic is quite fragrant. Add a few tablespoons of water as needed, to prevent ingredients from sticking.

Add the ginger, cumin, harissa, turmeric, salt, sweet potatoes, split peas, and water or broth to the pot. Bring the soup to a boil and then reduce it to a simmer. Cook, covered, for 30 minutes, stirring occasionally. Remove the lid and simmer for another ten minutes, so that the soup thickens up. Turn off the heat, stir in the non-dairy milk, and then season to taste with black pepper. Serve with a garnish of green onions or cilantro.
Leftovers will keep in an airtight container for up to four days, and will freeze for up to one month.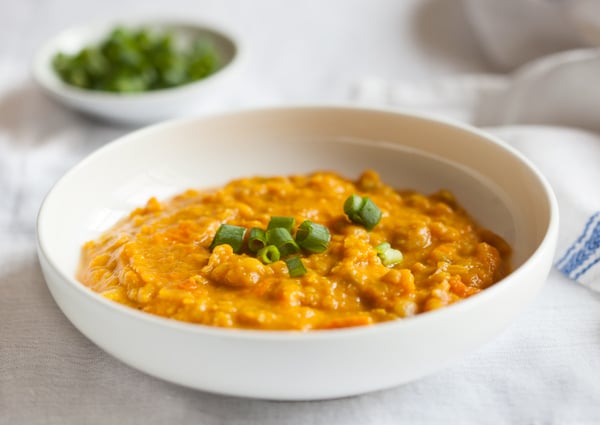 What a vibrant and beautiful bowl. Whether you're headed back to school this autumn or not, I hope you'll put this on your list of warming soups to savor.
With that, it's time to shoot off some work emails, review my textbook reading, and get to class! Have a great day.
xo