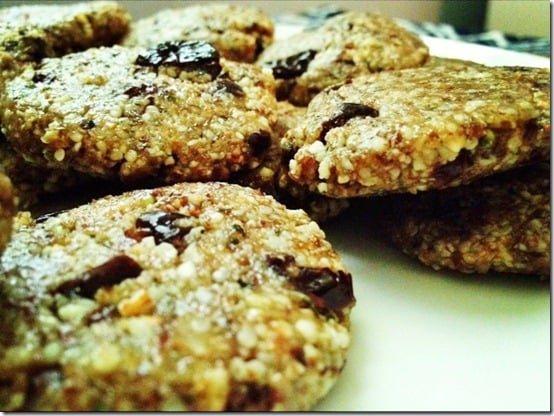 Hey all! Thanks so much for cheering on my involvement with the new sweetpress brand! I was really touched by the comments, and hope that those of you in the DC area will let me know what you think!
Today's post—and the cookies in it—is small and sweet. As usual, school is keeping me mighty busy, and I confess that I've done very little cooking at all this week! On Monday I made a simple, nutrient dense salad with some leftovers from an exciting, incredible quinoa dish with hempseeds I'll be sharing tomorrow (get excited!). Last night, I took a library break to scurry down to M street and grab a quick dinner at Le Pain Quotidien with Kathy, who was in town for one night only. So great to catch up with her! We chatted and laughed over giant lentil salads.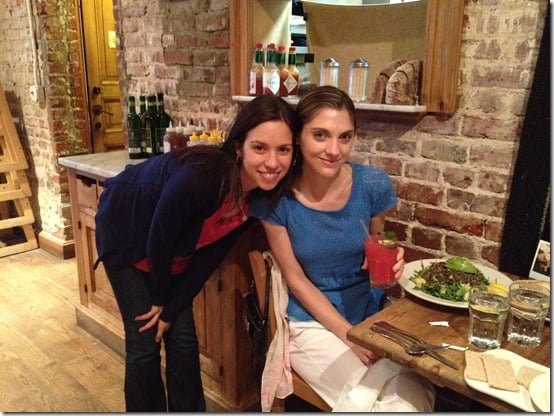 Lunches, for the most part, have been salads, sprouted grain sandwiches, and kind of boring mixtures of fruit, veggies, snack bars, and vegan snack bars that can fit into my backpack. When I'm organized, I make grain salads (like the aforementioned quinoa dish) and pack them up as leftovers for lunch, along with snacks for the late afternoon. It's my preference to go home after class and before the library for lunch, but I don't always have time. When I do have time, that time is still short, so lunch prep is all about maximizing nutrition and taste quickly.
Sticking to simple, nutritious eats is keeping me satisfied and energetic, but it's not lending much flair to Choosing Raw! Stick with me, friends: I'll have more to share very soon (and I'll also get better at documenting my uber-simple eats, per many readers' requests! The reason I don't do that more often is my simple aversion to taking photos when I'm in a rush). In the meantime, do you guys remember when I mentioned that snacks have become very important to me this year? I've always been a solid, 3-square-meal-a-day kinda gal, and I still am, but doing schoolwork all day makes me a lot hungrier than did my working life. When I come home from a spell of problem solving, or when I'm immersed in that solving (and seeking) in the library, I need to snack at fairly even intervals. Sometimes, I like savory snacks, like hummus and veggies, any one of my raw crackers, or blended salads.
And sometimes, I like a sweet treat.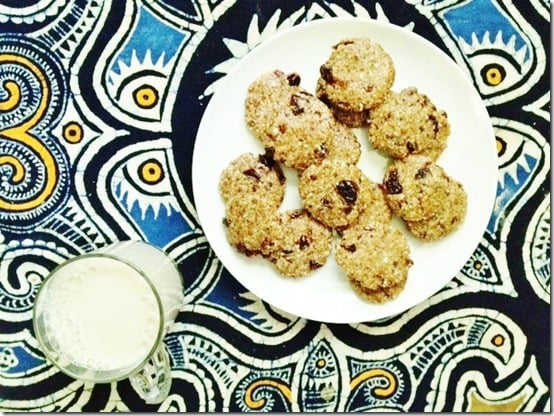 Those are almond and hempseed cookie with sour cherries. They're easy to make, and it's very delicious. In fact, I'm munching on one now; I like it when snacks can double as dessert!
I actually conceived of these cookies as dehydrator cookies, and realized right away that they really don't demand dehydration at all. Lucky for me—and for all of you. With a little glass of almond milk, these cookies bring you right back to the after school treats you remember from childhood—but with a raw and vegan flair!
Almond Hempseed Cookies with Sour Cherries
Makes about 20 cookies
2 cups raw almonds
1 cup raisins
1/2 cup hempseeds
1 tsp vanilla extract
3 tbsp agave syrup
1/3 cup sour cherries (dried)
1. Grind almonds in a food processor till they're a fine meal. Add raisins, agave, and vanilla, and process till the mixture is even and sticking together. Pulse in the hempseeds and sour cherries.
2. Roll mixture into 1 1/2 inch balls. Flatten into a cookie shape with your hand, and refrigerate for about 30 minutes. And you're done!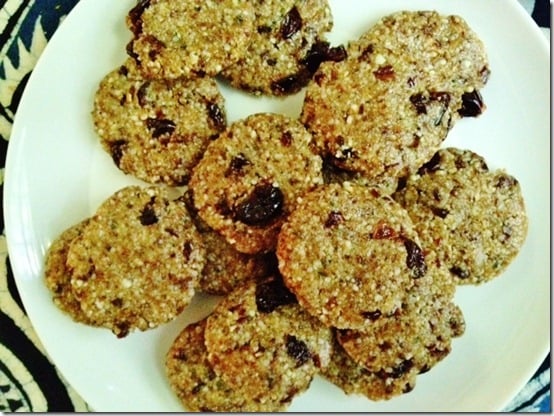 As you've probably noticed, I really love dried cherries in my sweet treats! The tart/sweet contrast sings to me. If you're not into cherries, though, feel free to use goji berries, cacao nibs, dried mango, or whatever floats your boat.
Hope these little cookies add as much charm to your day as they added to mine. See you back here tomorrow with another quick, easy recipe!
xo