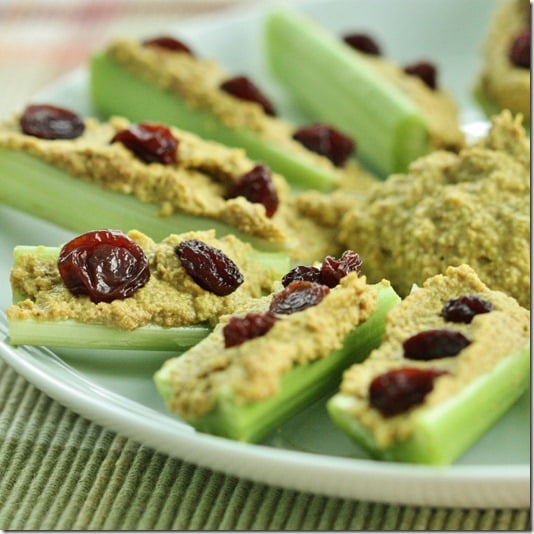 Many of us have warm, fuzzy memories of coming home from school each day to an afternoon snack. PB & J, Oreos and milk, Ritz crackers, fruit—these are a few of the after school snacks I remember seeing on television as a kid. Though my memories of those popular snacks remain, I must confess that I've no memory whatsoever of what I actually ate when I came home from school. Fortunately, I'm a student once again, and will likely be one for a good many years hence. So I've got a second chance at after school snacks.
These crunchy, sweet, and salty celery sticks stuffed with curried sunflower seed spread are a wonderful way to end a school day (or any day). I love the contrast of warming curry with cool, refreshing celery. And they evoke childhood memories of ants on a log in a delightfully creative way.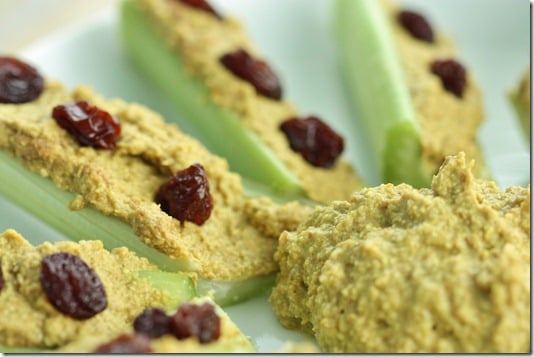 Celery Sticks with Curried Sunflower Spread and Raisins
5 sticks celery, cut in half
2 cups sunflower seeds, soaked overnight and drained
2 tsp curry powder
1 small clove garlic, minced
2 tbsp coconut aminos or 1 1/2 tbsp Bragg's Liquid Aminos
1 pitted date, chopped
1 tbsp apple cider vinegar
2/3 cup water
25 (or so) raisins
1. Add sunflower seeds to a food processor fitted with the S blade and pulse to combine. Add the curry, garlic, aminos, and the date, and pulse again.
2. With the motor running, drizzle the water into the food processor in a thin stream. Stop occasionally to scrape the bowl down. Continue processing till the nut spread is very smooth.
3. Spread some of the curry/sunflower mixture into the celery sticks and dot with a few raisins each. Munch.
So cute and tasty!
Next time you find yourself reaching for some ho-hum trail mix, give this snack a try. You can also serve these delicious celery sticks as an appetizer plate at a party. Feel free to add more curry for extra spice, or some turmeric for some anti-inflammatory power!
Hope the week is already off to a good start for you all. I'm so happy you enjoyed yesterday's recipe round up.
xo