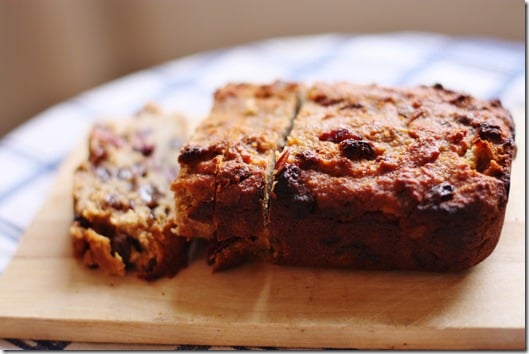 This recipe has a long back story.
Last week, one of my readers wrote in to ask if I had any recipes for muffins made with coconut flour. She's a diabetic, and coconut flour is one of the more low-glycemic flours on the market. I didn't have that, but what I did have was some almond meal, which I had bought the last time I was staying at my mother's in the hopes that I could mush it with some water or juice to create nut pate without my food processor. That was an epic fail, but I did end up with some almond meal on my hands, and almond meal is a very delicious ingredient for quickbreads and muffins. It is versatile enough that it can be used on it's own for a "grain-free" baked good, but I usually mix it with one of my favorite flours.
This time around, I decided to mix it with chickpea flour. Chickpea flour can be a difficult ingredient; it can taste bitter, and it can also get very "pasty." That said, I've had a lot of recent success with chickpea flour in cooking–namely, my Christmas tart with beets, greens, and roast potatoes. So I'm very partial to it, though I realize that it's a bit of a foreign taste to many eaters.
I thought I had a perfect recipe for my reader on my hands. And then I thought it would be all the more perfect if I added some dried fruit (raisins and apricots). Of course, no sooner had I done this that I realized that in making the bread all the more delicious, I had also made it fairly diabetic-unfriendly. So, to Karen, the reader who originally asked me for a coconut flour recipe, I send a very sheepish apology: I did intend to give you what you had asked me for, I promise! And I also promise that I will soon provide you with precisely the muffin recipe you want.
Until then, my readers who can and do eat dried fruits can enjoy this breakfast bread, while my readers who limit sugar intake can omit the fruit (and perhaps even replace it with a grated vegetable, like carrot or zucchini). All of my readers can enjoy the fact that this bread is unusually rich in protein, thanks to the combination of chickpea and almond flour (each provides 6 grams of protein per serving). It takes most of its sweetness from dried fruit, so it's not overly high in processed sugars. And it's gently spiced with cinnamon and nutmeg.
It's also worth pointing out that all of the fat in this recipe is from the almond flour. So while it is not a low fat baked good (almond flour has a fair bit of fat in it), the fat is not oil-derived, which is nice news for readers who are taking measures to avoid oil. And the bread is dense, but it is remarkably moist, which I love.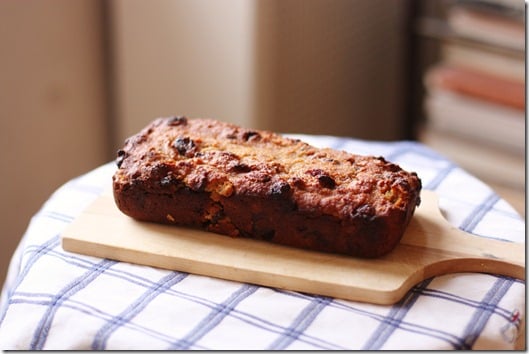 Almond and Chickpea Breakfast Bread with Dried Fruits (vegan, gluten free, soy free)
Serves about 10-12
1 3/4 cup almond flour
1/2 cup chickpea flour
2 tsps pumpkin pie spice (or 1 tsp cinnamon, 1 tsp nutmeg)
1/2 cup seedless organic raisins
1/2 cup chopped organic dried apricots
4 tbsp flax meal
1/2 cup warm water
3-4 tbsp agave or maple syrup
3/4 cup applesauce
1) Mix the flax meal with the warm water and set aside to "gel."
2) Place flours, spice, and dried fruit in a large mixing bowl.
3) Whisk together the agave, flax mixture, and applesauce. Add these wet ingredients to the dry ones.
4) Bake in an oven set to 350-375 degrees (this will vary depending on how "hot" your oven runs, but I used 375 because my mother's oven is not very hot) for about 60-75 minutes. Cover with foil for the last 20 minutes to prevent burning. Check with a toothpick or fork to be sure it's done; almond meal baked goods can cook very slowly, so you may need to add time.
For a bread recipe that contains no conventional flour, I found the texture to be very impressive: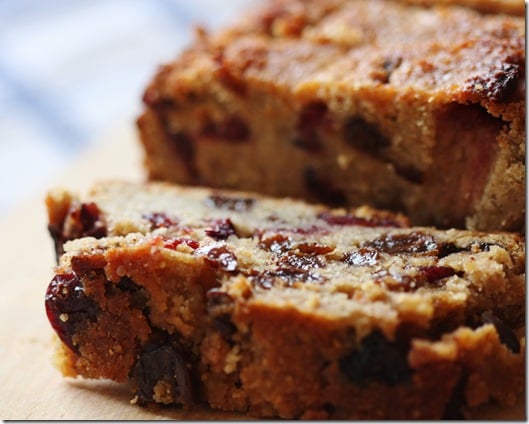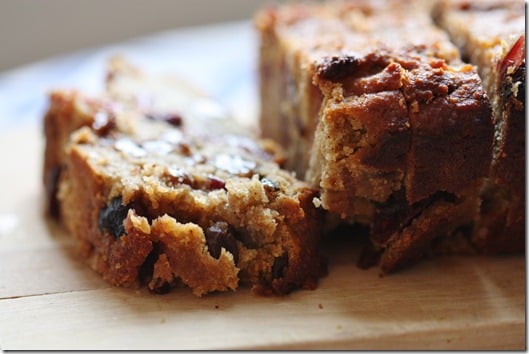 As a cautionary cook's note, I should tell you that my mother, who is the resident CR recipe tester right now, didn't care for this bread. She thought it was too dense, and slightly bitter (probably the chickpea flour!). If you're serving it to a family member with more mainstream tastes, I would suggest using regular flour in place of the chickpea, to make it more accessible. I suspect that all healthy foodies will like it the way it is. I sure do!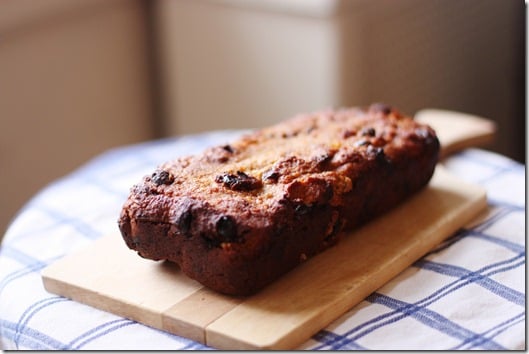 I thought I'd also share that a funny thing happened last week: I used up the second of two stevia packets I'd brought to NYC with me in my backpack (I tend to carry it around for sweetening tea on campus). Since my mother has no stevia, I haven't been using any; I've just been using small amounts of agave or maple syrup (which, as you all know, I sometimes use anyway) instead. I don't tend to use a ton of stevia in my drinks or food, but I have realized this week that I do tend to use it to sweeten things that don't really need sweetening: I'll put a few drops in chia pudding, for example, or oats, when the fact of the matter is that I always eat these dishes with fruit, anyway. Or I'll put it in a tea that would taste lovely on its own.
I think stevia is a fantastic sweetener, and I'll always buy it, but I'm definitely going to stay in the habit of not using it when I don't really need it. It reminds me to appreciate the natural sweetness of the foods I eat, and it'll also save me some crucial dollars!
What have you recently realized you tend to use unnecessarily when you cook? I'd love to know.
Time for yet another busy day of friends and NYC to wrap up. See you back here tomorrow!
xo