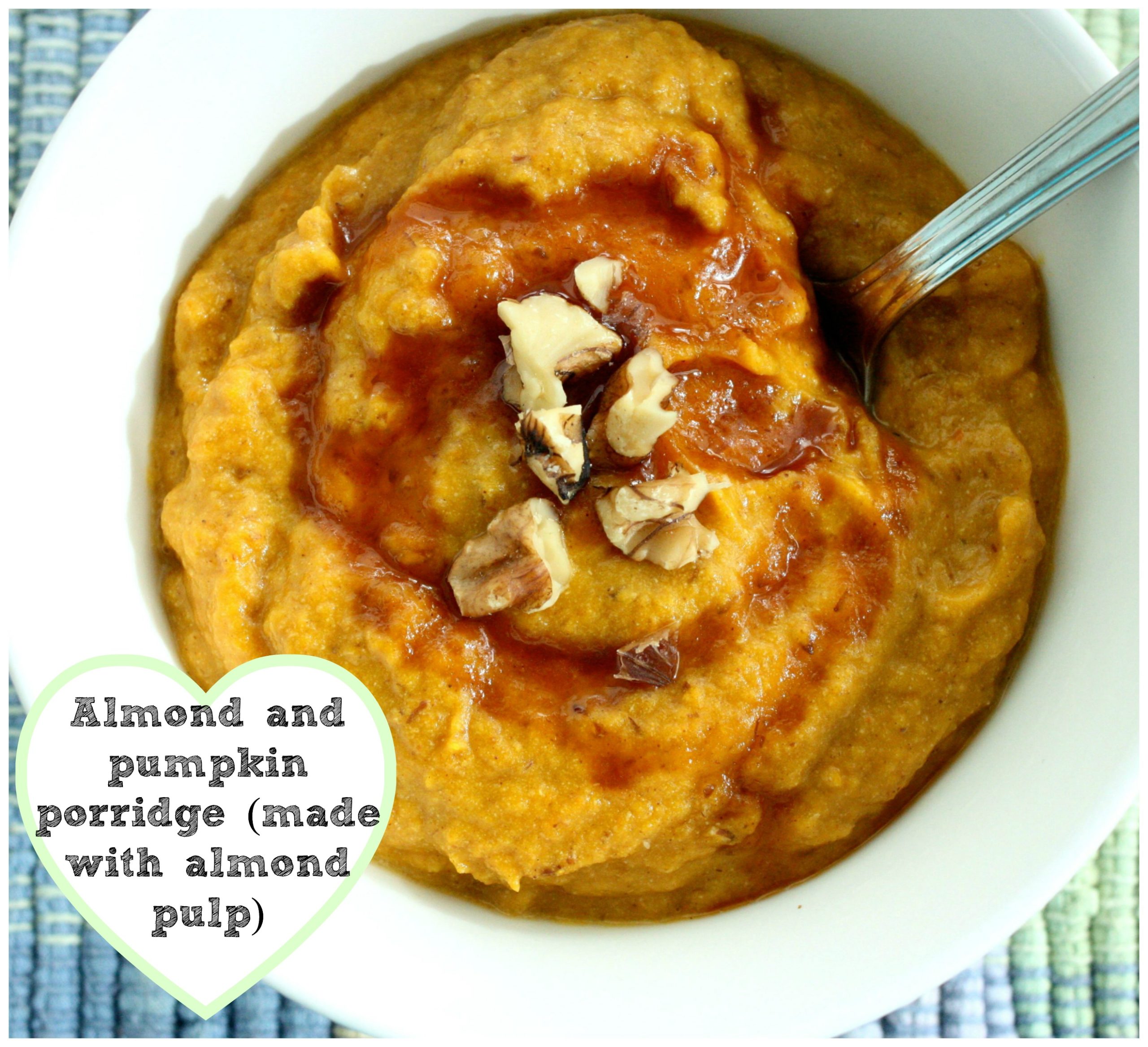 Well, no less than two weeks after bragging about how I'm still hooked on summer flavors, and not at all ready for fall, it's happened: pumpkin. Lots and lots of pumpkin. In my apartment. Now.
While it's sad to part ways with berries and basil and other summer treats, it's hard to top the joy of hot cereal in the morning, pumpkin and cinnamon in anything and everything, or weather cool enough to inspire a craving for soup. It's all happening now, and while DC will stay fairly temperate through October, I'm officially excited for the change of seasons. I thought I'd kick off pumpkin season with this easy recipe, which happened sort of by accident yesterday morning: almond pumpkin porridge. My latest, and possibly greatest use for almond pulp!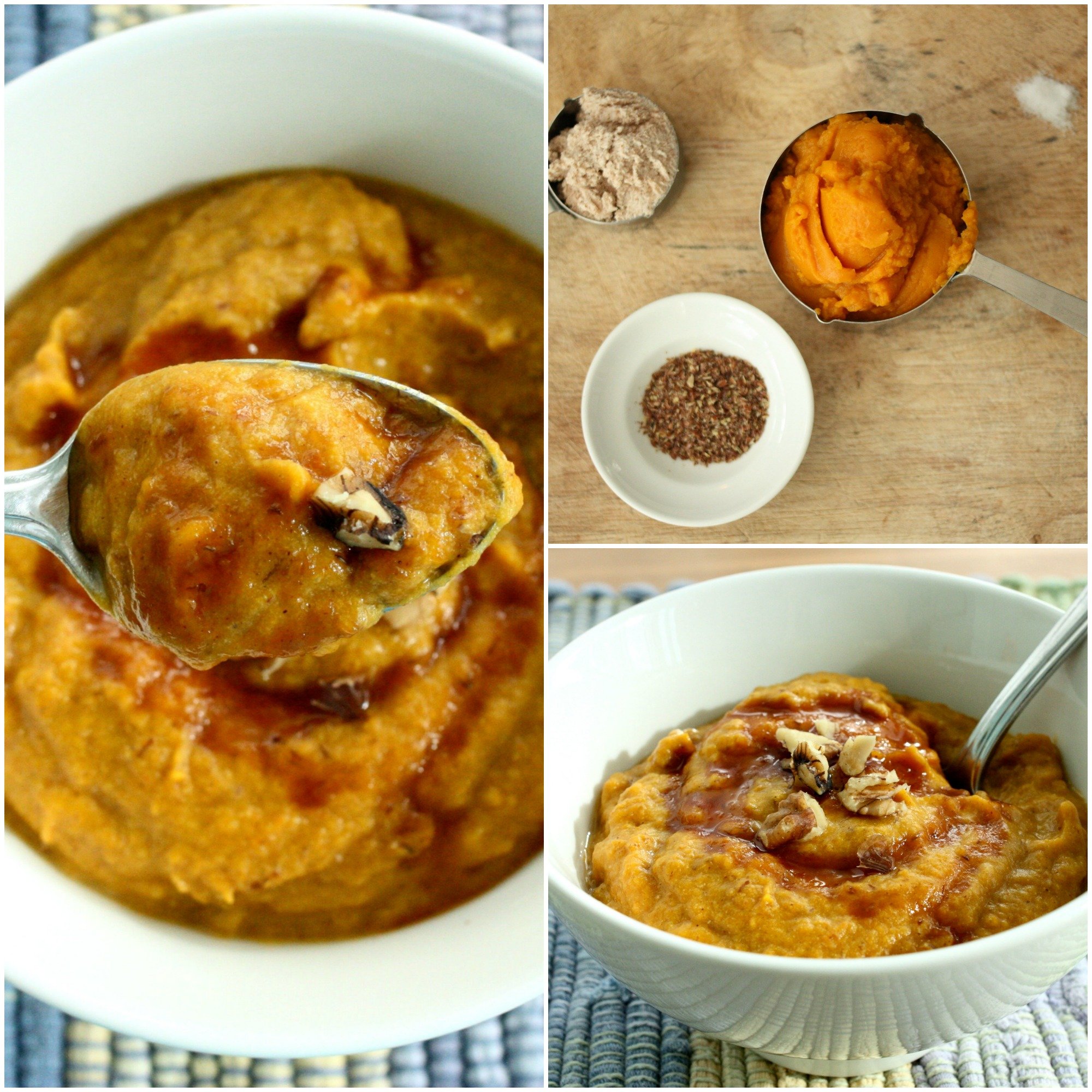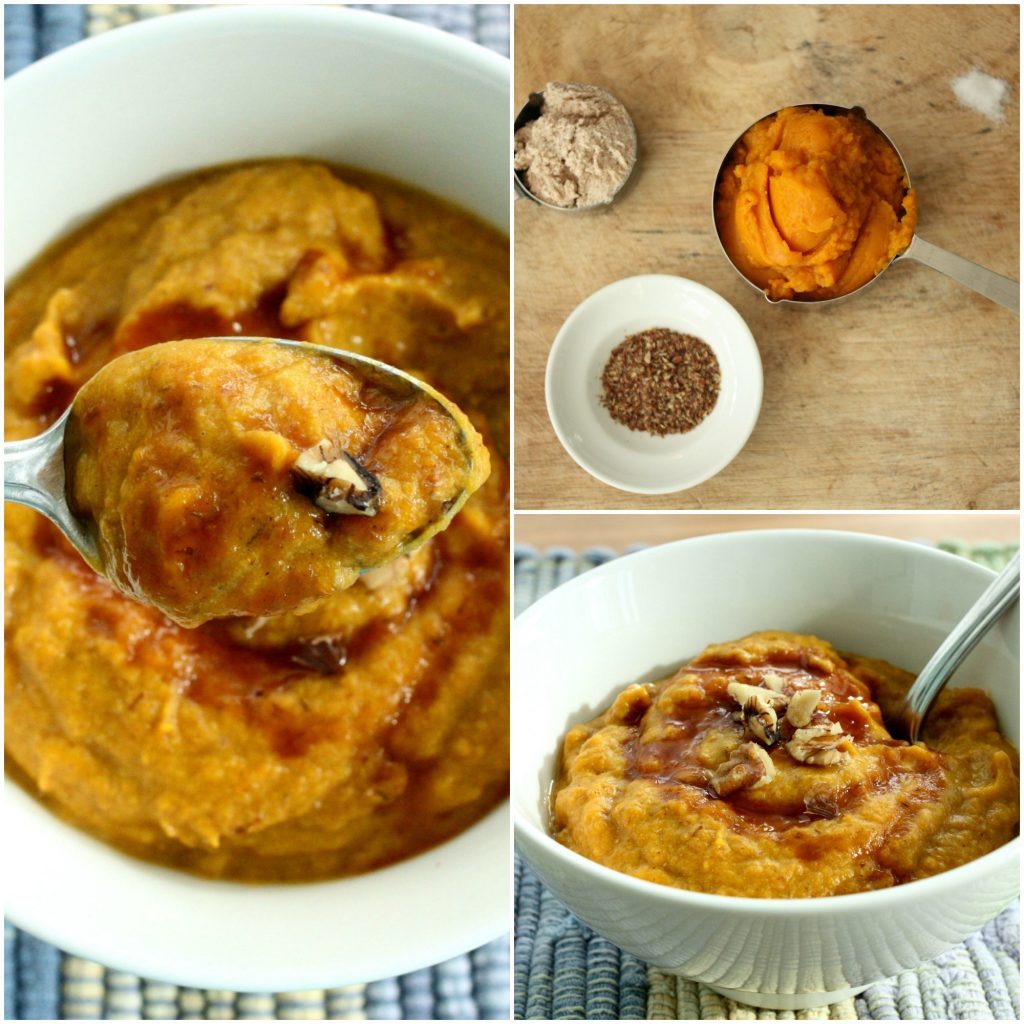 Almond pulp is the soft, fluffy stuff that's leftover when you make homemade almond milk, then strain it. I have a lot of different uses for almond pulp, ranging from bread/crackers to raw hummus to macaroons. Now that my schedule has changed, and I work from home some days again, I can put more time into making homemade nut milks, which means more of the pulp in my fridge, and more motivation to find creative uses for the stuff.
This particular idea is probably the simplest I've had, and it's probably my favorite so far. (More proof, as if we needed it, that simple is best.) You mix canned pumpkin and almond pulp, add some flax (or chia seed) meal, a pinch of salt, cinnamon, and almond milk, and heat it gently over the stove. It's incredibly quick, gluten free, grain free for those of you who don't eat grains, and easy to customize, of course.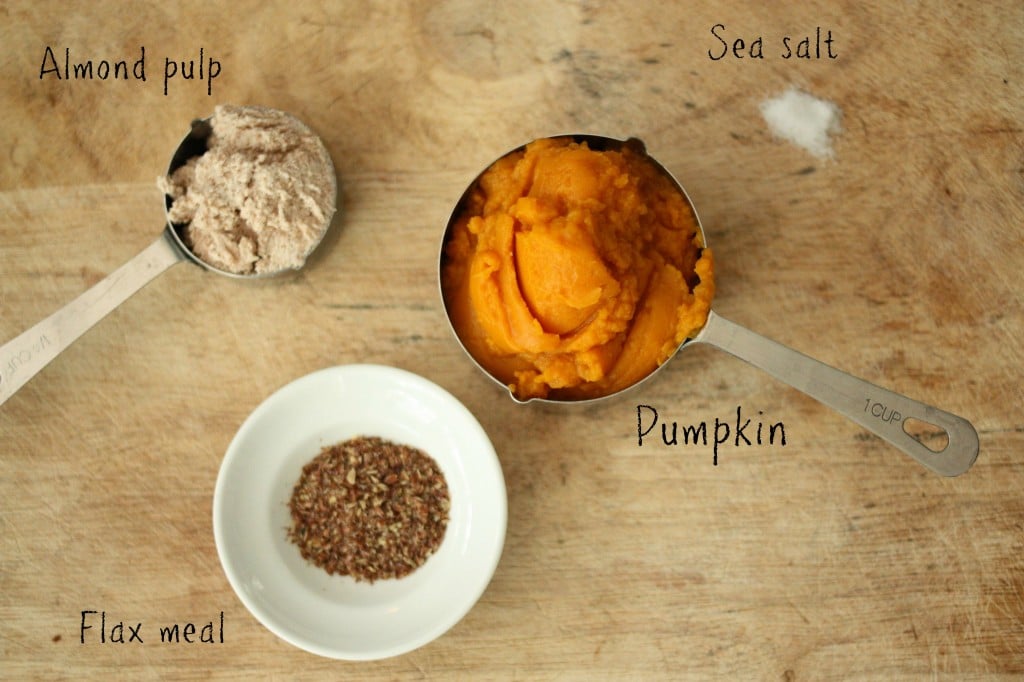 I've made it so far with cinnamon, maple syrup, and sometimes a sprinkle of walnuts, but it would also be lovely with some hemp protein stirred in, some cacao nibs, or some raisins or chopped dates. While "almond pulp porridge" isn't the most appealing name for a breakfast recipe, I can assure you that this creamy concoction is delicious and bursting with seasonal flavor. Try it. Seriously.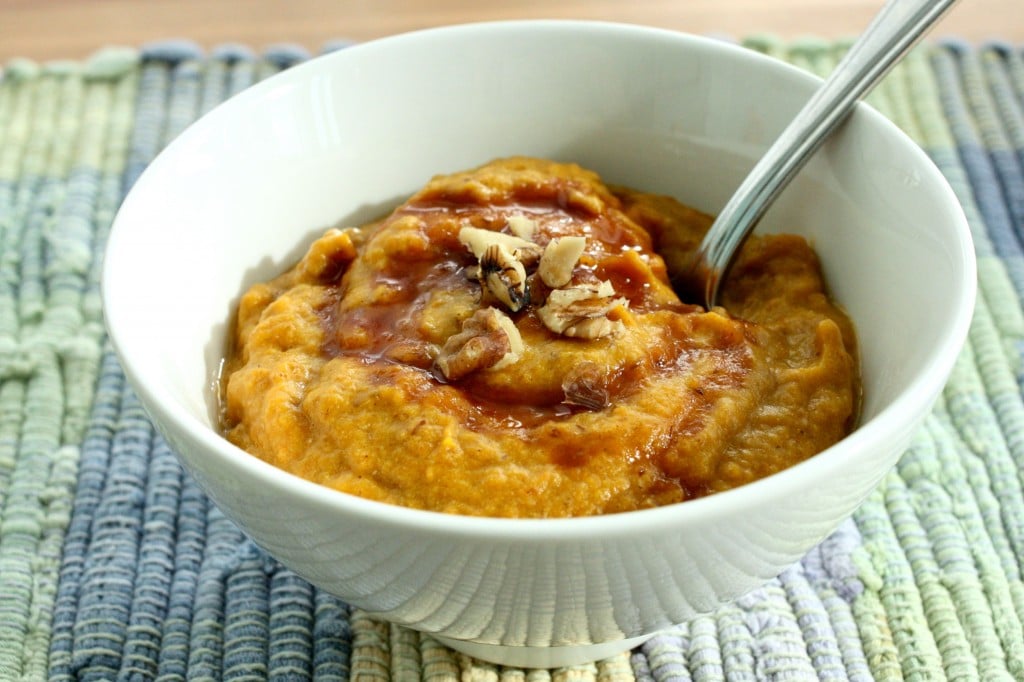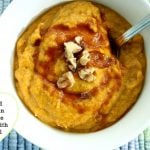 Almond and Pumpkin Breakfast Porridge (gluten free, grain free, vegan)
Author -
1

cup

canned pumpkin

or homemade pumpkin puree

1/3

cup

almond pulp

leftover from making homemade almond milk

1

heaping tablespoon ground flax or chia seed

1/3

cup

almond milk

plus extra as needed

Pinch

sea salt

1/2

teaspoon

ground cinnamon

2

teaspoons

maple syrup

if desired

Toppings: chopped nuts

cacao nibs, dried fruit, etc.
Add the pumpkin, pulp, flax or chia meal, almond milk, sea salt, and cinnamon to a small sauce pan. Whisk the ingredients together and heat over medium flame till they're starting to bubble.

Reduce porridge to a simmer for a few minutes, stirring frequently. Remove from heat and drizzle with maple syrup. Sprinkle with toppings as desired, and serve.

Makes a single serving.
As noted in the recipe, you can of course use a pumpkin puree that's homemade, though the canned stuff is great for convenience. Just be sure to get pumpkin, rather than pumpkin pie mix. If you don't happen to have almond pulp, you can substitute 2 tablespoons of almond butter and then increase the flax meal a bit (or use ground psyllium husks) for extra thickness.
I hope you enjoy it as much as I have!
So, I'm gearing up for Expo East tomorrow in Baltimore. I'll be going for the day to check out what's new in the realm of natural products, supplements, and so forth. If you have any special requests for things you'd like me to keep an eye on, let me know. I'm usually all over up-and-coming chocolate 🙂
Happy Thursday,
xo