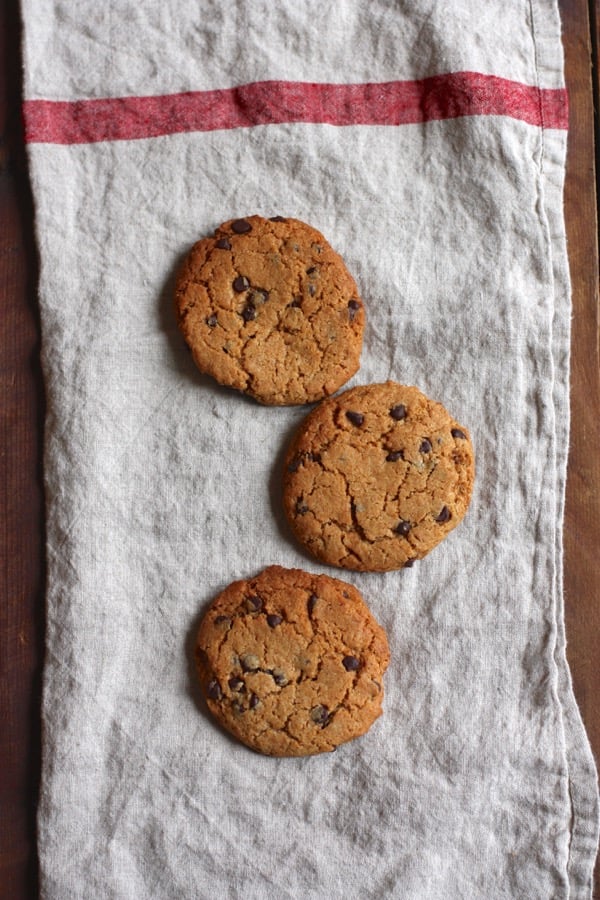 Today, I step outside my comfort book and touch upon a topic I don't know too much about: fitness. High intensity interval training, to be exact. The book is HIIT It!, the new title from my friend Gina (whom most of you probably recognize as the author of the popular blog The Fitnessista). In spite of the fact that this subject does not at all fall under my expertise, I'm excited to tell you about the book, and to share with you a recipe for Gina's scrumptious, whole grain, and 100% vegan almond butter chocolate chip cookies.
I first met Gina in 2009, right after I started my blog. We immediately connected over our love of raw food (Gina had just studied at 105 degrees academy and was sharing a ton of raw recipes on her blog), and over time we stayed in touch (we even ended up rooming together at a conference once!). I've always admired her welcoming and humorous approach to writing about fitness, and in person, I've always loved her warm heart and generous spirit.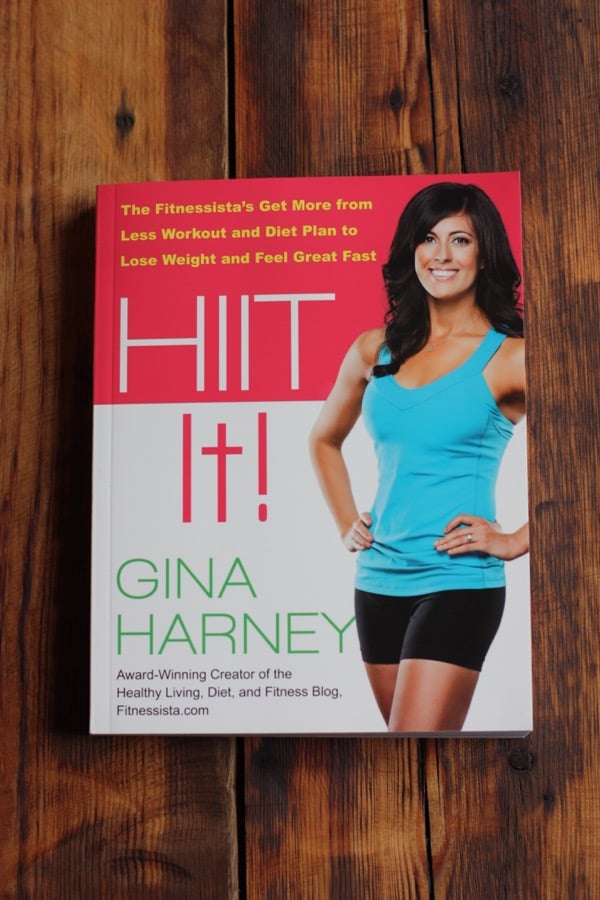 When Gina asked me if I'd be interested in writing about her new book, I offered her a full and frank disclaimer that I'm not necessarily the target audience. I have a pretty narrow fitness routine (mostly yoga), and I don't really love strength training or interval training. For me, movement is all about doing what feels genuinely enjoyable, so I don't give too much thought to the workouts that don't speak to me. Gina told me not to worry, that she wanted to share with me and with my readers if only because she thought I might dig some of the vegan recipes and meal plans in the book. She was totally right, and I'm so glad that I've had a chance to read this comprehensive gathering of so much of the information she's been sharing on her blog for years.
In fact, the fact that I'm not a target reader is what made reviewing this book refreshing and enjoyable! I had a lot of fun reading through Gina's introduction and opening sections, a strong case for why HIIT training can be beneficial and strengthening. Gina points out that doing high intensity intervals can be fun, can keep you constantly trying new things, which in turn leads to greater strength and agility. Other benefits include fat burning and metabolic increases, which I was less focused on as a reader, but as someone who does pretty much the same forms of movement all of the time, I took her point about variety to heart.
I was also incredibly impressed with how clearly and accessibly she spells out what HIIT training is, and grateful as someone who is a HIIT novice that she also took the time to encourage readers to take things slowly. So many fitness resources, it seems, advocate intensity and "pushing your limits" at all costs; it's nice to read a fitness book from someone who encourages small steps and lays out plans for beginners. She also includes a whole section about getting back into fitness if you've been out due to injury, childbirth, or any other reason, and her main emphasis is: take it easy. Be gentle on yourself. The book explains major muscle groups, contains stepwise photographs of all of the major exercises, and includes sample workouts, instructions on crafting an individualized training plain, meal plans, and more.
As far as the meals go, they're whole food based and well rounded. Gina includes recipes from breakfast to lunch to snacks to dinner. She also advocates balance, not getting too strict or too rigid. A lot of my nutrition clients tell me about experiences with fitness plans that advocated extremely strict macronutrient ratios or eliminated a wide array of food; I like that Gina seems to encourage everything in moderation. The book is not vegan, but Gina includes plenty of vegan options, and she makes a point of saying that it's a myth (sometimes more prevalent in fitness circles) that vegetarians and vegans can't get enough complete protein. She includes a list of her favorite protein options, which include nuts, legumes, nutritional yeast, and protein powders.
My favorite vegan recipes in the book are Gina's Banana French Toast, Quinoa Power Salad, Deconstructed Sushi Salad, Cashew Avocado Salad (yum!), and the almond butter chocolate cookies I'm about to share, which grew out of a popular recipe on Gina's blog. I made them, shaping the dough into six larger cookies instead of the recommended dozen. They were delicious, and I know you'll all love them.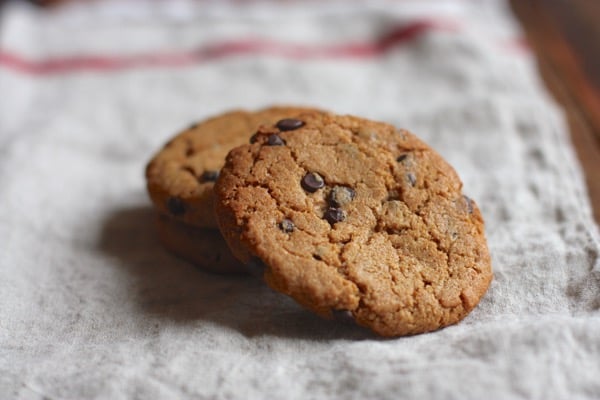 Almond Butter Chocolate Chip Cookies from Gina Harney's HIIT It!
Author -
2

cups

spelt flour

or your favorite gluten-free mix

2

teaspoons

baking powder

1 1/2

teaspoons

cinnamon

1/2

teaspoon

baking soda

1/2

teaspoon

sea salt

1/2

cup

vegan chocolate chips

I used mini chips from Enjoy Life

3/4

cup

pure maple syrup

1/2

cup

raw almond butter

crunchy or creamy

1/4

cup

canola oil

1 1/2

tablespoons

vanilla extract

1

teaspoon

molasses
Preheat your oven to 350F and line a standard cookie sheet with parchment paper.

Combine the flour, baking powder, cinnamon, baking soda, and salt until thoroughly mixed, and then add your chocolate chips. Stir to combine.

Combine the maple syrup, almond butter, canola oil, vanilla, and molasses in a separate bowl and add to the dry ingredients. Form ball-shaped pieces of dough into slightly flattened cookies on the baking sheet. The mix will be sticky, so do what you can.

Bake for 11 minutes, remove from oven and allow the cookies to remain on the baking sheet for one minute longer, then transfer to wire racks to cool.
Seriously yum–and not hard to make. I loved them.
Will I take up HIIT Training soon? In truth, probably not–I know what my body loves, and for better or for worse, I stick to the movements that give me joy. But I'm glad that I know more about HIIT training, thanks to Gina's wonderful clear and comprehensive book. I'm a nutritionist, and I should be able to keep up with my clients, many of whom do some form of HIIT work. And besides, it's fun to learn. If there's anyone I'd like to guide me through a new sort of physical fitness, it's Gina, with her sunny attitude and down-to-earth approach.
If you're interested in learning more about Gina's book, you're in luck: I'm offering one lucky US reader a giveaway copy. Enter below to win!
Good luck, readers, and thank you, Gina!
It's been a jam packed day with clients, and now Steven and I are preparing for a quick trip to Telluride, where friends of ours have invited us generously to stay with them. Speaking of Steven, he has been crafting a second blog post as a follow up to his first one, and I can't wait to share it with you — he'll be rounding up a bunch of his favorite recipes that we've enjoyed at home together. Stay tuned, and have a great night.
xo