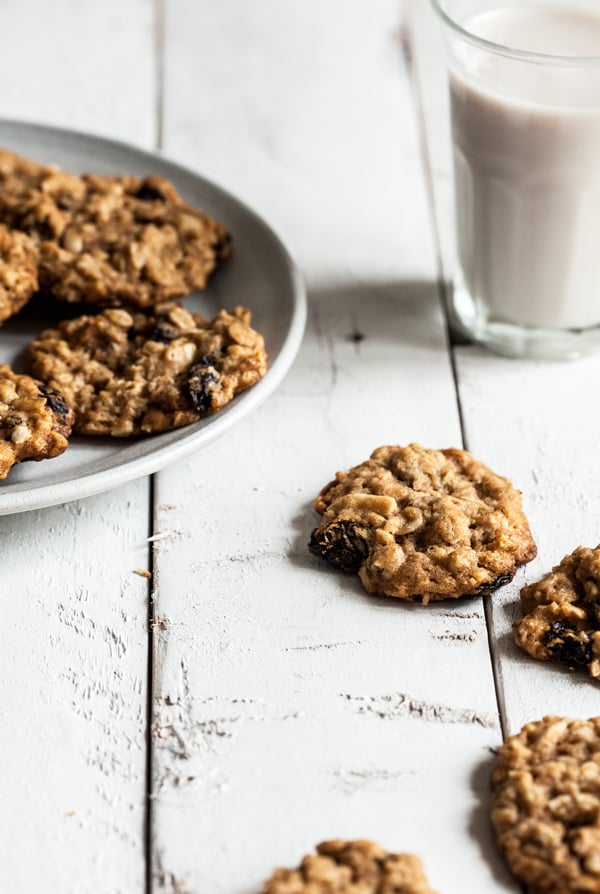 Today's post—and the cookies in it—is small and sweet. As usual, school is keeping me busy, and I confess that I've done very little cooking at all this week. Still, long and busy days demand good snacks, and these vegan almond cherry oat cookies are certainly that! They've got all of the buttery sweetness of traditional oatmeal raisin cookies, but almonds add pleasant nuttiness and crunch, while the use of cherries instead of raisins adds a delightfully tart twist.
When my daily eats have been especially simple, which mine have lately, there's something so comforting about preparing a batch of treats.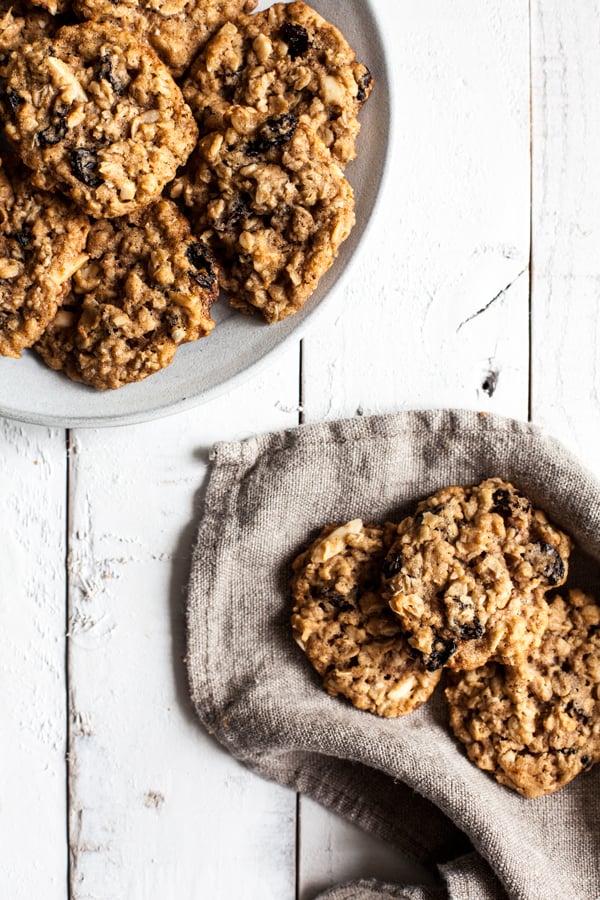 I've been enjoying these super chewy and tender oat cookies as both quick snacks (tucked away like little treasures into my backpack) and simple desserts. I've also been sharing them. My classmates are every bit as hungry for snacks as I am–especially after labs–and cookies seem to be very, very welcome. As with past cooking & sharing trials with my post-bacc pals, I'm always happy to reveal that whatever recipe is being greeted enthusiastically is, in fact, vegan: a lot of the time people are surprised, which makes me feel as though I'm taking part in a tiny act of vegan activism.
Dried cherries aren't always easy to find, and they tend to be more expensive than other dried fruits (especially if you can't find them in a bulk bin section, or if you don't shop in bulk bins due to food allergies). If you don't have 'em, don't worry about it. Regular raisins are of course a perfectly great substitute, as would be cranberries, chopped apricots, chopped dates, or another dried fruit you really like.
And likewise for the almonds: I've tried these cookies with almonds, with a mixture of almonds and hempseeds, and with chopped walnuts. They were all great, and I have to imagine that chopped cashews would be really nice, too.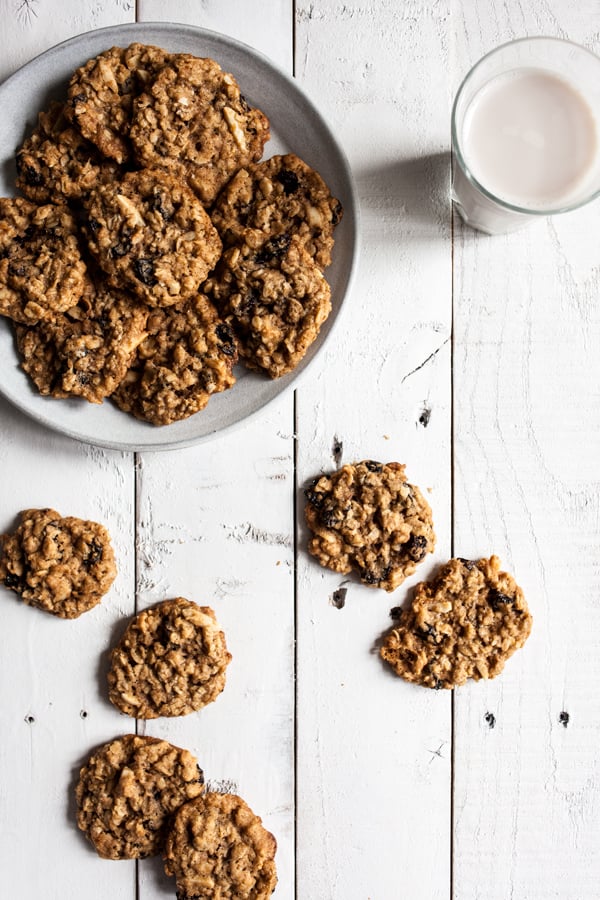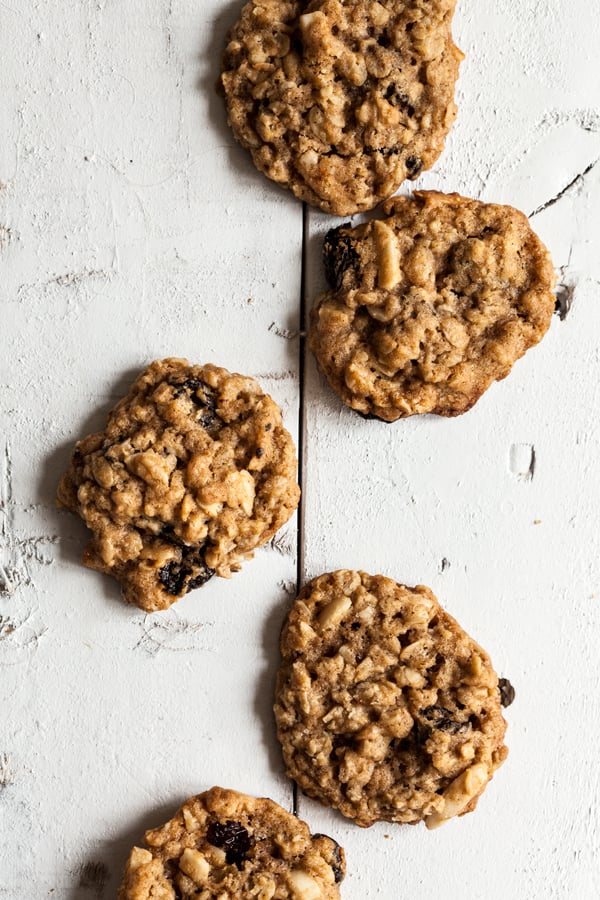 A word about cooling off the dough: it really is an important step in this recipe (and a lot of other cookie recipes, at least in my somewhat limited baking experience). An hour will be fine (two is even better), but I actually think that the easiest thing to do is to make the batter at night, refrigerate it while you sleep, and scoop and bake the cookies the following day. The dough can also be frozen and brought back to cold-but-moldable temperature before you bake.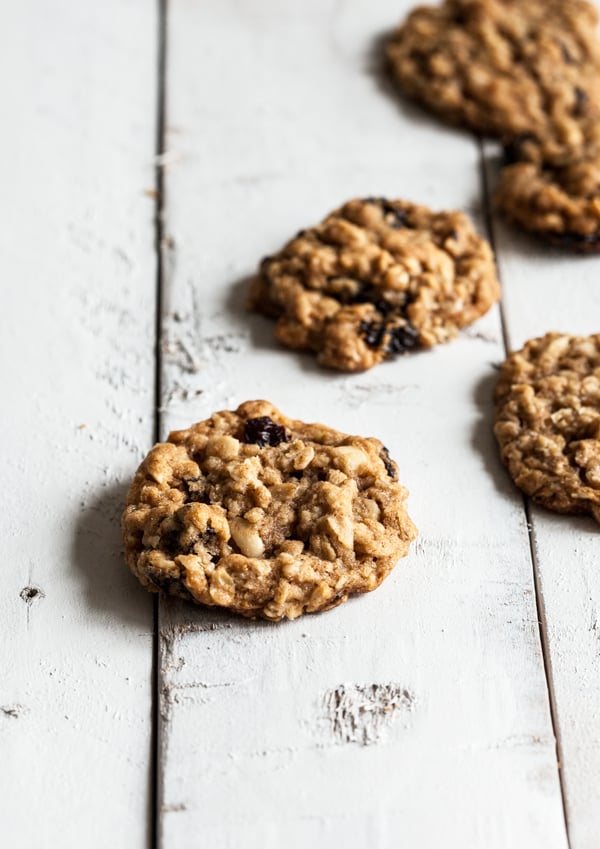 Almond Cherry Oat Cookies
Recipe Type
:
dessert, snack
Cuisine:
vegan, gluten free optional, soy free, tree nut free optional
Author:
Prep time:
Cook time:
Total time:
2 cups old fashioned (rolled) oats
1 cup unbleached, all-purpose or light spelt flour
3/4 teaspoon baking soda
3/4 teaspoon cinnamon
1/2 teaspoon salt
1/4 teaspoon ground nutmeg
12 tablespoons vegan buttery spread
2/3 cup light brown sugar
1/3-1/2 cup cane sugar (adjust to taste)
3 tablespoons aquafaba (chickpea can water) or 1 flax egg (1 tablespoon ground flaxseeds mixed with 3 tablespoons warm water and allowed to thicken for a few minutes)
1 teaspoon vanilla extract
1/2 cup slivered or chopped almonds
3/4 cup dried cherries (chop them roughly if they're very large) or raisins
Whisk together the oats, flour, baking soda, cinnamon, salt, and nutmeg.
In a stand mixer fitted with the paddle attachment, cream together the butter and sugar on medium-low speed (about 4) for a few minutes, or until they're smooth and creamy. Add the aquafaba or flax egg and beat for another minute, or until the mixture is becoming fluffy. Add the vanilla.
Reduce the mixer speed to low and add the dry ingredients. Beat until the dough is evenly mixed, then add the almonds and dried fruit and continue mixing until they're just incorporated.
Remove the dough from the mixer, cover, and refrigerate for at least one hour (or overnight).
When you're ready to bake, preheat your oven to 350F and line 2 baking sheets with parchment. Use a cookie scoop or tablespoon to drop rounded tablespoons of dough onto the baking sheet, about 1 1/2 inches apart. Bake for 12 minutes, or until the cookies are just golden at the edges (don't overbake!). Allow the cookies to cool, and when they're firm enough, transfer them to a wire cooling wrap to cool completely before storing or serving.
In place of a stand mixer, you can use a handheld mixer to prepare the cookies.[br][br]Cookies should be stored in an airtight container in a cool, dry place. They will keep for 5-6 days.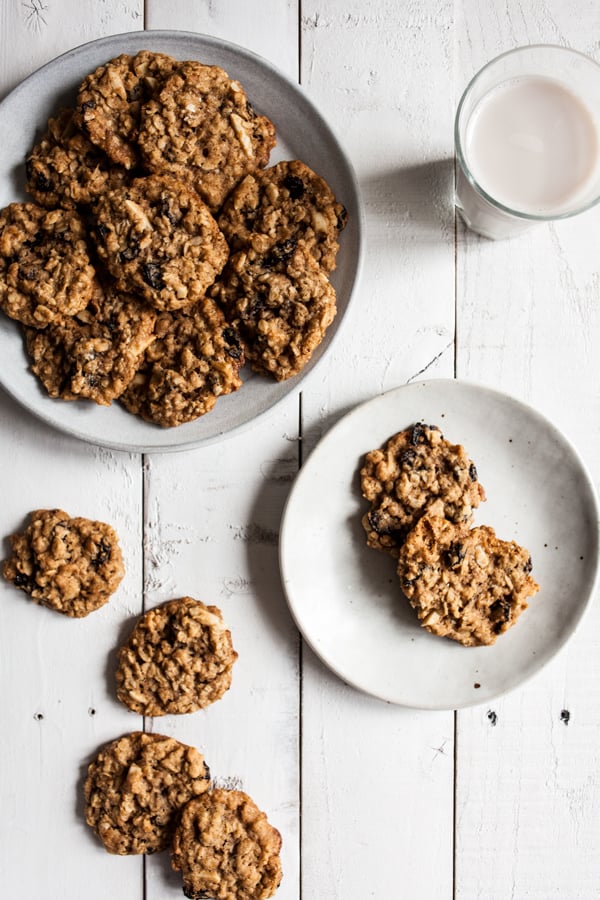 I know that June isn't exactly cookie baking season, but if you ask me, oatmeal cookies are welcome at any time of year. And it's worth saying that these cookies keep and travel pretty nicely, so they're great for packing up and taking on hikes, bringing to picnics, or for sweetening up whatever other outdoor activities you have planned.
Hope these little cookies add as much pleasure to your day as they added to mine. See you back here tomorrow with a quick, easy recipe!
xo