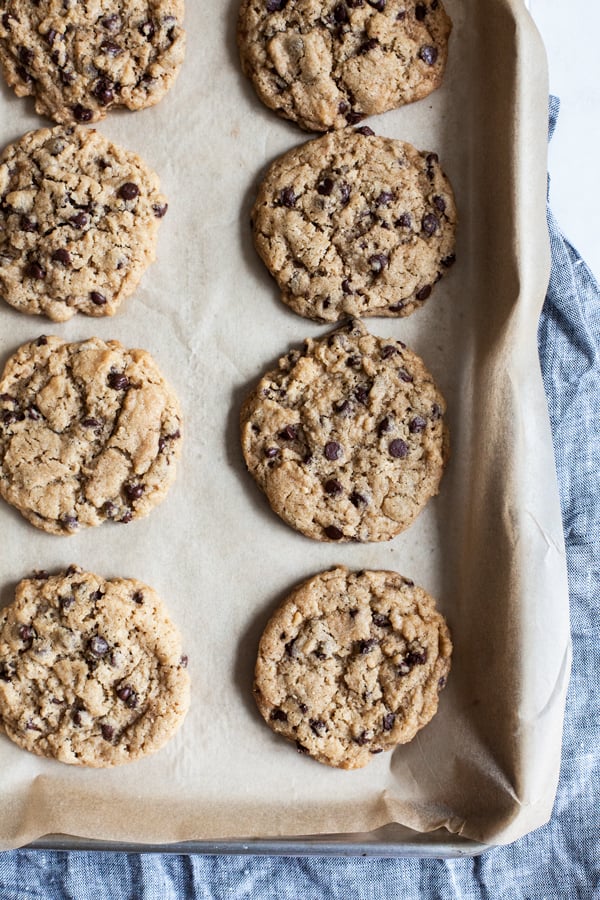 I suspected I'd be a fan of America's Test Kitchen's Vegan for Everybody the moment I saw its title. Putting aside the fact that I've come to rely on ATK (and Cook's Illustrated) for detailed cooking guidance, and putting aside Vegan for Everybody's awesome roster of recipes, I love the theme. I really do believe that everybody, no matter his or her culture of origin, health needs, or tastes, can find something to cherish in vegan cooking—especially when that cooking results in such delicious treats as these vegan chocolate chip cookies.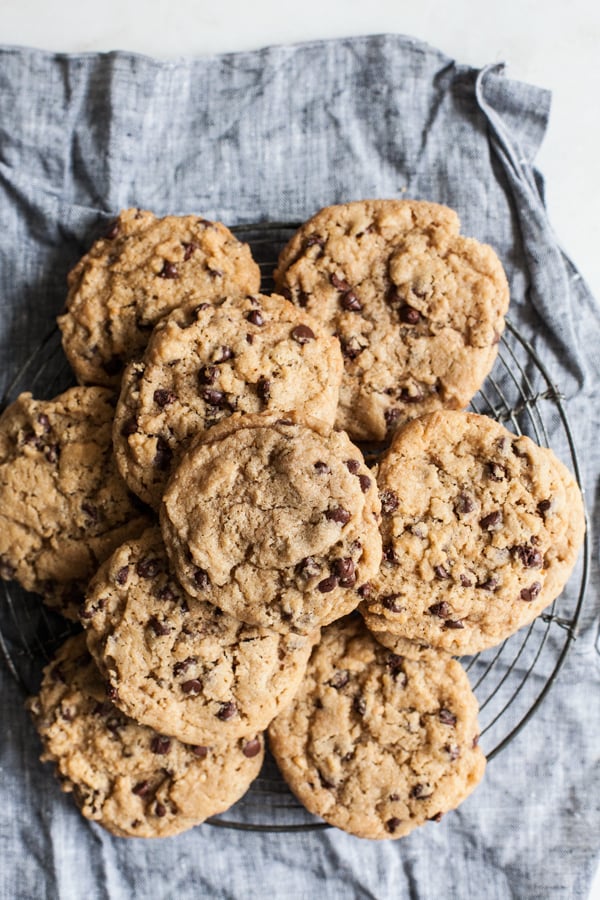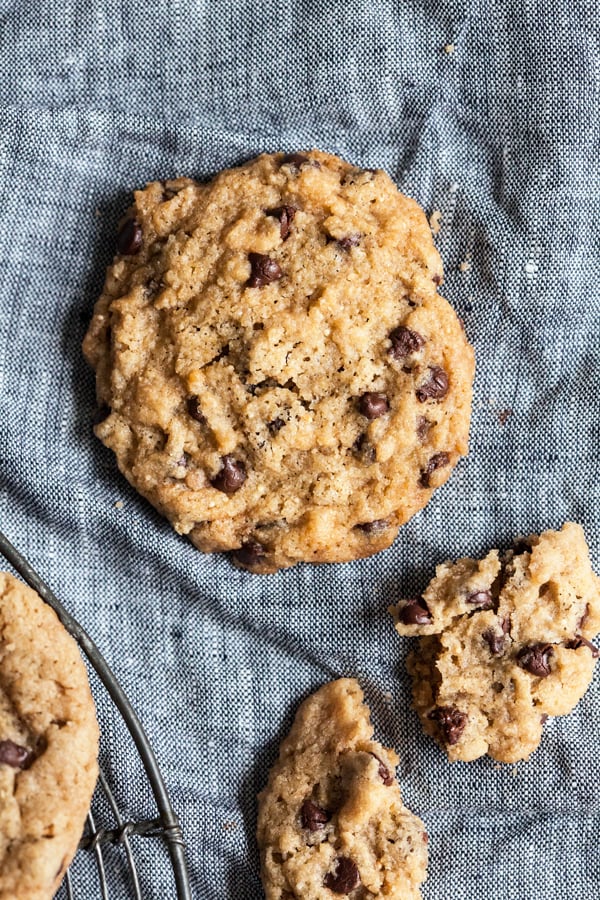 America's Test Kitchen is known for its rigorous recipe testing process. The company describes itself as being "passionate about cooking—discovering why recipes work and why they don't—and sharing what we learn to help everyone cook with confidence." Needless to say, recipes on the site and in Cook's Illustrated are always accompanied by plenty of detailed guidance; they don't just tell you what to do, but also why each step is worth doing. The recipes are reliable, in part because they've gone through so much testing and experimentation on the way to your recipe box.
When I saw that Vegan for Everybody, which is the company's new vegan cookbook, includes a chocolate chip cookie recipe, I knew that it was going to be a keeper, a CCC good enough to become my go-to. And it is.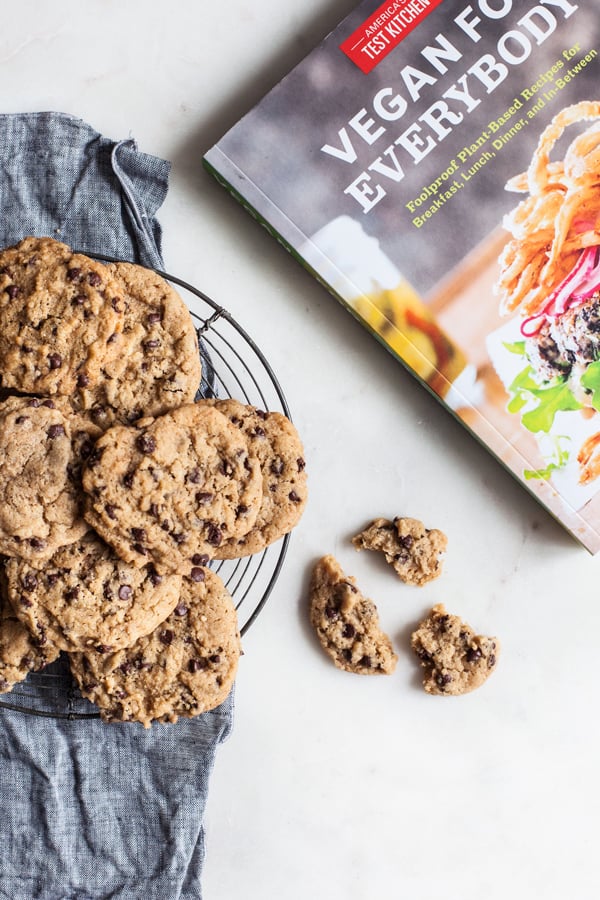 The authors of Vegan for Everybody have this to say about the process of developing the cookies:
When it came to developing a vegan version of the classic chocolate chip cookie, we'd settle for nothing less than perfection; the recipe had to produce a cookie that would be moist and chewy on the inside and crisp at the edges, with deep notes of toffee. We started by baking 11 popular recipes, and we were shocked at the assortment of hockey pucks in front of us. Some cookies didn't spread at all, while others melted into greasy wafers; some tasted like cardboard, while others had funky off-flavors; and some were gelatinous, while others crumbled apart. We had our work cut out for us.
I liked reading about the steps that the team took to get the cookies they wanted:
Starting with the test kitchen's classic recipe, we removed the egg and found that we simply didn't need a substitute for it. While many cookie recipes call for a mix of white and brown sugars, we opted to use all brown; it gave the cookies a richer flavor and its moisture provided a softer center. But tasters wanted more chew. As it turned out, to achieve a chewier cookie, we had to leave it alone. Letting the mixed dough rest for 1 to 4 hours (no longer) gives the proteins and starches in the flour a jump start at breaking down; meanwhile, the sugar dissolves, hydrates, and later retains this moisture better during baking, preventing the cookie from becoming brittle. Lastly, the surprising addition of a little almond butter added the toffee-like richness that butter typically provides a cookie.
True to promise, these are chocolate chip cookies for chewy cookie lovers (and I'm one of those). They're just crispy enough at the edges and hold their shape, but the interior of the cookie is all chewiness, in the best possible way.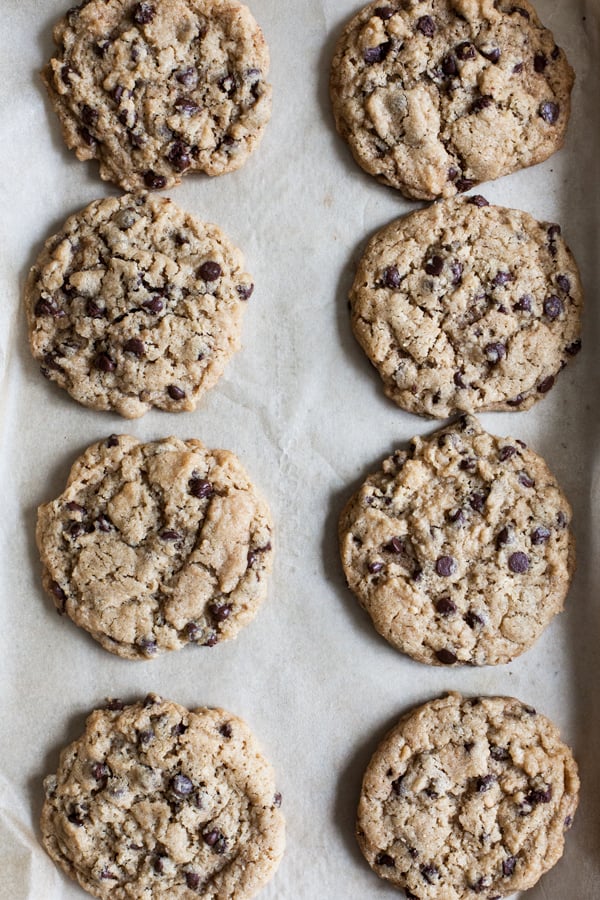 The dough resting is a trick I've tried in other vegan chocolate chip cookie recipes before, and it really does make a difference. I opted for four hours—the longer end of the recipe's suggested rest time—and was so happy with my results. Here's the recipe.
America's Test Kitchen Vegan Chocolate Chip Cookies
Author -
2

cups

10 ounces all-purpose flour

1½

teaspoons

baking powder

¼

teaspoon

baking soda

½

teaspoon

salt

1⅓

cups

packed

9⅓ ounces organic light brown sugar

½

cup

coconut oil

melted and cooled

6

tablespoons

water

room temperature

⅓

cup

unsalted creamy almond butter*

2

teaspoons

vanilla extract

1¼

cups

7½ ounces semisweet chocolate chips or chunks
Whisk flour, baking powder, baking soda, and salt together in bowl. Whisk sugar, melted oil, water, almond butter, and vanilla in large bowl until well combined and smooth. Using rubber spatula, stir flour mixture into oil mixture until just combined; fold in chocolate chips.

Cover bowl with plastic wrap and let rest at room temperature for at least 1 hour or up to 4 hours. (Dough can be refrigerated for up to 24 hours; let sit at room temperature for 30 minutes before portioning.)

Adjust oven rack to middle position and heat oven to 350 degrees. Line 2 rimmed baking sheets with parchment paper. Divide dough into 16 portions, each about 3 tablespoons, then arrange dough mounds 2 inches apart on prepared sheets.

Bake, 1 sheet at a time, until light golden and edges have begun to set but centers are still soft, 12 to 14 minutes, rotating sheet halfway through baking. Let cookies cool completely on sheet. Serve. (Cookies can be stored at room temperature for up to 3 days.)
*According to ATK, it's really important to use the processed/creamy type of commercial almond butter here, rather than the all-natural type you can grind at health stores or any type that separates considerably in the jar.
**I made a slightly smaller cookie and had a yield of 26.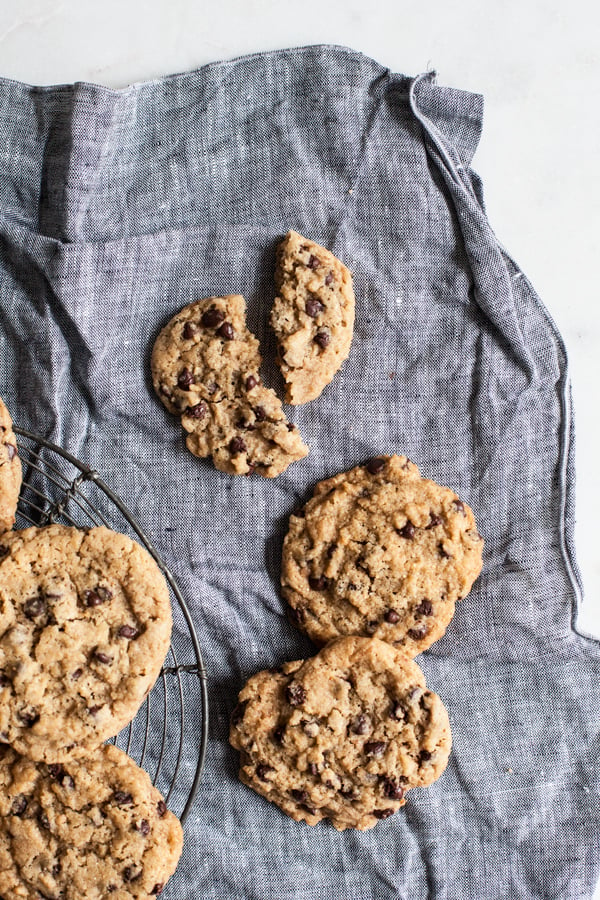 Much as I love ATK for baking guidance, Vegan for Everybody goes far beyond baking and dessert. It's a rich, diverse collection that includes a lot of the recipes that longtime plant-based eaters would probably recommend to friends or family who are testing a vegan diet out: curries, stews, grain bowls, veggie burgers.
The book's pinto beet burger is on my list of recipes I'm excited to try, as is the farro salad with sugar snap peas and white beans, the barley bowl with roasted carrots, the spaghetti and meatless meatballs, and the ultimate chili. (The latter is made with bulgur, which I've never tried in a chili.) Apart from cookies, the book is full of such baked goodness as currant scones, drop biscuits, aquafaba meringues, and French apple tart.
Each recipe includes a headnote that explains exactly why the chosen ingredients have been used and tells you a little more about the recipe's logic and mechanics. The book isn't just a collection of reliable, accessible recipes: it's also a really useful primer in vegan cooking overall, which means it's especially useful for the new vegan or vegetarian eater.
The opening pages of the book feature general vegan cooking guidance, including a short guide to working with aquafaba that I found incredibly useful. Much of the information is also available at the Vegan for Everybody webpage. I particularly loved reading about the experience of one ATK employee (vegan for 7 years now), who was able to experience her workplace in a brand new way through this project!
If you'd like to check out Vegan for Everybody and its crowd-pleasing, classic list of recipes, the folks at America's Test Kitchen would love to share a copy with you. Just enter below to win a complimentary cookbook. The giveaway is open to US and Canadian readers only, and I'll pick the winner a week from today.
Maybe these cookies can brighten the weekend ahead of you! I hope so, and I'll see you over the weekend for the usual roundup.
xo