Hey everyone! Thanks for the immensely kind words about my little Oprah mention. If you'd like to see what three recipe ideas I chose to share, you can check it out online here. You won't be at all surprised by my picks.
I woke up today to this:
Having spent last night basking in the glow of this:
I love being upstate.
Chloe and I had an original plan to make a recipe together today to post on our blogs jointly. But by the time we woke up, worked out, had a bite, we realized that a day of wandering around the neighboring towns and just reading, relaxing, and enjoying each other's company sounded much nicer than a cooking project. We decided to venture into Hudson and Chatham—the nearby towns up here—for a little window shopping and food.
Hudson is my train stop when I come up here, so it holds a special place in my heart. Beyond that, it's full of fantastic antique shops, adorable coffeehouses, and cute boutiques and cafes. I love perusing main street for housewares and good coffee. Chloe and I made our first stop at a small shop that specializes in tea, candles, linens, and other items for the home.
I was particularly charmed (of course) by these letterpress cards, which feature classic American recipes:
I am equally charmed by Chloe's sparkly and seasonal red nails.
Next, we stopped into Verdigris, a local tea shop. Chloe admired the tea. I admired the chocolate. The shop makes its own finely decorated bars:
And it also features a whole display of possibly my favorite vegan chocolate brand, Taza!!! I have a big Taza review pending for you guys, but I'll preview it by saying that these stone ground Mexican chocolates—packaged in homage to drinking chocolate—are divine.
Yum. It took all of my willpower to resist buying a bunch of disks; fortunately, I have some at home in DC, so I resisted.
Next up, we stopped by the Olde Hudson specialty food shop, which has a great array of good oils and pastas.
Unfortunately, it also has a lot of artisanal cheese. Not able to handle the smell inside, I lingered on the corner while Chloe compared exotic olive oils. We then continued on to the fabulous Spotty Dog bookstore.
This adorable, independent bookstore is a rare commodity in our age of Amazon, and rarer still because it also has a coffee bar with crazy good espresso AND vegan cookies from the Alternative Baking Company. I was excited to see at least one FSG title in the new releases: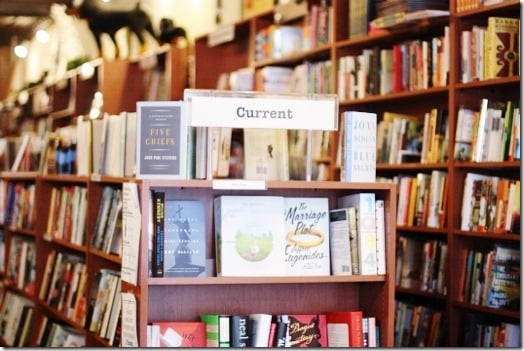 The Marriage Plot, if you haven't read it yet, is great. And if you happen to have a local bookstore like the Spotty Dog, you can ignore the online shopping link I just gave you!
At this point, we were ready to move our wanderings to Old Chatham, NY. I wanted to pick up some almond milk for my granola and banana tomorrow morning, so we stopped into the local grainery, which is full of specialty grains, legumes, dried fruits, and supplements.
Along with my almond milk, I picked up some dried apples—a favorite snack of mine.
At this point, we were hungry, so we stopped into one of our favorite lunch spots (one of the only lunch spots) in Chatham: Ralph's Pretty Good Café:
Ralph's Café is a lot better than pretty good. It features some of the best sandwiches, wraps, and homemade hummus I've tasted! And the sandwich options are wide and varied:
I decided to start with a small cup of the daily vegan soup: white bean and rosemary. So glad I did! It was very tasty, and I liked the touch of tomato in the soup base:
Chloe's soup, behind mine, was a white bean and Andouille soup, which she also enjoyed.
For my entrée, I got the "main" sized mixed veggie salad with a topping of portobello mushroom and a side of hummus. The hummus at Ralph's is very savory (they add a great mix of herbs) and always heavy on the garlic, but it's so tasty that I don't mind. They also give generously sized side portions. That, along with the perfectly sweet balsamic dressing, made this salad a real treat.
Chloe got the grilled veggie sandwich on chiabatta. It took tremendous willpower not to steal her grilled eggplant, which looked awesome.
Our final stop of the day was a delightful surprise. As we were walking to Ralph's, I noticed this shop:
According to Chloe, Cow Jones Industrials has been in Chatham since 2007, offering a humane and fashion conscious alternative to the many neighboring boutiques that sell Merrells, Uggs, leather boots, leather belts, and wool hats. As you guys know, vegan footwear and apparel is a recent and very strong interest of mine, so I was delighted to learn that an all-vegan boutique has been nestled right under my nose in the heart of Chatham for five years.
Donna, the lovely owner, has a wide array of shoes from Olsen Haus and Cri de Coeur, among other brands, and she also carries ethically sourced shirts, dresses, and scarves.
Pretty cool! Were I not an impoverished student this year, I would certainly have been tempted to pick up a new pair of vegan pumps from Olsen Haus! As it was, I resisted, but I had a lovely time shaking hands with Donna and talking to her briefly about raw dining in NYC. I so admire businesspeople who share a compassionate message, and I am especially impressed by boutique owners who have the guts to compete with the leather-saturated shoe market. Judging by the clientele wandering in and out to admire Donna's merchandise as we were chatting, she has already managed to share the beauty of vegan fashion with a great many folks. Thanks for saying hi, Donna!
With that, Chloe and I made our way back home for reading and blogging/working. It feels so, so nice to write CR posts without guilt, having just spent a semester trying desperately to squeeze my life as a blogger into tiny pockets of free time between studies. I'll savor the next few weeks.
On that note, time to make some almond milk hot chocolate and get ready for The Girl With the Dragon Tattoo. Later!
xo