To all the med students, grad students, overachievers, students, parents, and fellow bloggers who commented yesterday: thank you. I cannot tell you how much your encouragement meant to me. Thanks especially to my rockstar med student readers who chimed in – I am so grateful for your perspective, and you give me a lot of hope for my own future.
I'm back today with less serious stuff: food. It seems that my favorite franchise restaurant—Le Pain Quotidien—is getting better and better with each of my visits. By better, I mean not only that the food seems superior, but also that the range of vegan options multiplies and gets more interesting. LPQ has always been a place I could rely on for generously sized salads, vegan soups, and vegan tartines. But now there are vegan entrees (such as a seared quinoa cake, or a roast brussels sprouts and tofu dish), salads packed with nutrient density (such as the red quinoa salad), and even vegan pastries and baked goods (the hazelnut flute and the vegan cherry flax scone are two of my faves). Soy milk is always on the menu, to pair with the superb coffee, and I've never been to a LPQ where they weren't happy to offer me extra avocado with my food. That's about all it takes for my heart to melt.
On Friday evening, Valerie and I convened at LPQ for one of our ritual dinners. Valerie's blog slogan is "the art of healthy urban living," and it used to be something that ended with "smiling amid urban chaos." Both of those statements personify Valerie and her effect on people: in spite of the fact that she is a busy attorney, and I am a busy post-bacc, we manage to squeeze in meals and "micro-breaks" when we can, and whenever we do, it's as if time has stopped for a little while. We laugh, gossip, reminisce, and talk about food: what could be healthier than that?
Valerie is a gluten free eater, and we've tried out a few restaurants together that have excellent GF practices: you may have seen our meal at Open City, and we've gone to Café Green together quite a few times. Valerie noted on Friday that LPQ was one of the first restaurants she could go to when she had just become GF where they knew what GF was, and this is still the case.
Valerie and I arrived hungry, and started with the white bean dip and the hummus:
Both were delicious. I enjoyed mixing the tomato, pesto, and white beans into the white bean dip, to give it texture and a fresh bite of herbs:
With our entrees, we each got a side salad: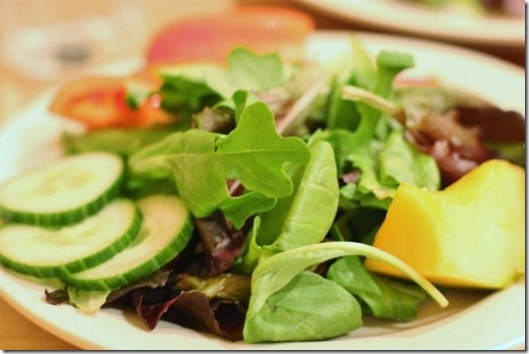 My first entrée was a newish item on the menu: a quinoa cake, seared and served with tomato, avocado, and pesto. I was excited for this, but I have to confess that, when it arrived, I was surprised with it. It was breaded and fried (maybe not deep fried, but pan fried so completely that it might as well have been deep fried), and very few fresh vegetables arrived with it. (The avocado was generous.) Not one to stick out an entrée I don't like, I sent it back and offered to pay for it—I explained that it wasn't what I'd expected, but that it wasn't the restaurant's fault. Fortunately, the restaurant graciously let me change my order free of charge. I went with the buckwheat crusted, gluten free vegetable quiche, which Valerie had also ordered.
Delicious! Three layers of vegetable puree, a buckwheat crust that's thin and light, and a roasted artichoke on top. Plus, more greens!
As awkward as it can be to send a dish back, this was one of those instances where I'm so, so glad I did: I enjoyed every bite, and wouldn't have if I'd kept the quinoa cake. Now I get to brainstorm on how to re-create this dish on my own!
I love how gracious, accommodating, and delicious LPQ is, but what I love most of all about the restaurant is how innovative it is with vegan food. So many restaurants in DC have a token vegetarian dish or two, seemingly out of obligation, but LPQ actually embraces, explores, and excels at vegan cooking. I'm looking forward to my next visit!
And I'm also looking forward to seeing you back here tomorrow.
xo
Top image courtesy of The Prince of Petworth blog.