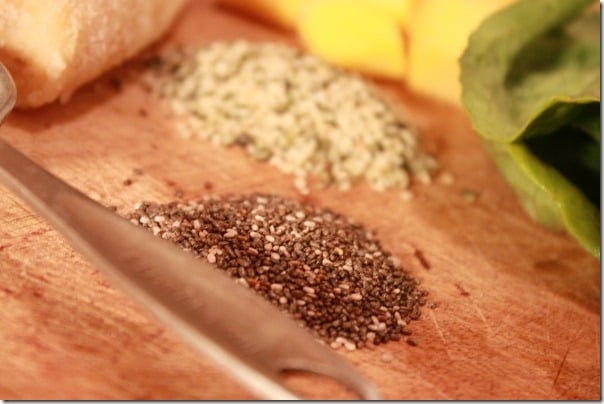 Glad you liked the Mexican "rice!" I was happy to hear how many of you are already fans of cauliflower and jicama rice dishes. Feel free to share your favorites in the comments section of that post—I always love hearing what you guys like to make at home.
So as I've mentioned a couple of times, the theme of the next few weeks (months, years?) is going to be power foods. Typically in raw circles, expressions like "power food" refer to Himalayan berries and maca powder and deep sea algae. What I mean by it is pretty simple: foods that are nutrient dense, easy to assimilate, and that give me a boost of energy and focus. Per this post, those foods can be as straightforward and everyday as kale or winter squash. Lately, my superfoods of choice have included all of the original ten I mentioned in my "super foods" post, but the focus has been on dark leafy greens, hemp, chia, and nutritional yeast. Oftentimes, I find myself blending all or a few of those into a killer morning smoothie.
Take this one, for example. Here's the recipe:
Choosing Raw Power Smoothie (raw, vegan, gluten and soy free)
Serves 1
1 large frozen banana
1/2 cup frozen mango (OK, full disclosure: I'm really not a mango fan. But that's the only frozen fruit you can find at Gristede's at 7 am on a Saturday. I think pears or berries would be great here, too)
1 tbsp chia seeds
1 tbsp hemp seeds
1 cup almond milk (maybe slightly less, if you have a high speed blender)
5 large romaine leaves (my new favorite way to cozy up to green smoothies!)
Place all ingredients in a blender, blend, and serve.
Let's step back for a second to analyze the ingredients, and what makes them so powerful. Our hemp and chia seeds give us Omega 3 and 5 fatty acids, complete protein, fiber, and calcium:
Mango and banana load us up with vitamins B-2 and C, fresh enzymes, potassium, and magnesium:
While the romaine is responsible for vitamins C, A, K, and folate.
Rounded out with the almond milk, this is a seriously nutritious breakfast.
And if it wasn't power-ful enough, I sprinkled it with some dulse flakes. I love these in many ways—on salads, in soups, basically anytime I'd want salt—but I find their saltiness to be particularly fun on top of sweet smoothies. And we all need our iodine!
A powerful way to start the day.
What's your favorite power breakfast? What makes it powerful, anyway? Tell me your ingredients!
xo