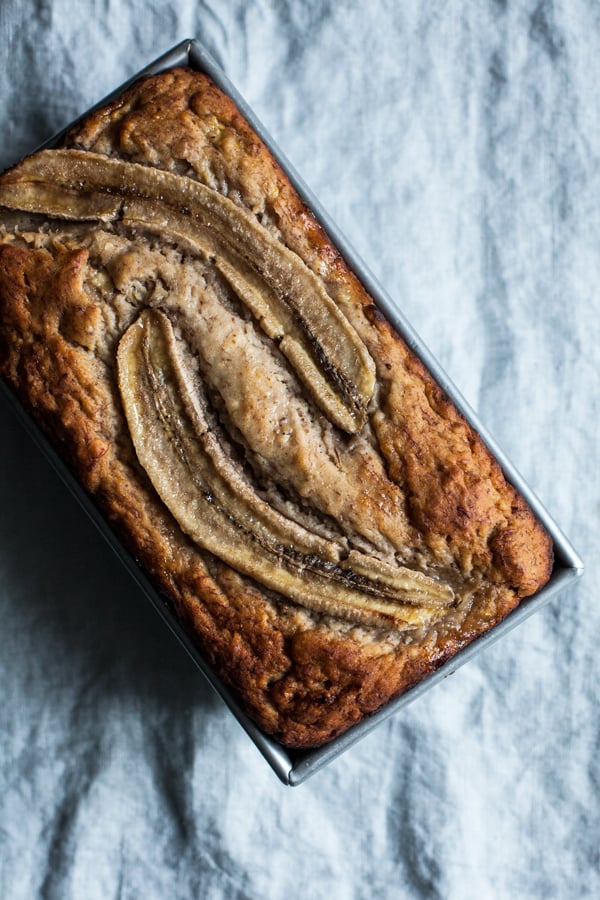 As I've mentioned before, I have a new Friday ritual. As M makes his way to NYC, I like to bake a little something for us to enjoy together over the weekend. Usually it's muffins, but this week, with a bunch of browning bananas on my hands, I decided to make a loaf of banana bread. I've made plenty of banana breads in the past, but since I've been playing around with alternative grain flours lately, it felt like a great time to test a new combination of flours in an otherwise traditional recipe. This ancient grain banana breakfast bread, which is made with a combination of regular, einkorn, and millet flour, is the happy result.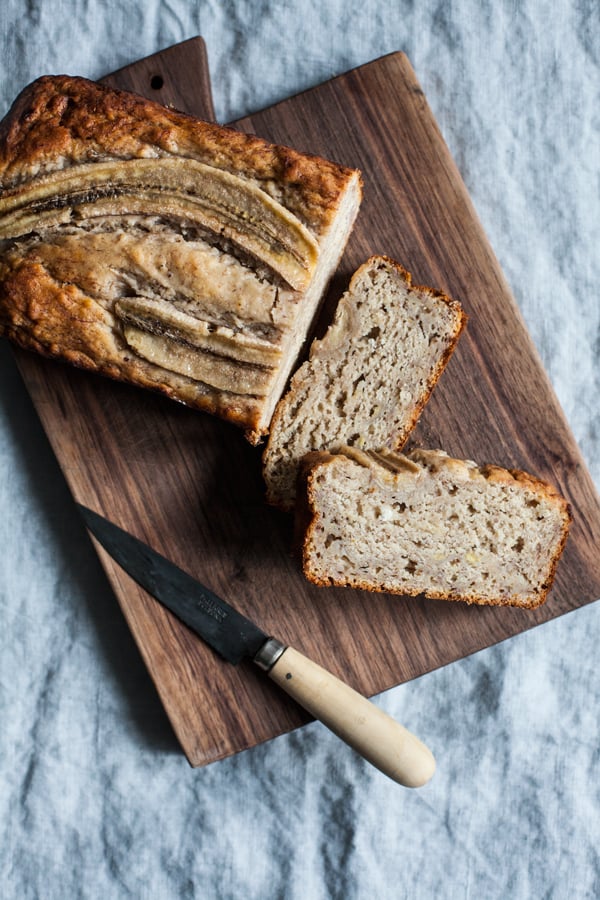 "Ancient grains" is the label given to grains and psuedograins that haven't been changed considerably by selective breeding over the last several hundred years. In some sense all grains are ancient, as they've been cultivated by human beings for millennia, but ancient grains like einkorn, farro, kamut, spelt, sorghum, teff, millet, and quinoa more closely resemble the forms that existed many hundreds of years ago than some other contemporary grains.
I'm not of the mind that ancient grains are necessarily more healthful than other whole grains, like oats or rice, but I'm all for variety. I think it's great that ancient grains are being explored, because each new whole grain option offers a unique nutritional profile and new culinary applications. Plus, many ancient grains have distinctive flavors: I'm thinking of the nuttiness of buckwheat and quinoa, the earthy flavor of spelt, and the slight sweetness of millet.
Whenever I bake with a new type of flour, especially a gluten free flour (like millet or quinoa flour), I make sure to only swap part of the flour in my regular recipe for the new variety. It's difficult to trade all of the flour in a recipe for a different type without at least running the risk of compromised texture/results. Once I've swapped some of the flour I have a chance to see how the new flour is working in the recipe.
Here, I replace half of the regular flour with a half-and-half mix of einkorn flour (einkorn is a type of ancient wheat, which some folks with gluten sensitivity can digest) and millet or quinoa flour. Millet flour is a particularly nice option for those who are doing more gluten free baking: it's light, sweet, and it has a medium "heaviness" that makes it really versatile. Quinoa flour is a nutritious and protein-rich option, albeit with a high price tag. (You can also try using 3/4 cup millet flour and 1/4 cup quinoa flakes, which adds some nice textural contrast to the recipe.)
Could you use regular flour in this recipe, and still have terrific results? Absolutely! In fact, my "template" for this breakfast bread was the same vegan banana bread I've been making for years, in which I typically use whole wheat pastry flour. But it's fun to expand the baking repertoire to include more and different types of grain options.
Another nice feature of this bread is that it's super heavy on the banana—I used four medium sized bananas in the recipe. This means that you can keep additional sweetener to a minimum and that there's tons of moisture from fresh fruit, which means that very little oil is needed (only 1/4 cup for the recipe). The bread is a bit denser than other banana breads I've made, but I really like it's thick heartiness.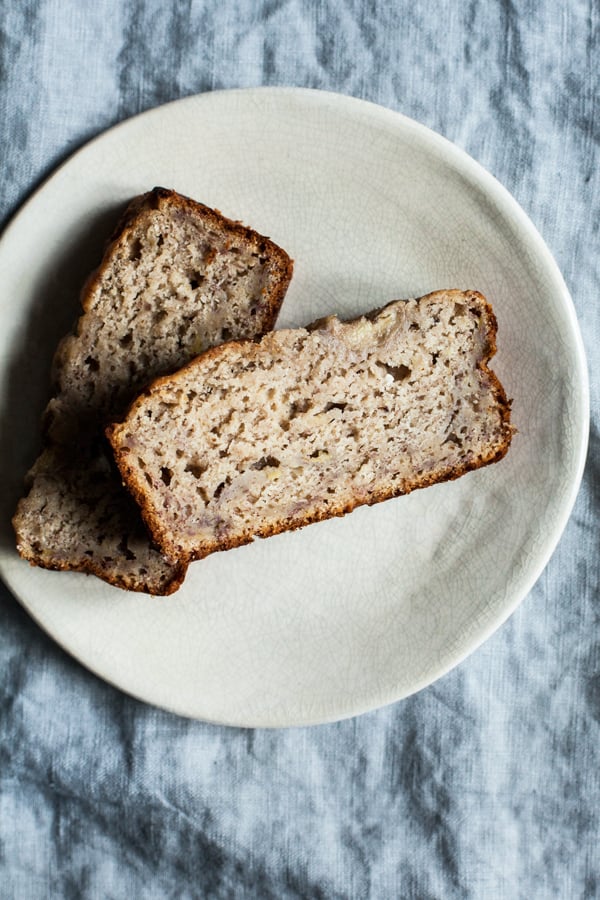 Ancient Grain Banana Breakfast Bread
Recipe Type
:
quickbread, breakfast, snack, dessert
Cuisine:
vegan, soy free optional, tree nut free
Author:
Prep time:
Cook time:
Total time:
1 cup unbleached, all purpose flour (substitute whole wheat pastry flour)
1/2 cup einkorn or spelt flour
1/2 cup millet or quinoa flour
2 teaspoons baking powder
1/2 teaspoon fine salt
1/2 teaspoon ground cinnamon
4 small or medium bananas, mashed very well
1/3 cup agave or maple syrup
1/4 cup vegetable oil (such as grapeseed or safflower)
1 flax egg*
1 teaspoon vanilla extract
1 teaspoon lemon juice or apple cider vinegar
Preheat your oven to 350F and lightly oil a loaf pan.
Whisk together the all-purpose, einkorn, and millet flours, along with the baking powder, salt, and cinnamon.
In a separate bowl, mix together the mashed banana, agave or maple syrup, oil, flax egg, vanilla extract, and vinegar or lemon juice. Add these wet ingredients to the dry ingredients and mix until they're just evenly combined.
Transfer the batter to the loaf pan. Bake for 45-55 minutes, or until the top of the bread is golden and a toothpick inserted into the center comes out mostly clean. Check the bread for doneness at the 40-minute mark, just in case your oven runs hot. Transfer the bread to a wire cooling rack and allow it to cool for at least 1 hour before slicing and serving.
*To make a flax egg, mix together 1 tablespoon ground flax and 3 tablespoons warm water. Allow the mixture to thicken for a few minutes before using.[br][br]Leftover bread should be wrapped tightly and stored at room temperature for up to 3 days. It can also be frozen for up to 1 month.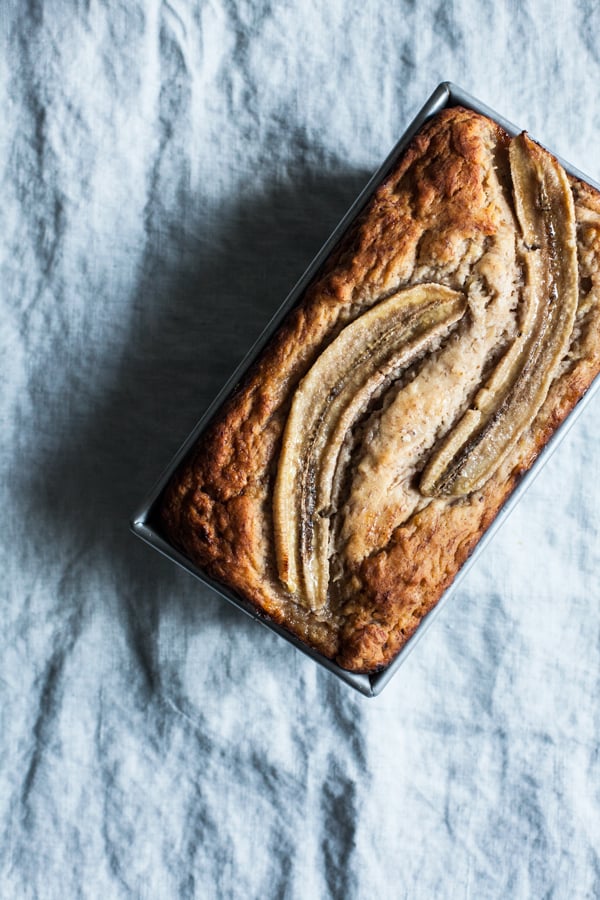 My baking skills are improving! I'm still no expert, and I have a lot to learn, but I'm getting my sea legs.
The sun is out in NYC, and there's walking, eating, and farmer's market perusing to be done. Happy Sunday, friends.
xo
The original recipe in this post was updated for better results, more accessible ingredients, and with new images in February 2017.