Happy Saturday! I hope everyone's weekend is off to a good start.
I've gotten a lot of requests, especially lately, for posts on how I manage my time and achieve balance within the whirlwind of my post-bacc, my blog, and my clinical and volunteer work. Perhaps I'll be able to do this when I feel less chaotic. At the moment, anything I say about "balance" would feel disingenuous because I don't feel very balanced. Day to day life is rushed, always shadowed by a fair bit of anxiety, and I tend to break down easily when I hit a snag in my schedule or fall behind on work. It's not pretty, but that's the honest truth. There's nothing graceful or organized about how I manage things right now. Maybe it would be easier if my classes came more easily to me, but I often have to work twice as hard as other students just to "get it," and more work means more time.
That said, this is just a period of my life that happens to be stretching me in ways I didn't know I could be stretched. It won't last forever (though it will recommence for some time if I get into med school, obvs), and I'm dealing with it as best I can. In the meantime, one thing that has helped me to deal with the pressure has been the fact that, even when it's hard, I have sustained my friendships throughout the post-bacc process. Granted, I don't see friends nearly often as I'd like to, nor for as long, and sometimes many weeks do go by where I can't make plans. But I try not to say "no" too much, because I've learned how utterly precious every lunch, dinner, and email exchange is. No dream or pursuit is worth it if you can't share it with people you love.
On that note, I have had the good fortune of a few quality moments with friends in the last three weeks. It began when the lovely Janae visited D.C. the week before last. I've been a huge fan of Janae's blog for over a year now, though she began blogging when I did; it's beautifully designed, the recipes are delicious and healthy, and the photography is stunning. What I really like best, though, are Janae's probing, honest, and insightful posts about blogging, motherhood, marriage, and family. Not to mention her compassion which is evident both in her food choices and in the warmth and generosity she shares with other bloggers.
So I knew I'd love Janae in person. I just didn't realize how much I'd love her in person. When we met, it was as if we were old friends. Instant connection, instant laughter, instant fun. We took a yoga class at Epic together, then grabbed lunch at SweetGreen (yay!). It was the perfect break from business as usual, and I am so grateful to her for making time.
Photo courtesy of Janae, Bring Joy.
Later in the week, I was able to have a quick lunch with the lovely Melanie, whom you may remember as the person who taught me all about stinging nettles as a means of allergy treatment. She is now blogging at Psyche and Soma, about topics ranging from herbal medicine to veganism to theater and self-expression. I recommend checking out her thoughtful, caring, and perceptive words!
This past Wednesday, I had dinner with Anne. We continued in our potluck tradition. Since I made something last time and was pretty stressed this week, Anne took care of me by preparing the absolutely delicious quinoa with pecans and cranberries recipe she posted recently on her blog: quinoa with cranberries and pecans. It was invented by Celebrations, who catered her wedding. Since I (sadly) did not have a chance to taste the dish at her wedding ceremony, I'm happy I got to try it now! It's a wonderful mix of flavors: tart lemon, bright herbs, and sweet cranberries, along with nuts for crunch. So good. Along with that, we did one of our usual salads: whatever veggies we both had, plus a hemp oil/mustard/lemon/balsamic dressing.
We had so much fun prepping (and chatting, and laughing):
The salad consisted of cherry tomatoes, peppers, greens, and carrots. At the last minute, we threw in some kidney beans: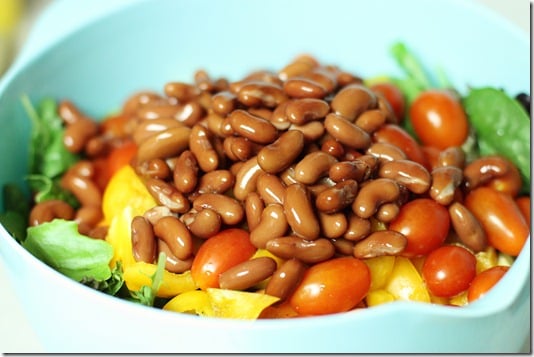 Meanwhile, Anne prepped our delicious quinoa salad. It's very easy to make, yet so elegant!
When everything was ready, we had two beautiful plates: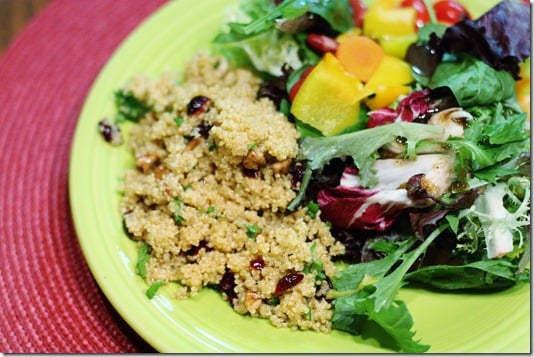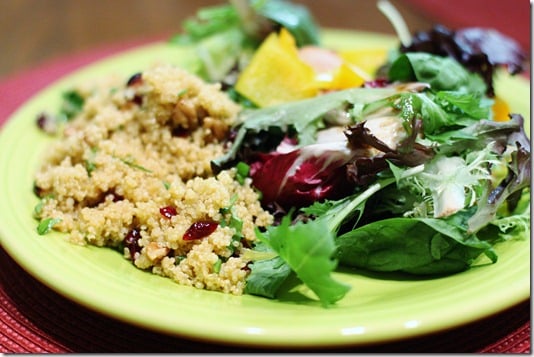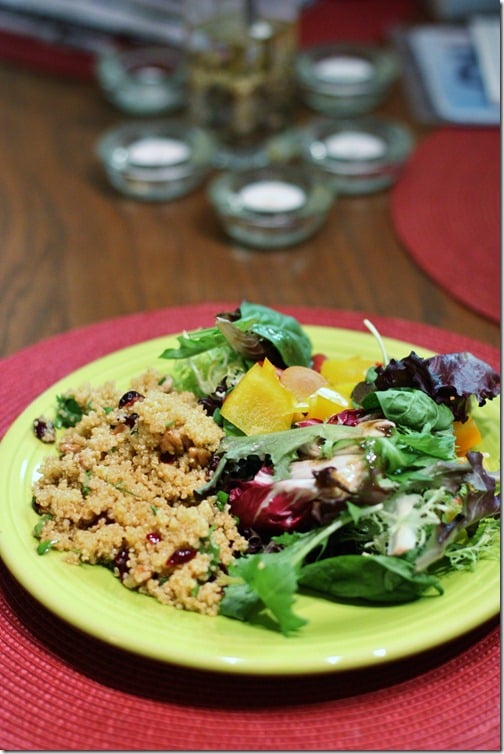 If you're interested, you can check out the quinoa recipe here, on Anne's blog. I recommend it heartily!
Anne was also kind enough to send me home with some vegan goodies! One of my favorite things about Anne's blog is that it is so inclusive. Though she isn't a vegan herself, she makes a ton of vegan recipes, along with vegetarian recipes and gluten free. It's a very welcoming space. First, she gave me an almond biscotti that she hasn't posted yet, and then she also gave me some of her famous five minute, no bake peanut butter granola bars. Quintessential Anne recipe: quick, portable, tasty!
Both snacks were delicious. I enjoyed the bar as a study snack, with some tea

Even when life is really hectic, it's so important to make time for loved ones. This can be as simple as a quick working dinner, taking a yoga class with a friend, or just grabbing coffee on campus between classes (or between meetings). Of course, it's important to know when to say "no" to social engagements, too—sometimes work does have to eclipse everything else, and in those times you shouldn't feel guilty about doing what you have to do. But on the whole, I find that time with my friends keeps me centered, reminds me what's important, and refocuses me. Historically, I've dealt with stress by isolating myself completely, and working nonstop, which was both depressing and totally catastrophic for my ED. Nowadays, I like to keep my heart open, both when times are busy and when they're not.
Speaking of which, today is a study marathon punctuated with a restorative dinner with Valerie. Happy weekend!
xo