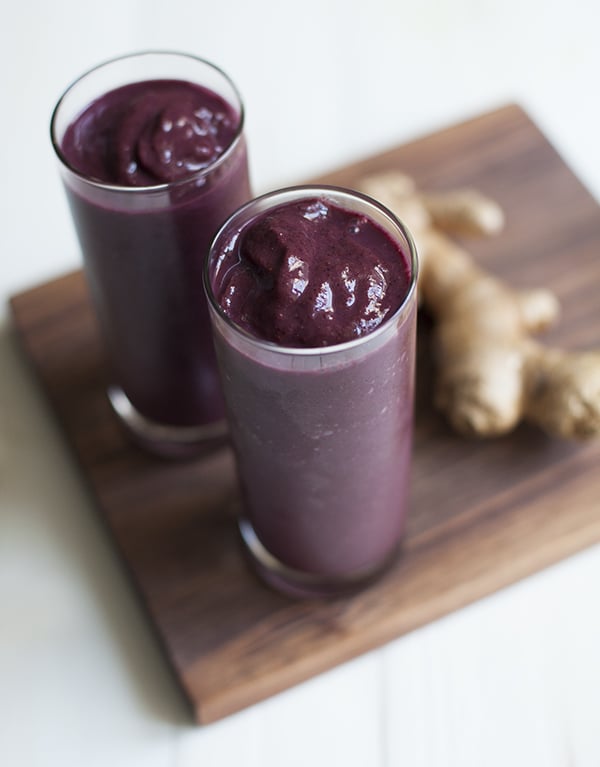 It has been quite a while since I've craved a smoothie. I used to drink them all the time in cold weather, but with each passing year I'm less and less inclined to drink them in the non-summer months. After chilly and drizzly weather last week, though, NYC seems to finally be plunging into summer, and all of a sudden, the smoothie cravings have hit.
I tend to divide smoothies into two categories: the creamy, thick, dense kind, which is usually what I'll opt for as a breakfast option, and the frosty, fruity kind, which I'll most often enjoy as a snack. I love those frosty and fruity blends, but they don't fill me up, which is why my breakfast smoothies tend to be heavier on nut butters, protein powders or hemp seeds, and the like.
This smoothie is sort of a hybrid. It's got the look and taste of a frosty, summery concoction, but the addition of chia seeds and avocado give it hints of creaminess and a thick texture. It's a perfect light breakfast or a refreshing afternoon snack option. And it's a perfect vehicle for two of the most highly anticipated summer fruits: ripe berries and juicy watermelon.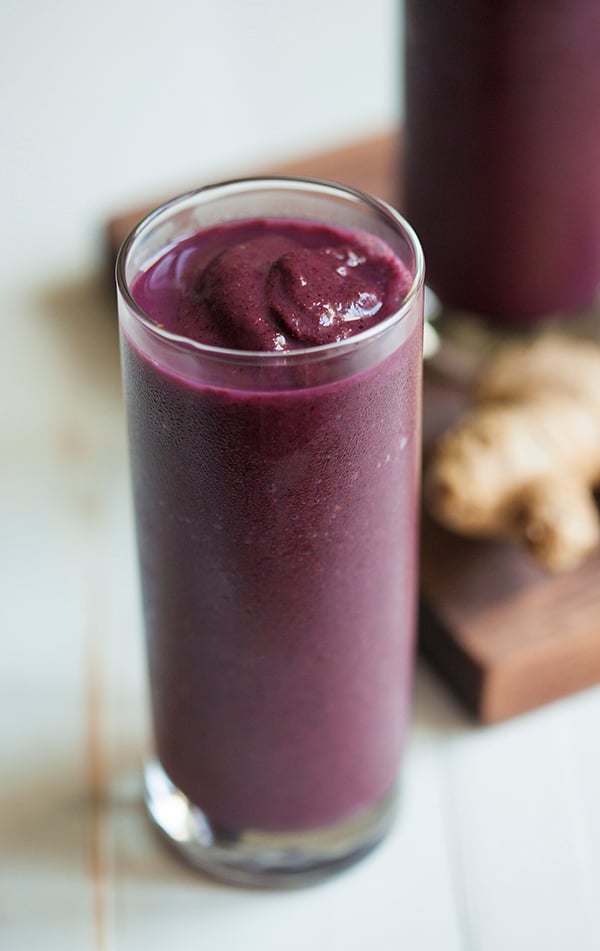 It was my friend Kathy who first tipped me off to the fact that watermelon makes a delicious addition to smoothies. She uses frozen watermelon chunks to add both thickness and sweetness to her blends (especially her famous matcha shake). I was never really in the habit of using watermelon in my smoothies until I read her book, 365 Vegan Smoothies, but now it's a trick I use all the time. In this particular smoothie, I used fresh watermelon, which adds liquid while also keeping a thick texture.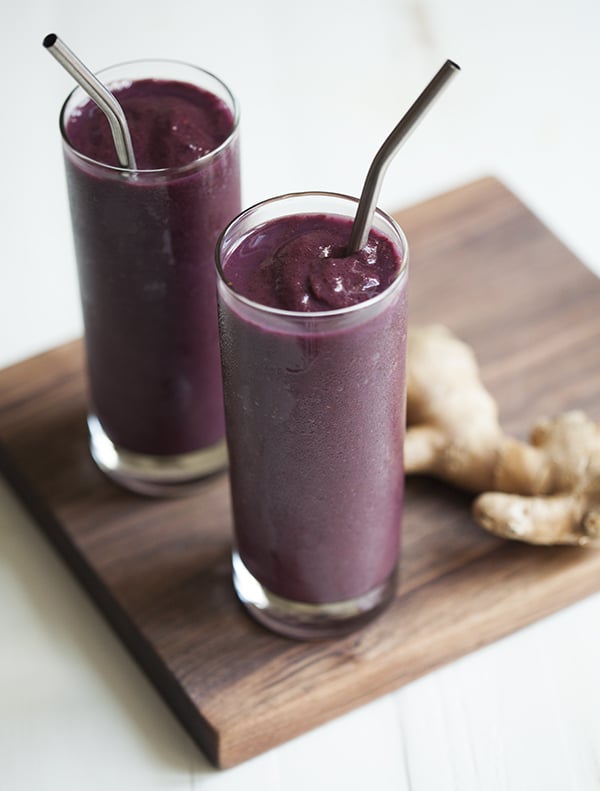 Another superstar ingredient in this recipe is the fresh ginger, which adds both flavor and the anti-inflammatory effects that the recipe name advertises. Ginger contains phenolic compounds called gingerols. One of these, 6-gingerol, has been shown to have anticancer, anti-inflammation, and anti-oxidation biological activities. (1) Not surprisingly, ginger has been indicated as having a palliative effect in inflammation-mediated diseases, such as arthritis, reducing not only pain but also swelling. (2) Gingerol may even play a role in protecting against or encouraging slower growth of colon cancer (3, 4).
Inflammation appears in tandem with many chronic diseases, especially autoimmune diseases, and it can result in pain, fatigue, and swelling, as well as biological stress. Inflammation tends to encourage the release of cortisol–the so-called stress hormone–which in turn can suppress the immune system. In short, chronic inflammation is nasty business. Stressing anti-inflammatory foods in one's diet can't necessarily prevent inflammation, but diet has been shown to play a significant role in mediating inflammation levels.
The happy news for us is that so many anti-inflammatory foods–ginger, turmeric, tofu, olive oil, sweet potato, dark cherries, and greens–also happen to be delicious. If you're looking for a way to incorporate a new anti-inflammatory option into your diet, this delicious summer sip is a nice place to start.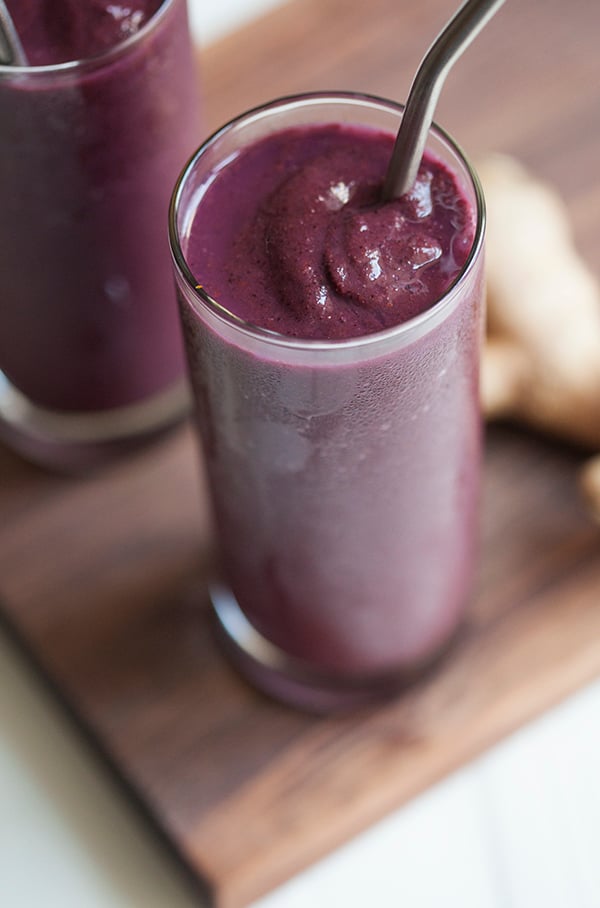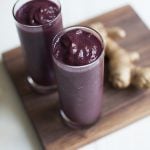 Anti-Inflammatory Berry, Watermelon, and Ginger Smoothie
Author -
Yields:
1
large or 2 small servings
1

heaping cup watermelon chunks

be generous!

1 1/2

cups

frozen mixed berries

1

inch

piece ginger

peeled and chopped (if you're using a conventional blender, you may wish to grate the ginger before adding it, so that it blends more easily)

3/4

cup

coconut water

2

teaspoons

chia seeds

1/4

Hass avocado
Whether inflammation concerns you or not, hopefully you'll find a way to incorporate this cooling treat into your day soon. It's a new favorite for me, and I'm excited to share it with you.
Speaking of things that I'm excited to share, I am very excited to share a new cookbook review with you this coming Friday, along with a recipe and a giveaway!
Till soon,
xo
1. Wang, S, Zhang, C, Yang, G, Yang, Y. Biological Properties of 6-gingerol: a brief review. Nat Prod Commun. 2014 Jul;9(7):1027-30.
2. Bartels EM, Folmer VN, Bliddal H, Altman RD, Juhl C, Tarp S, Zhang W, Christensen R. Efficacy and safety of ginger in osteoarthritis patients: a meta-analysis of randomized placebo-controlled trials. Osteoarthritis Cartilage. 2015 Jan;23(1):13-21.
3. Jeong CH, Bode AM, Pugliese A, Cho YY, Kim HG, Shim JH, Jeon YJ, Li H, Jiang H, Dong Z. [6]-Gingerol suppresses colon cancer growth by targeting leukotriene A4 hydrolase. Cancer Res. 2009 Jul 1;69(13):5584-91.
4. Shukla Y, Singh M. Cancer preventive properties of ginger: a brief review. Food Chem Toxicol. 2007 May;45(5):683-90. Epub 2006 Nov 12. Review.